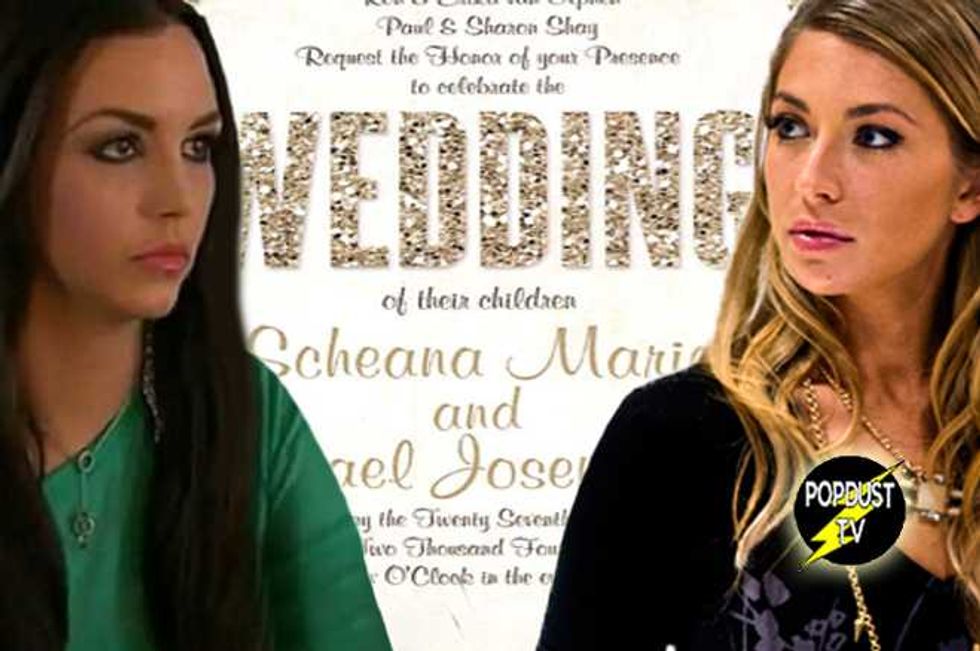 Hell has officially frozen over on Vanderpump Rules.
It was Stassi Schroeder's birthday and she wasn't making everyone treat it like a national holiday. As you may remember, the gang embarked on the infamous Cabo trip last year for her birthday. This year she opted for something slightly more low key and that didn't involve the phrase "IT"S MY BIRTHDAY" every 13 seconds.
Her bestie, Kristina Kelly, and the new SUR chick, Vail, went to dinner to celebrate. Tom Schwartz and Katie Maloney also joined in on the wine tasting. Long story short, they spent the majority of the night shit talking Scheana Marie's upcoming wedding.
In their defense, the invitations looked like they were meant for a drag queen's cocktail party. Ironically enough, they toasted to having no drama this year. I admire their stupidity. It is revealed at the dinner that Schwartz got an invite to the wedding minus his better half, Katie. Naturally, that went over really well.
Scheana ventured over to Lisa Vanderpump's massive estate to pick up serving trays. This house, which is the size of a small country, has swans swimming by the front door. Fucking swans. Scheana began talking about her impending nuptials and how Katie wasn't getting an invite.
Lisa, the British Oprah, told Scheana that she thought she should be the bigger person and extend an olive branch to Katie. The whole group is planning to go to Miami for the bachelor/bachelorette party, which could ultimately mend fences or go up in flames. Deductive reasoning tells us to lean toward the flames. Scheana agreed to extend an invite to Katie and Lisa sent the little peasant on her way.
Jax Taylor, Tom Sandoval, Peter Madrigal, and Schwartz were getting ready for a boys weekend in San Diego. Jax's girlfriend, Tiffany, hooked them up with a room and VIP accommodations. Last week, Jax proclaimed to the world that he and Tiffany were on the rocks, but then denied it.
They packed up Schwartz's car and hit the road promising one another that they must behave. While in the car, the boys discussed how fucking stupid Jax is. He had coffee with Vail and told Tiffany. It didn't go over so well in her book. He claimed Vail tweeted about them having coffee, when in reality it was his stupid ass.
Upon their arrival in San Diego, the drinking commenced almost immediately. Jax, being as predictable as the sun coming up every morning, got hammered and flirted with every busty chick that glanced in his general direction.
Back in LA, Lisa's event was going on at SUR. All the girls were working. Scheana found the balls to finally speak to Katie and invite her to her bridal shower. Scheana told her that she wants to put the past behind them and try to get along. Katie agreed with her and happily accepted her invitation to the tackiest wedding of the year.
The boys were getting ready to hit the town—ya know, straightening their hair and whatnot. They hit up the club that Tiffany had arranged for bottle service. Sandoval was dead set on Jax doing something stupid over the weekend because Jax was giving him every reason to think that.
And sure enough, Jax got wasted and went back to the room with a bunch of random girls. The next morning, Tom knew that Jax had cheated on Tiffany, but, of course, he was adamantly denying it. His answer: one of the girls was throwing up and he was holding back her hair. Classic.
After their arrival back in LA, Katie told Schwartz she was going to the bridal shower. He seemed pretty happy about her decision because it would make things a lot easier for him. He told her how Jax banged a skank in the bathroom. Sandoval then came over and said he knew Jax did it, but wasn't going to get involved.
It was the day of Scheana's shower, which was being held at Lisa's other restaurant, Villa Blanca. All the ladies, including Katie, were on hand to celebrate. Katie revealed to Lisa that she would be in attendance for the Miami trip and that she thought she did the right thing by coming. However, she had yet to tell Stassi about her new bestie.
Kristen Doute showed up with Jax's ex-girlfriend in tow. Ironic, right? Kristen talked shit about Scheana's relationship with Katie and how she's pissed she was coming to Miami. Seriously though, Kristen—shut up and take a seat—you and your 12-year-old boyfriend barely made the cut.
Scheana decided to text Stassi to discuss the status of their "friendship". When will these morons learn that these sit down chats accomplish next to nothing? Scheana brought up that Jax hooked up with someone in San Diego. Kristen was like a fly on shit because she believed if Jax got backed into a corner he would reveal that Sandoval cheated in Miami. She seriously needs to be medicated.
Jax, Schwartz, and Sandoval met for lunch to recap their weekend. Schwartz and Sandoval let it be known that they knew Jax cheated on his girlfriend. In classic Jax fashion, the memories of the night magically, suddenly, became much clearer. He used the excuse of the girl throwing up again, but the boys weren't buying. Anyone with two functioning brain cells could tell you that Jax is a scum bag and without a doubt cheated. Case closed.
After lunch, Jax decided to call Tiffany and tell her the "truth". He said he let people in the club get too close to him. She was immediately pissed that he didn't tell her. He used the throwing up excuse and she hung up on him.
Stassi finally met with Scheana. After some really awkward small talk, Stassi asked her what she'd done to her hurt. Scheana said that she thought Stassi made fun of her wedding. Scheana then told her that Katie was coming to her bachelorette party and she shit her pants. It was pretty obvious that Katie hadn't told her yet.
Stassi was pissed that Scheana befriended Jax and Kristen, the two people that betrayed her the most last summer. In an attempt to prove they are literally like 5-year olds, Stassi referenced Scheana's love for retweeting mean shit about. Stassi basically told Scheana that there wasn't a shot in hell of them becoming friends again. Scheana agreed and walked off into the sunset with her turban and unitard.
Now that Stassi feels Katie betrayed her, shit is going to hit the fan, folks.
Vanderpump Rules airs Mondays at 9pm on Bravo.