You use a facial serum, right? Well, now it's time to find your favorite hair serum. Luckily, you don't have to look far because we've found the best and most effective one out there: Vegamour Gro Serum.
Vegamour is a 100% vegan and cruelty-free company. Already loving them! When it comes to the science behind hair growth, their specialists know precisely why it doesn't grow and how to fix hair growth problems. Vegamour harnesses the power behind phytoactive molecules and other plant power products to boost hair growth.
Their Research and Development team has created a Gro Serum that actually works! It contains good and clean ingredients - no steroids, parabens, or toxins. So none of the nasty side effects from other chemical hair growth products such as Minoxidil in prescriptions and in Rogaine. The FDA even has reservations about Minoxidil, probably because of all the side effects; scalp irritation, headaches, rapid weight gain, and even as serious as chest pain. And that's just a few!
When our editors first heard about Vegamour Gro Serum we had tons of questions, so I'm guessing you do, too! Pssst...Here are all the answers:
How does it work?
Vegamour considers why your hair isn't growing - genetics, hair styling, lack of nutrients or overproduction of dihydrotestosterone (DHT) are the main reasons. DHT prevents hair follicles' absorption of nutrients, causing follicles to shrink, weaken, and eventually die.
Their research led them to formulate a serum with bio-active phytomolecules and peptides that nourish hair follicles from the inside out. Vegamour Gro Serum inhibits the production of DHT, thus extending your hair's growth phase while strengthening your roots.
What is in it?

Vegamour GRO Hair Serum is chock-full of plant power! Mung Bean and Clover block the production of damaging DHT and strengthen the stem cell niche of the hair follicle*. Curcumin, which is derived from turmeric root, increases hair follicle growth which helps lengthen the actual hair growth phase**. And Nicotiana Benthamiana, a protein that has shown to improve the density of root hairs.*
These 3 amazing ingredients combined with peptides make Vegamour Gro Serum super powerful and efficient.
When can I start seeing results?
Visible results were recorded after 90 days! The majority of users notice peak results at 120 days, with 50% greater hair density and 76% less shedding. Truly amazing! We were shocked and delighted to compare our before and after pictures.
I just want longer hair, will it help with that?
Absolutely. The active ingredients mentioned above stimulate and switch on hair growth, increasing density and hair length. Our editors have all hair lengths, and we can all verify that after consistently using Vegamour Gro Serum, our hair is considerably longer.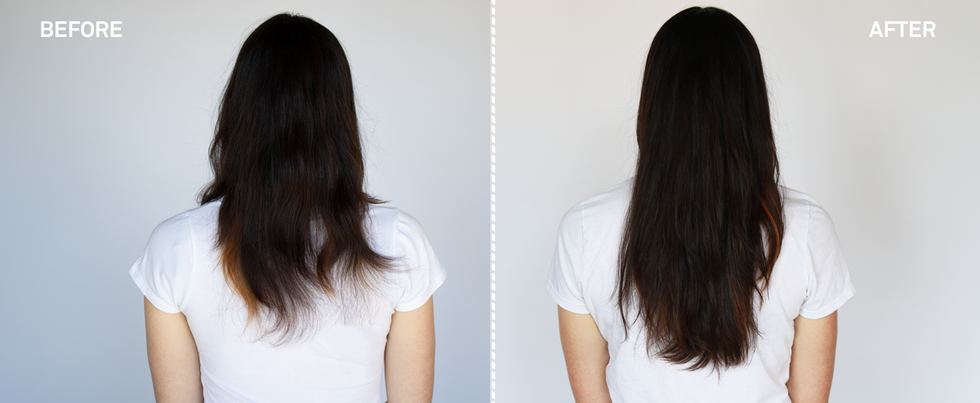 How do I use it?
Apply twice daily to dry, or towel-dried, hair. Add a few drops all over the scalp and massage to ensure even distribution. Remember, it's a leave-in formula so never wash it out, leave it to dry and then style as usual.
Our editors loved the results we got from Vegamour Gro Serum, and we never run out with their amazing subscription plan, delivering it right to you just when you need it to keep you on track to your hair goal. I never imagined my hair could grow this long. Want to unlock your hair's true potential? You need to check our Vegamours Gro Serum.
UPDATE: Our friends at Vegamour are offering our readers an EXCLUSIVE offer! Follow this link and enter BEAUTY20 at checkout to receive 20% OFF!