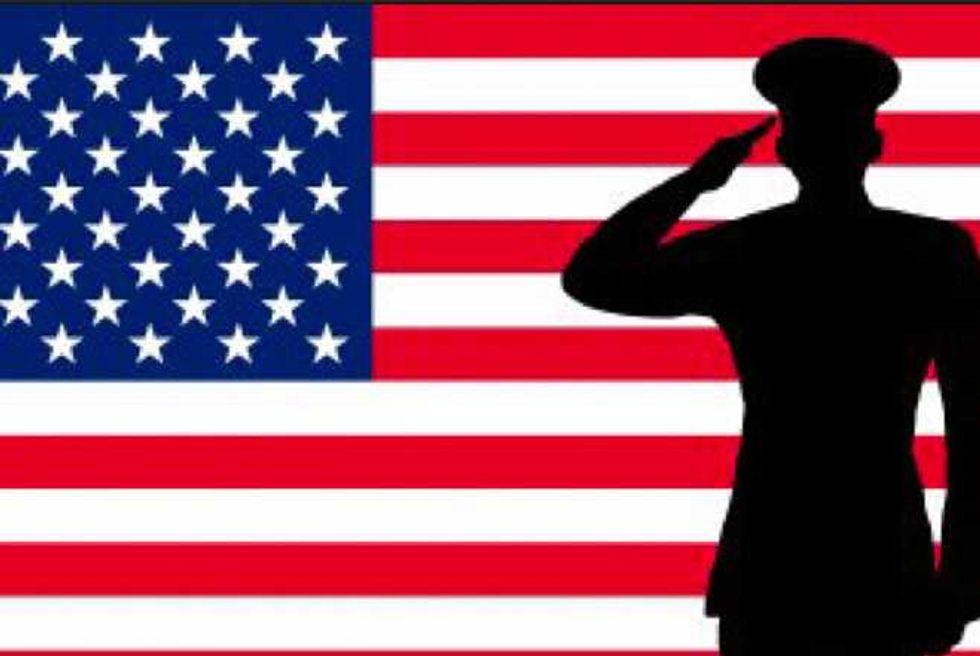 veterans day soldier suicide
November 11 is Veterans Day, a public holiday honoring the service of U.S. military veterans.
Veterans Day used to be known as Armistice Day—marking the anniversary of the end of World War I, which came into effect at the 11th hour of the 11th day of the 11th month of 1918—but, in1954, President Eisenhower signed a bill into law changing the name, to honor all veterans, not just those who gave their lives during the first world war.
D-Day70—Remembering Those Who Gave Their All For Our Liberty
In contrast to Memorial Day, which is observed in the U.S. on the last Monday of May each year and is about remembering the men and women who gave their lives while in service, Veterans Day celebrates the service of all military personnel, both dead and alive.
To honor the day, many restaurants around the country offer free meals to veterans and still serving military members—however, one veteran is pleading with us all to do something much more important for our soldiers—to advocate on their behalf in a bid to help stop them from taking their own lives.
Frances Bean Cobain Talks Dad Kurt's Suicide, 'Complex Relationship' With Courtney Love
When it comes to soldier suicide the statistics are both shocking and tragic—In excess of 22 veterans and one active duty personnel will take their life each and every day—to further put that figure into context, every 65 minutes a military veteran will die through suicide.
It's difficult to know exactly how high the suicide rate is, as only 22 states in the U.S. report Veteran suicides, but, what is known however, is that Veteran suicide runs at a rate of double, and sometimes triple, that of civilian suicide—as many struggle with the effects and stigma of mental illness and the "shame" surrounding PTSD (post traumatic stress disorder)
Tallulah Willis On Battling Drugs, Depression, Body Dysmorphia And Bullying
There are approximately 21.7 million living veterans in the U.S. —around 1.5 million of them are over the age of 85—and as many as 49,900 are without a permanent home, representing 9 percent of the country's total homeless population. 31 percent of soldier suicides are by veterans age 49 and younger.
The website, Stop Soldier Suicide, believes that as a society we have a responsibility to those who were willing to make the ultimate sacrifice for our country, and to give their life for our liberty.
Sam Smith Was Suicidal Over Weight
With that in mind, military veteran, Shawn Jones, makes a plea to us all:
As you know the name of our organization is around stopping military suicides, so I ask you to do something more as you celebrate today.  The first is to advocate.  Write and call your congressional leaders and let them know of your displeasure over the 22+ veterans and one active duty personnel that take their lives  each day.

If you know of someone or if you belong to one of the large and powerful Veterans groups such as the American Legion or Veterans of Foreign Wars, mobilize, advocate, and lobby these same elected officials about the epidemic we are facing.  You represent hundreds of thousands and with all of this support the voice of the nation will be heard.

Secondly if you encounter a Veteran that seems to be having a tough time, take a minute to just say, "Hello," and possibly learn a little of their story.  Let them know that they are not alone and will never be forgotten.  Reassure them that we are Americans and that we are a family regardless of where we are from, what we do, or what we look like. And above all else, let them know that there is a movement with a strong and caring following that cares and will help them when they need it. That movement is Stop Soldier Suicide.

Just one last comment to close with.  If you wholeheartedly want to elicit EFFECTIVE CHANGE we must as a caring and respectful country give an EFFECTIVE EFFORT.  Have a wonderful day and I want to thank each and every one of you for supporting our organization and most importantly our veterans.
If you are a veteran, or a serving member of the military, and in crisis, please call the Veterans crisis line: 1.800.273.8255 #1
And, If you, or anyone you know is struggling with thoughts of suicide please contact the National Suicide Prevention Lifeline at 1-800-273-8255 or visit their website
80% of people that seek treatment for depression are treated successfully, and almost all patients gain some relief from their symptoms.
To read more facts about suicide and depression, along with resources and contacts to help you get help, check out this past post.
And remember—KEEP LIVING! WE NEED YOU!
For more entertainment, world, music and pop culture updates and news, follow Max Page on Twitter