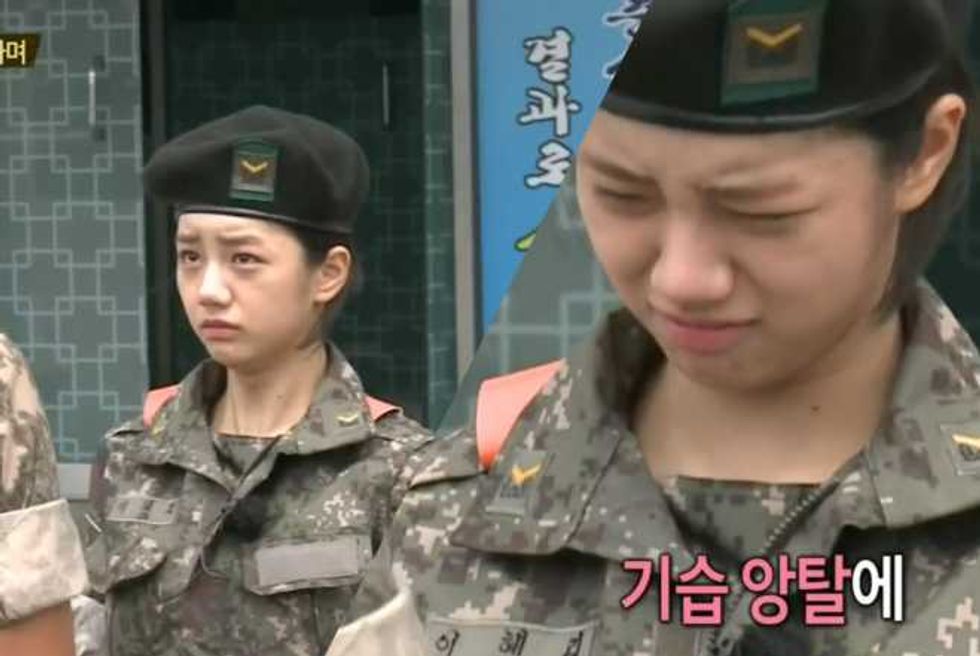 If you don't actively follow K-pop, then you probably won't know what aegyo is. In a nutshell, it means acting cute. Picture a pretty girl putting on a funny baby voice and pouting to try and get something from her father or boyfriend, and you'll get the idea. (This video also does a good job of explaining it with some ridiculously adorable examples.)
Aegyo is pretty popular in Korea when done right, and one K-pop star who's an expert at it is Girl's Day's Hyeri. The 20-year-old has always been known for her fun and bratty image, but she unexpectedly went viral over the weekend when a clip of her crying on a popular Korean reality show took over the internet.
The show, which puts pampered Korean celebrities in the army, aired its final episode over the weekend. As the cast members said their goodbyes, Hyeri became noticeably upset and started sobbing and wriggling back and forth, aegyo style, causing her stern squad commander to crack an out-of-character smile.
Various clips of the incident have already amassed well over 2.2 million views collectively in just a couple of days (a number that's rapidly rising), and articles about it have been trending online across the country with thousands of positive comments about Hyeri's charms.
Check out the clip below, as well as Hyer's latest music video with Girl's Day, "Darling."