Top Stories
MUSIC | The synth-pop up and comer breaks down her new EP and discusses cooking and her hometown of Cheptow.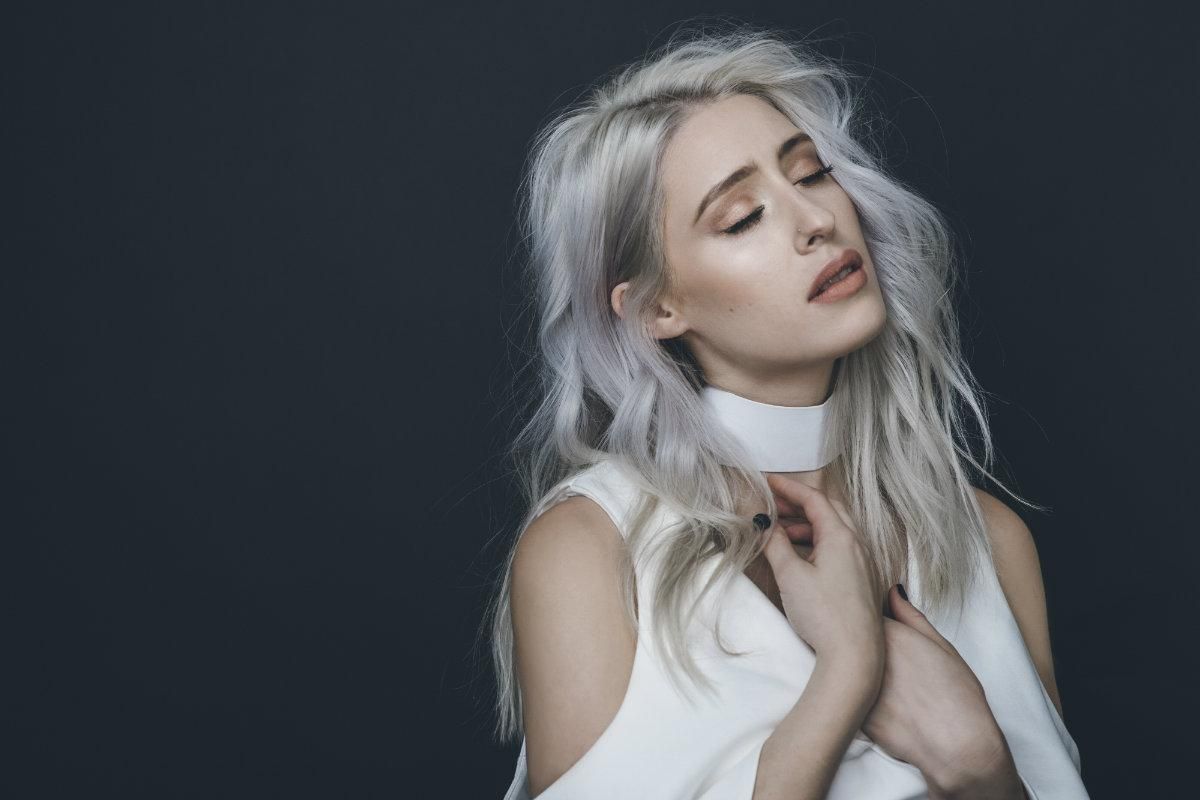 Under the Window
"The EP is definitely not like a 'burn book' kind of thing," the singer-songwriter says about her new release.
Violet Skies couldn't bear it all on her own. She needed to move on, and at first, she wasn't sure how. One of the most important relationships in her life had come to an end, and like most, she had mixed emotions. But she knew in order to let go, she needed to process what had happened first. It wasn't until she sat down with pen and paper that she would become truly free and fully capable of picking herself up and dusting off. "Sometimes, you don't know how you feel until you say it out loud. To be honest, the song I wrote in January, initially, was about another topic, but as I came to record it, I realized it was applicable to the situation I was going through, presently. I had that moment," she tells Popdust over a recent phone call about her brand new EP, appropriately titled This Was Us (out this Friday), a sweeping, visceral and aching collection of color-schemed tracks detailing every bit of her anguish.
She continues, "Sometimes, when I write lyrics, I really think too much about it. You come to record it, and you've got the lyrics in front of you and it's like 'oh, crap, I didn't realize I felt like this.' The EP is definitely not like a 'burn book' kind of thing. I like to think of it as a bit more like a balanced approach of looking back at the end of a relationship and thinking 'you know what, it wasn't all awful. It's just over.' And so, it was a really nice way to honor what had been a very large part of my life for a very long time. It was cathartic, and it was a nice conclusion."
She doesn't only gut those harrowing and devastating emotions, but she revels in the glowing warmth of intimacy, too. "Maybe something I need is nothing at all," she coos on EP opener "Island," a swirling, dizzy escape which sweeps up and over your head and nearly drowns you: but it's a tender renewal of spirit. "I always write from very personal experience. It just so happens I tend to write what seems to affect me most. I have a really lovely life and have loads of amazing people around me. It was a way of dealing with a lot of...stuff. I'd say the EP is a 50 percent music and 50 percent therapy," the singer-songwriter, whose biggest influence is Joni Mitchell, explains. "I didn't actually know that that was going to be the EP. We were recording it in Germany. We had quite a lot of songs on the table. Some were coming out better than others as we were working. Then, I wrote the last song on the EP, 'Soho,' whilst I was in Berlin late one night when I came back from the studio. That felt like the last piece of the puzzle. Everything slotted together quite nicely and told the story as a whole. A lot of it wasn't actually choice. Those songs stood out the most. It wasn't even a musical decision. I had to say these things."
"It's a range of emotions and situations. It's the spectrum of what relationships can be," she adds.

On "No Night, No Day," Violet Skies recollects the inescapable twilight, that limbo-like place between day and night, just when the earth stands still and all you can hear are the thumps of heartbeats. "I can see the stars right through the ceiling. I can't quite describe the feeling," she whispers, filtered through a vocoder, which distorts the voice and creates haunting harmonies. Later, on "Silence," she utilizes the same vocal trick, but over a honeyed beat trickling up from underneath. And throughout This Was Us, she assembles a raw and magnificent journey, rummaging through her attic of dusty trinkets and yellowed photographs--her hands shake as she flips through albums, but there is a sense of command and strength, even when you can feel the water rising around her throat.
Having grown up on the outskirts of a small village called Chepstow, she was exposed to plenty of traditional Gaelic and Celtic music, as well as jazz (which you can certainly hear threaded together on her EP). "In terms of vocal performance, Etta James is still my all-time. She crosses over into that soul spectrum, but that's kind of where my love of jazz really sits. It's more jazz-blues rather than straight down the line," she says. On songs like "Island" and "Burn," there is a unshakable jazz-like needle piercing her vocal phrasing, supported by the mysterious and gripping production style. "I grew up with parents who used to sing a lot of old traditional songs. They were both really into folk. I wouldn't necessarily say it was traditional Gaelic but there is that wider element of heritage, like Mary Black--maybe more Irish than Welsh in that respect. To be honest, [I listened] to mostly pop and soul when I was younger."
Violet Skies, whose "Island" has netted more than 120,000 streams on Spotify, opens up about Cheptow culture, cooking and other topics. Dig into our exclusive Q&A below:
[IBQC6P1495634431]Violet Skies
Had you recorded in Berlin before now?

Yes. I did some shows last year in Berlin. So, I played a headline show. I was just out there doing some TV and other promo stuff. I had a day off, and I'm not really a fan of days off. So, I asked my agent "do you know anyone in Germany who would be cool to write with?" And they actually had someone in mind. That was Charlie and Felix. I went along to session, and it turns out I probably should have had a day off. I had laryngitis from singing a lot and traveling. We ended up writing "Burn," which is the last single. I love the song, but I really wasn't sure how it all came out. I was so ill when I did the vocal in the demo. They worked their magic. That was my first incident of recording in Berlin. Then, when I heard the demo, I wanted them to do the whole EP. I already had a very clear idea of what the songs needed to sound like. Sometimes, if you leave the country, you've got five to seven days to really finish stuff to crystallize your vision. That kind of space away really helps you to finish stuff. I think that's hardest for most artists, seeing ideas through and knowing when it is done. If you give yourself a deadline, it's much easier.
Growing up, what was the culture of Cheptow like?
It's a small Welsh town. I actually lived on the outskirts of town, which is even smaller. I lived on the border of Wales, so we had a mix of England and Wales. Everyone's really aware of their musical heritage, and the scene is very small. So, you reach your limit quite quickly if you put your mind to it. I was gigging from the age of 15. Then, I took a break and thought maybe I should go to university and do something serious--and then I changed my mind altogether and went back to music. Basically, I was really lucky that I went to a school that had a really incredible music department. My teachers were instrumental in that, more than anything. There were three teachers there, and if I hadn't had them, I wouldn't have ever pursued it. They really encouraged me to think outside of "this is just for fun." The scene also had a lot of jazz, which I did a lot of when I was younger. If I hadn't had that, I probably wouldn't have been able to do this.
Do you speak Welsh?
I can't. I wish I could. My mother is a total Welsh speaker. She's amazing. She speaks a load of other languages, too. My French and German are much better than my Welsh, which is awful. But that's what happens when you grow up in an English-speaking Welsh town. I think if I had lived a little closer in, I would speak it, as well. It's one of my biggest regrets, and definitely when I have children, I'm hoping to either put them in a Welsh school and learn with them or put some time aside and get better at it myself.
When you were younger, you had ambitions to become a lawyer?
I went to university for a few years before I dropped out. Loads of my friends were doing business or law. I just assumed that music would just be my plan B. I had never really considered it something that could actually happen. I really don't like "real" jobs or being told what to do. I just really wanted to give music a go, so maybe I'll become a lawyer another time--I don't see it happening but it's a nice idea.
Would you consider yourself a chef-level cook?
No. I'm quite awful, actually. I say "quite awful," but I have some staples. I really love cooking Thai food. I'm brilliant at poaching eggs. That should go on my tombstone. [laughs] A lot of Asian food, so stir fries. Since I've left London and moved home, I've enjoyed really cooking with my family. When making decisions about EPs, it's been so stressful. I like to turn off and go for a run or walk or cook. When you're cooking, it feels like you're making something still, even if you are avoiding making decisions. I'm not the best cook, but I do like it.
When you're out on the road or doing promo, do you find yourself eating fast food and takeout?
Well, I'm a vegetarian, so there's not a lot of fast food places. As a veggie, you tend to have a lot more healthier options. But when I'm in LA, all I eat is Mexican food. My manager is constantly being told "can we meet somewhere where I can get burritos?" I think he gets so stressed. I was in China recently, and we had some amazing food, stuff like egg custard dumplings. I love eating with friends. I see food as a very important part of my life. [laughs]
What is one new food item or place you are loving the most right now?
Oh, Prats. It's a cool, new healthy food chain in London. It's vegetarian. I'm still yet to go visit. They've got loads and loads of cool things. I've also just discovered energy balls. They're essentially nuts, peanut butter, seeds and oats and things. It's essentially bird food...but really good.
Down below, Violet Skies details track-by-track what inspired each moment and watch colors she envisions.
Track-by-Track Commentary
"Island": I was writing in September. This song is like a light blue. I wrote it with Alchemy. Originally, it was more about someone else and to try to understand what they were going through. It then became more my song. It really is that water and escapism and freedom and breathing. It's a very expansive song, and there's a lot of space in it. I know a lot of artists picture music videos. That's something I'm only slowly coming to grips with. Sometimes, I can become so fixated on how I see a song in my mind that it might not always correlate to how it's possible to film. It's definitely like a massive ocean. I had this vision of water being this really scary thing but also liberating.
"No Night, No Day": I wrote this in LA at my friend David's studio. This song is more like a violet color. I imagine it as a night sky, that twilight space in between, the feeling of when you are with someone that nothing else matters. We got the vocoder sound out, and I'd never written on it before, so it was a strange sensation. It's your voice you're harmonizing with and picking out chords and hoping for the best. I had the opening line in my head and started writing it. David said "whose song is that? A Joni Mitchell song?" That's when I knew it was probably a good idea. That's the biggest compliment you can ever give me.
"Burn": It isn't orange, like you'd expect. That song is definitely a deep mauve. When I wrote it in Berlin in May, I was in a super, super, super dark place, emotionally. I was really struggling with that balance of having amazing shows and those amazing people around me when you're personal life is falling to pieces. That song was a lot of anger and frustration at myself, more than anything. It was a realization that you can't fix something. It's just terrifying.
Interlude ["Soho"]: This song is a deep blue. I don't know how to explain how I see that other than how I wrote it imagining I used to live in a flat in Soho. That song is literally...we had a front room with a balcony that looked out into the street and a piano in the front room. I was writing it in Berlin in someone else's flat, but imagining I was there.
"Silence": It's actually a weird one. It's another light blue but that's only because it's a rather sparkly song. The production Charlie did on it caught the light of the song. It's a really awful, sad song. It's about asking someone to be quiet and not to speak to you because they haven't got the words you want to hear. She brought this lightness out of it. It's the sense of silence in a really positive way. Sometimes, it's in silence when you can hear your thoughts the clearest. That was written in LA with Rob Kleiner, and it took awhile. I couldn't finish the verses on the day I wrote it. I was having quite a big cry. I had to go back the day after to finish.
"When the Love Runs Out": I wrote that in January in my living room in Soho with my friend George. That song is a really deep blue, quite similar to "Soho," actually. It was written in a similar place. It's weird; I never really thought about that. There are greens in the song, as well. It was written originally about a professional relationship that was coming to an end. But I wrote and rewrote the verses, and it became about the relationship I was in at the time.
"Eyes": I wrote with David and Sophia Black in LA. This song is a purple-blue, like the color of someone's eyes would be. It was written to try to be empathetic to someone. Sometimes, I'm like self-counseling. I used to to do this actually on previous releases, to try to sort my head out and coach myself out of a situation. It's definitely a song about telling someone you'll be there for them in a really visceral sense--you can be there eyes or shoulders or hands--to take the weight off them. Empathizing with someone can be the hardest, especially when they're really close to you. Sometimes, it's easier to empathize with strangers.
[1LK3VF1495634431]Under the Window
---
READ MORE ABOUT MUSIC...
Interview | MAGGIE ROSE is a poser and a poet
Review | Drew Holcomb & the Neighbors bloom forthright at Irving Plaza
Billboard Music Awards 2017 highlights | Drake name-checks Adele, Miley Cyrus cries & Celine Dion soars
---