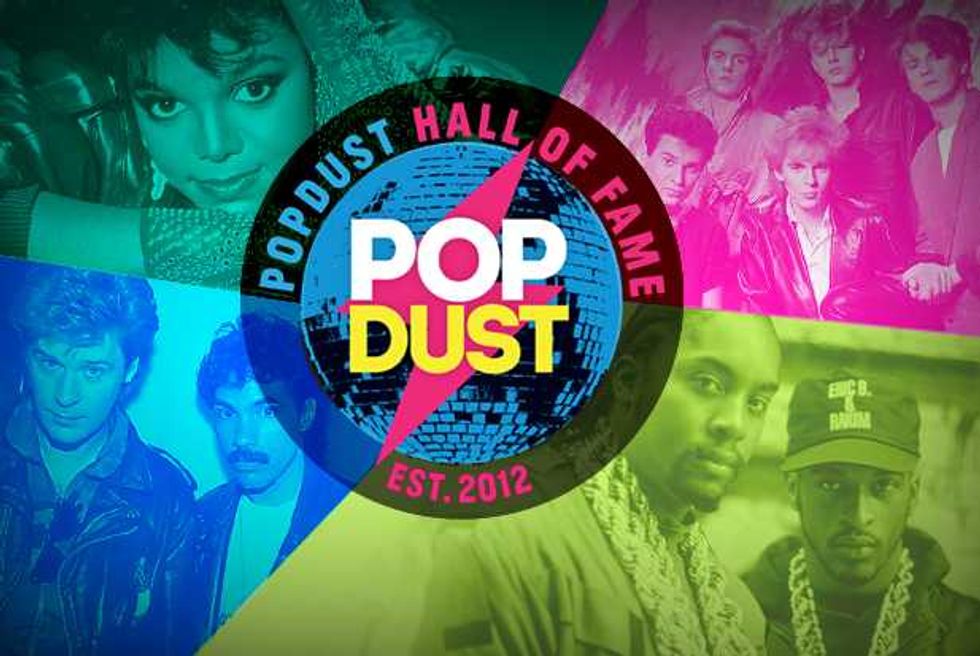 It's time for an annual spring tradition: Let's dump on the Rock and Roll Hall of Fame and Museum!
Though the powers that be have behind the Cleveland music memorial have done a dynamite job of just about everybody associated with the British Invasion of the mid-'60s (YOU DID IT, DONOVAN!!), there are a whole lotta artists from the last 45 years, of arguably more contemporarily relevant genres, who have been passed over in their favor. It's been a long, slow process of even getting such obvious pop legends as ABBA and Neil Diamond inducted, and there are still countless figures from the word of popular music—be they pop, hip-hop, or just a brand of mainstream rock of which the Rock Hall folk simply don't approve—whose acceptance is long overdue. Such "disgraced" sub-genres as disco, arena rock and synth-pop, which have taken critics decades to come around to, if they even have at all yet, have gone particularly under-represented.
Well, we do not plan on standing idly by as this injustice is continually perpetuated. Thus, the Popdust Hall of Fame—our attempt to right the wrongs of the Rock Hall by shining a light on some of the artists snubbed. We started with a list of dozens of worthy candidates, which were whittled down to an even ten with the help of our celebrity nominating committee (including pop-expert artists Robyn, Patrick Stump of Fall Out Boy, Adam Schlesinger of Fountains of Wayne, and Ahmir "Questlove" Thompson of the Roots, and journalists such as Village Voice music editor Maura Johnston, NPR critic Ann Powers and New Yorker pop critic Sasha Frere-Jones). The ten nominated artists for the inaugural class of our eponymous Hall of Fame have all enjoyed world-beating careers, and are theoretically eligible for the RnRHoF, having released their first record 25 years ago, or more. None of them, however, have yet been allowed entry, and many of them have yet to even be nominated.
So while the Rock Hall inducts a new class on April 14, we're asking for your help in choosing the five artists for our inaugural group of inductees, to be announced in early May. We've made pages for our ten artists nominated where you can read a little bit about them, listen to some of their definitive songs on Spotify playlists, and then cast your vote for them to be added to the hallowed walls of our Hall. You can vote for your artist(s) of choice in our big poll at the bottom of this page, or at the bottom of each of their respective artist pages, as many times as you want. Vote early, vote often, and if nothing else, remember this: In the realm of Popdust, there is no such thing as a disgraced genre.
THE CARS
WHO THEY ARE: From Boston, MA, one of the leading lights of the American side of the late-'70s new wave scene, an important artist to MTV's early years, and a classic rock radio staple to this day.  
BEST KNOWN FOR: For '70s FM radio devotees, one of the most hit-packed debut albums in pop/rock history, 1978's self-titled effort, featuring such hook-filled, immaculately produced gems as "Just What I Needed," "My Best Friend's Girl" and "You're All I've Got Tonight." For '80s MTV junkies, a handful of iconic videos off 1984's Heartbeat City, including the Andy Warhol-directed "Hello Again," the walk-on-water fantasy "Magic" and the first-ever-Video-of-the-Year-VMA-winner "You Might Think."  
STILL GETTING IT DONE: The Cars have been covered or cited as an influence by any number of popular 21st century bands, including The Strokes, The Deftones and Fountains of Wayne—the latter of whom even had their biggest hit, "Stacy's Mom," musically inspired by The Cars' "Just What I Needed." Lead singer Ric Ocasek has also done production work for a number of bands from alt-rock's next generation, most notably on Weezer's career-making Blue and Green albums.  
BEST MASTURBATION FANTASY SOUNDTRACKED: Dude, do your parents still have that copy of Fast Times at Ridgemont High on VHS? (NSFW, obviously.)  
MOST DEPRESSING MONTAGE SOUNDTRACKED: "Drive" was used as the backing track for a video of starving Ethiopian children shown at the original Live Aid. It's basically a lot like that Phoebe Cates clip, only the exact opposite.
CREEPIEST FREEZE FRAME FROM A CARS MUSIC VIDEO:
GREATEST OFF-COURT ACCOMPLISHMENT: That singer Ric Ocasek was able to land Sports Illustrated Swimsuit Issue cover girl Paulina Porizkova for his bride of over two decades. No disparity in attractiveness between musician and model wife has ever been greater.  
GREATEST HITS:
CHIC
WHO THEY ARE: One of the superpowers of late-'70s disco, a mixed-gender band from New York City that provided some of the biggest and most enduring hits of the Studio 54 era.
BEST KNOWN FOR: A pair of epochal #1 pop smashes in "Le Freak" and "Good Times," as well as club classics like "I Want Your Love," "Everybody Dance" and "Dance, Dance, Dance (Yowsah, Yowsah, Yowsah)." "Good Times" in particular has provided one of the great through-threads of the last 30 years of pop music, with its legendary bass line appearing (in various incarnations) in pop songs ranging from Queen's "Another One Bites the Dust" to Daft Punk's "Around the World"—and, most notably, providing the hook for Sugarhill Gang's "Rappers' Delight," the song that brought hip-hop to the masses.
STILL GETTING IT DONE: In addition to the irrepressible "Good Times," Chic have made their influence felt through the production and songwriting work that group masterminds Nile Rodgers and Bernard Edwards did for other artists of their era, including Sister Sledge ("We Are Family") and Sheila B. and Devotion ("Spacer"), as well as established artists looking to get on the disco bandwagon like Diana Ross ("Upside Down") and David Bowie ("Let's Dance") and some of the biggest artists from next generation of pop, like Madonna ("Like a Virgin") and Duran Duran ("A View to a Kill"). Oh, and French dance artist Modjo sampled their "Soup For One" for their 2001 hit "Lady (Hear Me Tonight)," which is pretty cool.
MOST LEGENDARY "YOU KNOW THE STORY BEHIND THAT SONG?" STORY: "Le Freak" was written in response to the group getting shut out of the storied New York disco Studio 54, and the famous "Ahhhhhh FREAK OUT!!" chorus originally went "Ahhhhhh FUCK OFF!!" before the group thought better of it. Good thing they did—the song went on to sell over seven million copies with its censored second chorus.
MOST TRAGIC-SOUNDING DANCEFLOOR ANTHEM: "My Feet Keep Dancing" is a genuinely rueful lament of being unable to accomplish anything in life ("I got so many things in life to do / Like, reach for a star  / Or maybe shoot ten under par") because you are physically unable to leave the dancefloor ("But I'll never get the chance / Cause all I do is dance.") Around the 250th repetition of the "My feet keep dancing, dancing" chorus, you're more likely to start bawling than you are to bust a move.
MOST UNLIKELY MODERN-DAY USAGE: C'est Chic album track "(Funny) Bone" is used as bumper music on Rush Limbaugh's radio show. Derive from that what you will.
GREATEST DISCO ALBUM COVER EVAH:
GREATEST HITS:
DURAN DURAN
WHO THEY ARE: The leading lights of '80s new wave, one of the UK's biggest musical exports since the first British Invasion, and perhaps the definitive band of the MTV era.
BEST KNOWN FOR: A series of super-catchy, vaguely arty and synth-heavy '80s pop smashes, as well as an accompanying series of iconic music videos that portrayed the band's existence as one non-stop adventure of trekking through glamorous-but-deadly locales, sleeping with gorgeous, exotic women and occasionally running into the stray saxophone player in the midst of a ripping solo. "Girls on Film" brough X-rated (well, hard R anyway) smut to the music video, "Hungry Like the Wolf" saw the band starring in their own Indiana Jones movie (but with more sex), "A View to a Kill" saw the group playing James Bond in a mini-flick more suspenseful than the movie it soundtracked, and "The Wild Boys"...well, we're still not really sure what's going on in "Wild Boys," but it looked intense.
STILL GETTING IT DONE: The group's good looks, slick tunes and fabulous music videos made them heroes to the MTV generation, and future pop stars such as Pink, Justin Timberlake and Gwen Stefani grew up as avowed Durannies, while such '00s new-wave revivalists as The Killers, Franz Ferdinand and pretty much everyone involved with the Electroclash movement listed them as a key influence. Noted child of the '80s Mark McGrath of Sugar Ray even went as far with his fandom as to fantasize about recreating the "Is There Something I Should Know?" in the group's own "When It's Over" clip.
DUMBEST CHORUS OF ANY #1 HIT EVER: "The reflex / Is an only child / He's waiting in the park / The reflex / Is in charge of finding / Treasure in the daaaaaaark...."
EASIEST WAY TO GET THEIR NAME STUCK IN YOUR HEAD FOR WEEKS: 1:20 in this clip.
MOST QUESTIONABLE CHOICE OF COVER: Amazingly, it's not their verison of Grandmaster Flash and Melle Mel's "White Lines (Don't Do It)"—better than you might suspect/remember—but rather another song from 1995's cover LP Thank You, a bluesy rendition of Public Enemy's "911 is a Joke" that ends up sounding like a British G. Love and Special Sauce. Not a good thing.
ALL-TIME MOST ICONIC VIDEO FREEZE FRAME:
GREATEST HITS:
ERIC B. & RAKIM
WHO THEY ARE: A DJ and rapper duo from New York that raised the bar for hip-hop in the late '80s, both on the microphone and behind the decks.
BEST KNOWN FOR: Two classic LPs from the start of hip-hop's so-called Golden Age, 1987's Paid in Full and 1988's Follow the Leader, which together had a combined half a dozen or so songs that would go on to be a handful of the most legendary jams from the genre's first decade on wax—the title tracks from each, as well as "Eric B. is President," "I Know You Got Soul," "I Ain't No Joke" and "Microphone Fiend." Rakim's booming, authoritative delivery and twisting, intricate lyrics set the standard for the next wave of New York MCs, while Eric B.'s funk-maximized soul samples (most notably from James Brown, but also from soon-to-be-staples like Bobby Byrd, Dennis Edwards and Bob James) brought a new level of sophistication to hip-hop production.
STILL GETTING IT DONE: Rakim has gone on to be one of the most name-checked and referenced rappers in hip-hop history, with his lyrics reappearing in later pop hits ranging from 50 Cent declaring "My favorite rapper used to sing 'Ch-check out my melody'" on The Game's "Hate it Or Love It" to Timbaland scatting "It's been a long time / I shouldn'ta left you" on Aaliyah's "Try Again" or even Rich of freakin' LFO borrowing "I came in the door, I said it before" on "Summer Girls." The duo's elevated lyricism and sampling were expanded upon by the likes of Nas, Jay-Z and Kanye West, all of whom have collaborated with or featured Rakim on one of their own songs.
GREATEST STEALTH CONTRIBUTION TO DANCE MUSIC: Rakim's stray instruction of "Soon as you hear it / PUMP UP THE VOLUME" in "I Know You Got Soul," which was turned into one of the great club catchphrases of the decade, first through the super-influential Coldcut Seven Minutes of Madness remix of "Paid in Full," and then M/A/R/R/S' crossover hit "Pump Up the Volume."
STANDARD-SETTING GUEST APPEARANCE: The duo scored their only-ever Top 40 hit as guest artists on late-'80s hitmaker Jody Watley's "Friends," one of the earliest examples of a pop artist reaching out to a street-approved rap artist for a little cred-boosting.
BEST ARTIST-RELATED PLAYLIST IDEA: Creating a mix of all the subsequent songs to sample tracks on Paid in Full, of which there are 14 pages worth listed on WhoSampled.com. (Four for "I Know You Got Soul" alone.)
GREATEST HITS:
HALL & OATES
WHO THEY ARE: Daryl Hall and John Oates, proud sons of the City of Brotherly Love.
BEST KNOWN FOR: Mustaches and blazers. In the musical sense, the duo forged their own sound of "rock and soul," filling 18 studio albums with their own blend of seemingly infinite styles—pop, rock, doo-wop, funk—earning six #1 hits ("Rich Girl, "Kiss on My List," "Private Eyes," "I Can't Go For That (No Can Do)," and "Out of Touch"). Emerging out of Philadelphia in the late '60s, the duo proved that traditional soul and funk knows no bounds or color and went on to see huge commercial success in the late '70s-early '80s thanks to their ability to uniquely soundtrack the various stages of love, from euphoria ("You Make My Dreams") to desperation ("She's Gone").
STILL GETTING IT DONE: Hall & Oates were inducted into the Songwriters Hall of Fame in 2003, having influenced bands like Death Cab for Cutie and Gym Class Heroes, as well as the admitted superfans of Chromeo, who stopped by Daryl Hall's web series, Live From Daryl's House in 2008. They've flirted with solo projects over the years and continue to perform together, last releasing the live compilation album Do What You Want, Be What You Are: The Music of Hall & Oates in 2009. Despite a lack of new material in recent years, their music continues to reach new audience thanks to its use in pop culture of the late aughts, most notably Joseph Gordon-Levitt's post-coital moment in (500) Days of Summer (2009).
BEST MUSIC VIDEO POTENTIALLY SHOT IN HEAVEN: "I Can't Go For That (No Can Do)." Have they reached the pearly gates, or is this just a preview? Every time a man grows facial hair like that, an angel gets its wings.
GREAT MOMENTS IN '80s FASHION, VOL. ?: From the bright-colored blazers and muscle tees, the duo's style was everything at the time, and continues to be everything needed for a great halloween costume in 2012. See Glee cast's take on the their tunes for further instruction.
THE BAND'S THIRD MEMBER: John Oates' mustache. While may have received criticism over the years or even been doubted by its owner, that expertly groomed piece of facial air really does know all of the pair's dirty little secrets and is responsible for those infectious hand claps in "Private Eyes."
GREATEST HITS:
JANET JACKSON
WHO SHE IS: Part of the Jackson family, which should need absolutely no introduction; we shouldn't even have to mention her older brother Michael here. But more than that, she's a legend in any and all of these arenas: R&B, pop, dance, style, independence, any combination of the above.
BEST KNOWN FOR: Where do you start? With the Jacksons? With breakout solo album Control, a Jimmy Jam & Terry Lewis-produced firebomb of a dance-funk album, fierce and effortless, and singles like "Nasty," "Control" and "The Pleasure Principle"? With "Rhythm Nation" and its iconic choreography? With her equally solid string of singles well into the 2000s, like "All For You" and "Someone to Call My Lover"?
STILL GETTING IT DONE: Reread that part about an equally solid string of singles well into the 2000s. But you wouldn't even need those, because Janet--Miss Jackson, if you're nasty--codified exactly the sort of pop stardom that you'd guess from that aside: titanic confident, sexually assertive and flawlessly choreographed. We'd list the pop stars who've cited her as an influence, but you'd get just as close by looking at any given year's top 10.
BEST DICTIONARY ENTRY SHE MAY OR MAY NOT HAVE DELIBERATELY INSPIRED: "Wardrobe malfunction," noun, "the temporary failure of an item of clothing to do its job in covering a part of the body that it would be advisable to keep covered." We're going to assume you know what this refers to.
MOST IMPRESSIVE SEMI-FAVORABLE COMPARISONS TO FAMOUS ACTRESSES SHE'S EARNED: Two from The New York Times: Lana Turner and Meryl Streep, both for her performance as Jo in Tyler Perry's For Colored Girls (an adaptation of the Ntozake Shange play).
MOST PROVOCATIVE RECREATION OF JANET'S ALREADY-PROVOCATIVE ROLLING STONE COVER: Kathy Griffin. The original, for reference.
GREATEST HITS:
JOURNEY
WHO THEY ARE: The Bay Area stadium band of the late '70s and '80s that dads may or may not admit to jamming to. Founded by former members of Santana and surviving an evolution from rhythmic jazz fusion into pop-rock stadium catnip by picking up the luminous voice of Steve Perry, the band experienced its strongest commercial success during the '80s, where most of their time was spent teaching audience members how to wave their lighters in the air without burning the person next to them.
BEST KNOWN FOR: Encouraging those young, in love, or on the verge of something great to keep the faith. "Don't Stop Believin,'" off 1981's Escape has gone from a live favorite, to forgotten guilty pleasure and back to a karaoke staple, while songs like "Faithfully" and "Open Arms" are the the quintessential soft rock ballads for those with a nearby guitar and someone to croon to.
STILL GETTING IT DONE: Following Perry's departure from the band in 1998 and fleeting cast of replacements, Journey filled out their roster by picking up Filipino singer Arnel Pineda in 2007. The re-tooled band has gone on to release Revelation in 2008 and Eclipse in 2011 and continues to tour, but really reached their place atop 21st century pop culture thanks to music supervisors longing for nostalgic radio jams. David Chase featured "Don't Stop Believin'" in the 2007 series finale of The Sopranos, while the song became the staple piece for '80s-themed jukebox musical Rock of Ages, as well as the anthem for all underdog-related material on Glee.
ROTATING CAST OF CHARACTERS: Since the band's inception in 1973, the band has amassed 13 members past and present. Talk about a crowded dinner table.
MOST OVERPLAYED JOURNEY SONG: No matter how depressed you may get, these guys really, really don't want you to STOP believing.
BEST SHAMELESS MOMENT FOR AN AMERICAN IDOL MENTION: Yo dawg! Did you know that the eloquent and longstanding American Idol judge Randy Jackson is featured on the band's 1986 album Raised on Radio? Jackson and fellow studio musician Larrie Londin filled in after the band took a brief hiatus and fired Ross Valory and Steve Smith, and can be seen performing the title track with a glorious high-top fade that clearly brings him to tears whenever he pats his head and thinks about it.
STRANGEST JOURNEY HEADLINE IN THE LAST 10 YEARS: Guitarist Neal Schon having anything to do with a former Bravolebrity. Schon and Michaele Salahi, former Real Housewives of DC star and noted White House party crasher, gained attention after Salahi decided to leave her space as a perpetually uninvited "socialite," for a life of passion on the road. Salahi's decision to run off with her apparent old flame, led her estranged husband Tareq to tell various media outlets she had been kidnapped, adding yet another sad layer to his continuously mockable life, and opening the door for one of the creepier Bravo spin-off ideas.
KRAFTWERK
WHO THEY ARE: Florian Schneider (at first), Ralf Hütter and assorted other German guys who made "robot pop"--minimalist, deliberately steely and completely electronic music--and launched an entire genre in the process.
BEST KNOWN FOR: Albums with titles like Radio-Activity, The Man-Machine and Computer World, utter seriousness about the associated technofetishism--i.e. single "The Robots," as in "We Are..."-- that only becomes more and more prescient the more tendrils technology gets into our lives.
STILL GETTING IT DONE: Let's see. The entire genre of electronic music is not exactly doing poorly, even if everyone suddenly started calling it EDM a month or so ago. Hip-hop's not doing poorly, either, and founding hit "Planet Rock" samples two separate Kraftwerk tracks. New wave--another Kraftwerk-influenced genre--wasn't doing poorly in the '80s, nor now when seemingly everyone's reviving it. Then, of course, there are all the tribute bands.
LEAST LIKELY TRIBUTE BANDS: Comedian Bill Bailey's only-semi-facetious Augenblick? Latin remixes by a guy who goes by Señor Coconut? Or, most recently, Sonic Youth's Kim Gordon and Pussy Galore's Julie Cafritz(!) as Free Kitten[esque]?
MOST UNSETTLING NOT-ACTUALLY-A-TRIBUTE BAND: Autobahn from The Big Lebowski. The faces alone!
MOST UNINTENTIONALLY MEANINGFUL TECHNOLOGY SNAFU OF PRESENT-DAY: Kraftwerk announced eight shows at New York's Museum of Modern Art. About 60,000 people were thwarted in their ticketing quest by faulty technology, venting enough existential rage on Twitter to get Kraftwerk trending. All they heard for more than an hour: "You are waiting in the queue."
GREATEST HITS:
DONNA SUMMER
WHO SHE IS: The queen of disco--a designation that'd seem rather fusty a few decades ago, when disco as a genre was seen as the over-spangled, overly shallow diversion the world long sincegot past. But lots of reappraisal later, that designation means what it should. Of all the genres' varied and often anonymous hitmakers, she's one of the few with genuine name recognition--one of the few genuine legends.
BEST KNOWN FOR: Two tracks in particular: the Giorgio Moroder collaboration "Love to Love You Baby," a minimal yet provocative track which got people at Time Magazine to tally its simulated orgasms (there were 22, in case you wondered), and follow-up "I Feel Love," as chilly as it's slinky; its synthesizers sound like metal scaffolding feels. We should also mention fellow disco hits like "Hot Stuff" and "Bad Girls," plus her '80s R&B pivots like "She Works Hard for the Money."
STILL GETTING IT DONE: Disco, as a genre, isn't exactly doing so poorly right now, and Summer, being one of its greatest artists, has got to share some of the credit for that. But if you want more explicit influence, the list of Donna Summer samples is huge and very current.
LEAST PROMISING ENTRY IN THE HUGE LIST OF DONNA SUMMER SAMPLES: "Rocket to Uranus" by Vengaboys feat. Perez Hilton, which samples "I Feel Love." (Other artists include the far more respectable likes of TLC, Beyonce, Dr. Dre and Timbaland.)
CHEESIEST COMMERCIAL EVER SOUNDTRACKED: Diesel's "Loverdose" fragrance ad last year. It's cheesy because it ascribes the various fainting/vapors/dropped traffic tickets to her perfume and not the song.
CLOSEST SHE'S COME TO THAT OTHER HALL OF FAME: 2010, where she was nominated but not inducted. To be fair, The Hollies were desperately in need of their recognition, right then.
GREATEST HITS:
"WEIRD AL" YANKOVIC
WHO HE IS: Musical parody grand master supreme, proving no one in music is safe from having their lyrics reduced to a fat joke.
BEST KNOWN FOR: Michael Jackson spoofs "Eat It" and "Fat," taking Coolio's Dangerous Minds theme song back to the farm, and failing to let even the most self-serious of current pop stars slide when it comes to potential punchlines. With over 150 parodies and three Grammy Awards, Yankovic has built his brand as a musician, video director, television host and essential pop culture personality, helping us to identify the most deserving of friendly ridicule.
STILL GETTING IT DONE: In the world of musical comedy, Yankovic remains in a class by himself. Save for the occasional clip from Jimmy Fallon or Funny or Die, Weird Al's eye for jumping on the pop culture meme begging for to be made of remains unprecedented. 2011's Alpocalypse targeted Lady Gaga in the heat of her own promotional period, on the heels of her own Born This Way. Despite initial protest, Yankovic and fans were able to win over Mother Monster who later came to admit his version, "Perform This Way", was "very empowering." Whatever works.
FAVORITE SUBJECT: Many artists from Prince to Paul McCartney and Led Zeppelin's Jimmy Page have refused rights to Weird Al in the past, but Michael Jackson was one of his biggest cheerleaders, giving him his blessing to recreate "Beat It" and "Bad," and even allowing him to record a video for the latter using actually set pieces from the original "Badder" video. His ability to create a punchline out of virtually nothing, paired with the massive exposure and popularity he's cultivated, has led some of the more serious members of the music community to see being parodied by Yankovic as the ultimate compliment.
A MUSICIAN ABOVE ALL ELSE: After so many parodies, one might forget that Yankovic is an accomplished accordionist. His skills can be heard on a 2011 collaboration with The Roots, a cover of Madvillain's "Accordion." Yet another unexpected pairing, and our favorite person to strap on said instrument since the lovely Joan Harris.
BEST OPPORTUNITY FOR A(NOTHER) SIDE JOB, SHOULD HE NEED ONE: If NBC is really struggling, it could all be because of their own promotional strategy. Ask someone who's sold 12 million albums.
GREATEST HITS:
If you're done checking through our artists pages and are ready to cast your official Popdust Hall of Fame ballot, head back to the main poll here.