The Walking Dead has always been a show about constant survival and crippling uncertainty. Following the Season 5 mid-season finale (titled "Coda"), the group witnessed another devastating casualty. Now, Rick Grimes (Andrew Lincoln) and company are back on the road. There seems to be no hope, as they continue to struggle between their humanity and staying alive at all costs. As teased in the new key art (below), the group is traveling down a dark road, as their beloved leader looks back. On the ground, the map—scrawled on by Abraham Ford (Michael Cudlitz) and given to Rick at the now-abandoned church—is left on the ground. "The New World's Gonna Need Rick Grimes" is in full view. Could this hint at a return for fan-favorite character Morgan (Lennie James)?
As fans already know, James' return was highlighted during the Season 5 premiere and the mid-season closer. Reportedly, Morgan is a few months behind Rick's group. In fact, he discovered the map when he came upon the church. That begs the question: when, exactly, will he join up with the rest of the survivors? (Come on, AMC, give us that, at least!!!)
The second-half synopsis reads: "After the tragic events of the midseason finale — as well as losing the possibility of a cure in Washington, D.C. — Rick Grimes' band of survivors find themselves on the road, surviving day-to-day and trying to hold on to their shredded humanity and dwindling hope. Stripped of security and without a direction for the future, some of the group near their breaking point, some find themselves hardened and cold and some just try to grasp onto what little they have left. Though they are still breathing, the line between Rick's group and the dead is starting to blur. Could there be anything at this point that brings them back to life?"
And here is the Season 5B key art: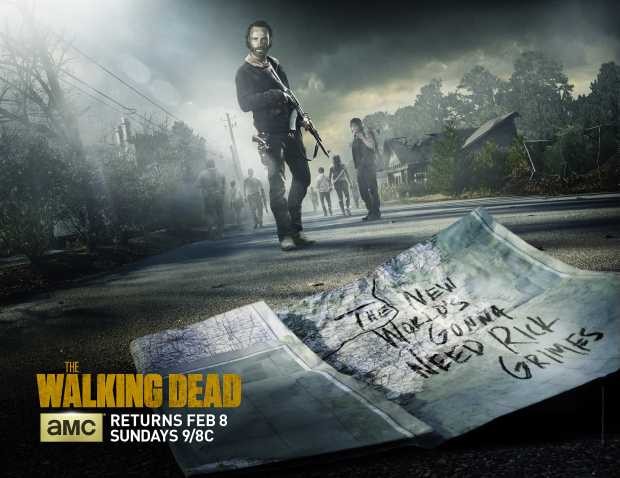 Stay tuned for updates. Feel free to follow @Popdust and JasonTheScott on Twitter!