Actress Lauren Cohan knows a thing or two about surviving in a post-apocalyptic world. During her promo stop on Jimmy Kimmel Live! on Wed. (Feb. 4), the star, gearing up for the returning of The Walking Dead on Sun. (Feb. 8), chatted about her bloody encounter with the police. "There are times when I leave [the set] without washing. I had one day where I was elbow deep walker guts, and I was just tired and had to go," she tells host Jimmy Kimmel. "I'm driving home...and I never, ever, ever, ever, ever get pulled over. I'm a really good driver, mostly."
She continues:
"On this one instance, I literally have blood up to here. Not only [that], but we had a fight scene. I had twigs and all this dust. I had dust in my teeth. I'm so freaking filthy. I'm driving home and I see the sirens behind me, and I get pulled over by a cop. I'm thinking, 'he's either going to stop me and run away himself because I look like a psycho or I might get away with this if he knows I'm from the show.' He comes up beside me and I literally take my script and prop it up and make sure he can sees it's from the show."
But here comes the kicker. "I'm standing there waiting for him to run the thing," Cohan says, miming writing a ticket. "Instead of a ticket, he actually says, 'Now little lady, I don't see a ring on your finger. Does that mean you're single?'" Cue: awkward pause. "I so wished I had just had a ticket," she laughs.
Later, Cohan shares an adorable story about how much her grandmother adores the zombie thriller. "My grandmother is probably the biggest fan. She has the most opinions. She checks in with me. She'll call me after this. She says 'hi.' She loves it. She'll talk about everything and the hair." The actress then plays a super cute voice mail her grandmother left her.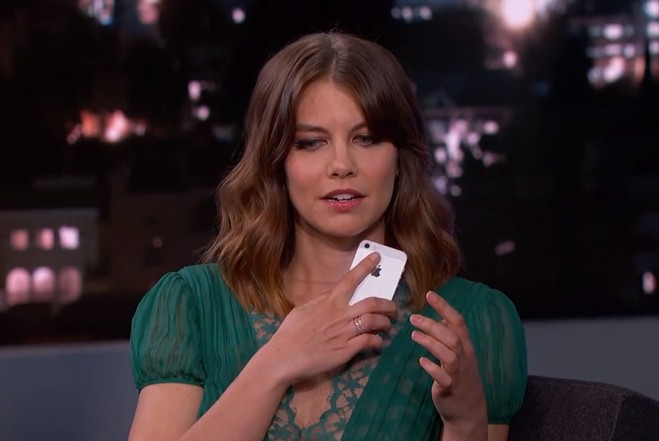 Stay tuned for Lauren Cohan updates. Be sure to follow @Popdust and @JasonTheScott on Twitter!