lift surfboard with vagina Want To Lift A Surfboard With Your Vagina? This Woman Will Teach You How!
While many of us have never wanted to lift a surfboard with our vag, we can use it to lift other objects if we follow the advice of nutcase Intimacy Coach Kim Anami.
The self-described Sexual Savant and 'Vaginal Kung Fu Master' gives lessons to aspiring vaginal weight lifters, promising better relationships and much, much more.
Women! You Can Put A Weed Pill In Your Vagina To Ease Your Menstrual Cramps!
Putting aside relationships, think how useful your vag could be when you just need another pair of hands!
When you're tidying up around the house, when your hands are full but your phone is ringing, when you're juggling grocery bags or bringing in things from the car...your vag could chip in to help!
No more calling your surly teenager to come clear the dinner table; just use your vag and be done with it!
When Life Gave One Woman Thrush, She Made Sourdough With The Yeast
Anami, a lean 44-year-old surfer from Los Angeles, has a vast collection of pictures on Instagram illustrating her vagina's feats of strength. Lifting coconuts, handbags, chandeliers, fans, pomegranates and who knows what, her vag is always on the move. She cuts a dashing figure, walking down the streets of Paris with a trophy dangling from her vagina.
Kim offers an 8 week 'Virtual Salon' in Vagina Kung Fu, and provides enticing testimonials from satisfied graduates like this one: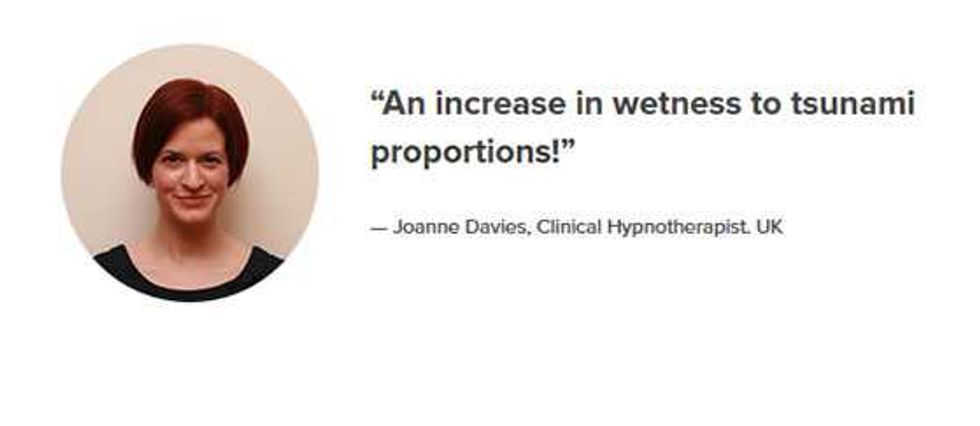 I don't know, a tsunami is a little off-putting, but maybe you can dial it down to a whirlpool or something.
Model Posts 'Real Life' Photos On Instagram, Loses Thousands Of Followers
Plus, if you don't need your vag to carry around fruit or handbags, the Vagina Kung Fu course will teach you how deeper vaginal orgasms can increase your cash-flow.
Kim breaks down the elements of her course and assigns a dollar value to each, coming up with a total value of $8,617. But you can have it all for just one full payment of $997.
Ladies, that is a savings of...wait, my vag is going to do the math....$7,620!
Do Women Need An App To Stop Saying I'm Sorry?
I'm wondering if Kim's vag has forgotten how to increase cash-flow, since she seems to be letting a fortune slip away with each student.
Now I'm dubious about the whole thing.
I'm sorry.
New Veet Ad Attempts To Shame Women Into Hair Removal—Don't Risk Dudeness!
Much as I'd like to heal past traumas that are stored in my vag and stop leaking sexual energy (salons 5 and 3, respectively) I simply can't put my trust in a woman whose vag is willing to lose that much money. If fact, I think this whole thing is a scam.
I'm going to resign myself to carrying my luggage with my hands, or just ask my husband to do it.
Check out Kim's website and decide for yourself and/or your vag.