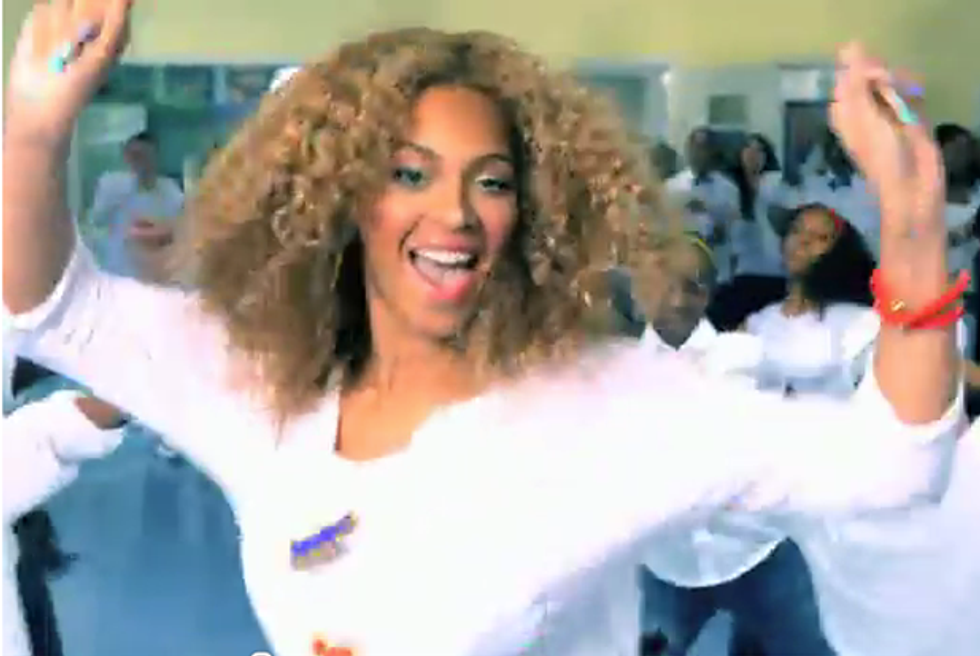 Until the video for "Girls (Who Run The World)" is released, we'll have to make due with fawning over Beyoncé's vacation pics and breaking a sweat to her exercise routines. The First Lady of Fierceness has teamed up with First Lady Michelle Obama's campaign against childhood obesity, reworking her 2007 hit "Get Me Bodied" as "Move Your Body" for the "Let's Move! Flash Workout" event on May 3. In the video below, Bey leads a group of rhythmically gifted students through various dance moves (including the dougie and the running man), before wrapping things up with a show-stopping patriotic finish (this is America, people. What did you expect?). Get off your butt and move your body to the video below. (Disclaimer: Users can begin to see Bootylicious results after 3-4 views.)
These cute kids do a good job keeping their cool in B's presence (taking a page from Hov himself). But really, if Sasha Fierce put on an impromptu show in your cafeteria, chances are you'd look a little something like this. Or maybe that's just me.
For lots more pics, videos and up-to-the-second dish on Beyoncé, be sure to check out her Popdust Artist Page.