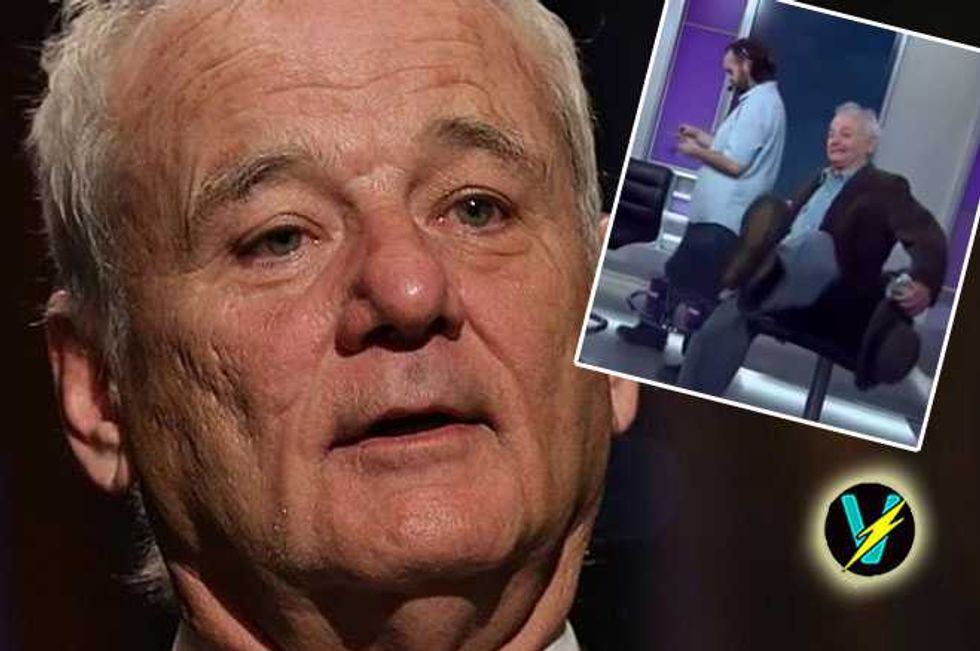 Bill Murray was a little worse for wear when he appeared on The Last Word on Tuesday night!
He had been celebrating on the penultimate Late Show With David Letterman and merrily downed several vodka shots during his appearance.  He had then gone on out for dinner and necked a few more, so that when he arrived at the studio for a spontaneous interview he was out and out drunk.
As the program cut to a break, the 64 year old actor could be seen falling off a chair in the background!  He then explained in a hilarious slurring interview with Lawrence O'Donnell;
"I just did the Letterman Show, then went to dinner and had oysters, rosé wine, red wine and duck.  "And then I rushed here to do your show because Jim said that you wanted him to come on the show and "would you mind coming?"

'I said, you know, I think you're doing great... so when he said come, it wasn't a question'
Bill's not the only celebrity to have a few cocktails before an appearance.
Check out our top five drunken celebs;
Steve-O—prior to getting clean Steve O appeared on Too Late With Adam Carolla whilst well and truly trashed.  The interview culminated in him trying to tackle the host and watching this it seems sobriety couldn't come soon enough for the poor dude!
Danny Devito had been out on the booze with pal George Clooney the night before he appeared on The View in 2006.  The hosts were nervous with his somewhat wobbly demeanor.  Danny managed to insult ex-Prem Bush by calling him a "Numb Nuts", admit that he went all the way with his wife in the White House, and gurn an impression of Defense Secretary Donald Rumsfeld!
Sharon Osbourne appeared on the spin off UK X Factor show in 2006 and tried to explain her drunken state saying it was her birthday.  She cackled her way through the interview like a pro though.
Ben Affleck was post J-Lo, pre Jen when he hit upon this clearly starstruck reporter in 2006.  He totally forgot to promote his film and proceeded to make us cringe for a full five minutes.