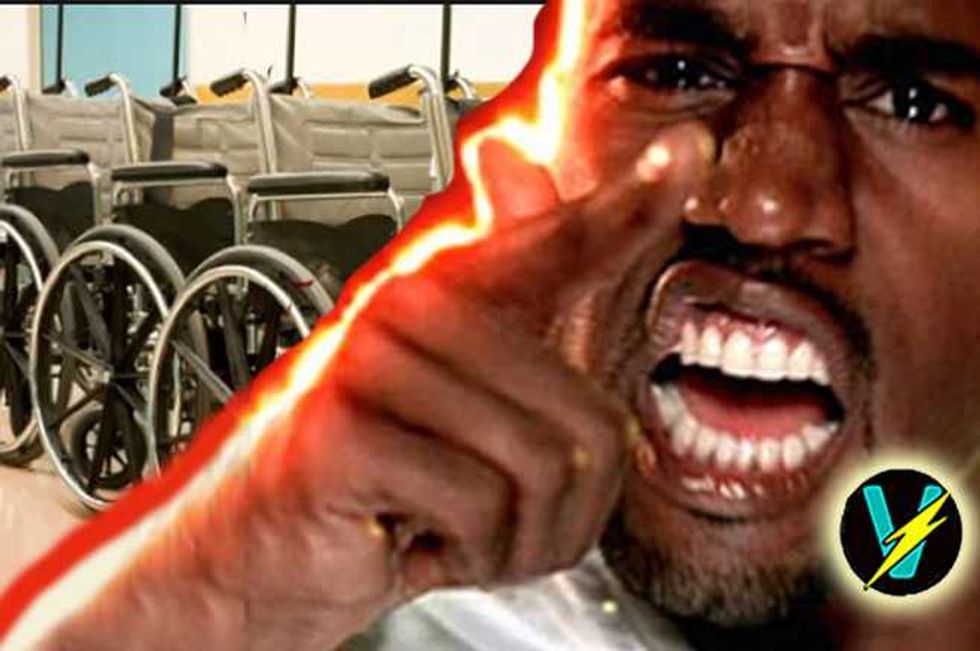 "I decided I can't do this song, I can't do the rest of the show until everybody stands up," Kanye West said this weekend during one of his concerts in Sydney, Australia, on the tail end of his Yeezus tour. "Unless you got a handicap pass and you get special parking and shit."
When two fans failed to stand, Kanye was PISSED! He singled them out until they were booed by the entire audience! "This is the longest I've had to wait to do a song, it's unbelievable," he fumed.
Events soon took a mortifying turn however, when it finally dawned on Mr. Kim Kardashian that the two fans WERE in fact disabled. The lightbulb was switched on after one of the fans removed a prosthetic limb and waved it in the air like he just didn't care.
"Now if he is in a wheelchair, then it's fine," West conceded, albeit somewhat grudgingly.
But wait. Hold your horses. Before you get all bummed out about what an asshole Kanye is, remember: The guy has a God complex. Did you not happen to notice the name of his tour?? It's firkin' Yeezus!
He wasn't yelling at the disabled people but cursing the apparent failure of his special powers. Like a modern day Jesus, Kanye was attempting to heal the maimed!
And large crowds came to Him, bringing with them those who were lame, crippled, blind, mute, and many others, and they laid them down at His feet; and He healed them. So the crowd marveled as they saw the mute speaking, the crippled restored, and the lame walking, and the blind seeing; and they glorified God of Israel.… or in this case, Kanye West from Chicago.
You can watch the cringe worthy video in full below.
Want to see Kanye in person? Grab concert tickets from Coast to Coast Tickets?