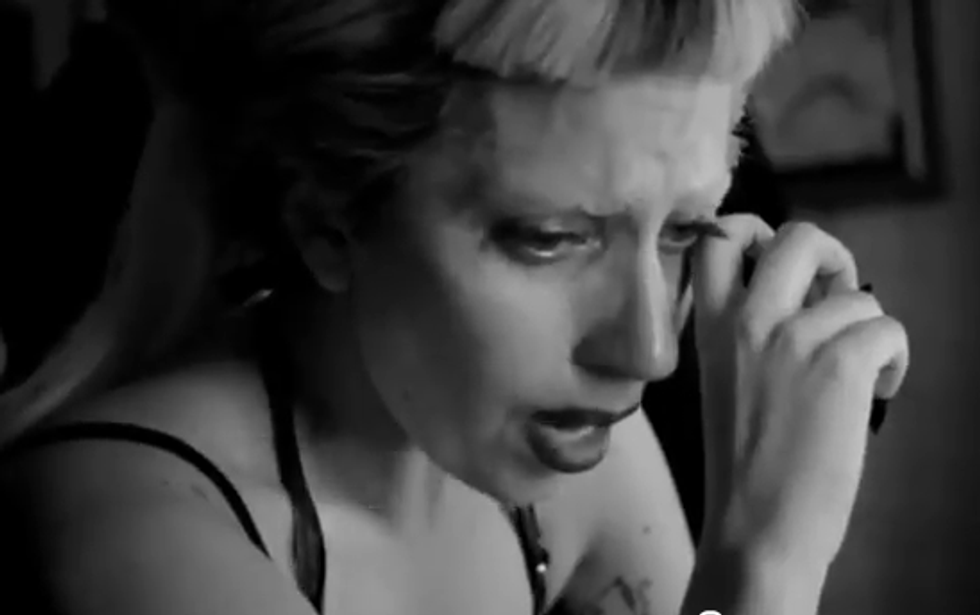 In the newest trailer for her upcoming HBO concert special, Lady Gaga reveals her more vulnerable side, one that's rarely seen beneath the elaborate costumes and ultra-confident stage presence. This gritty clip (embedded below) shows a black-and-white Gaga stripping away her makeup backstage at the Garden, before crying about insecurities that continue to plague her everyday. "I still feel like a loser kid in high school," she says. "And I just gotta pick my sh-- up, I gotta pick myself up, and I have to tell myself I'm a superstar every morning so that I can get through this day and be for my fans what they need for me to be." Watch Mother Monster get real below.
This raw display of emotion drives home Gaga's lyrics of love and self-acceptance. There are moments of fierceness ("You will never destroy the kingdom that is my fans") as well as paranoia ("Sometimes I still feel like people are trying to destroy me"), yet ultimately the four-minute trailer is a closer look at Stefanie Germanotta the 24-year-old woman, someone the public hasn't really seen since "Just Dance" made it big in 2008.
Lady Gaga Presents The Monster Ball Tour: At Madison Square Garden premieres May 7 at 9 p.m. EST on HBO. Do you like this softer, "authentic" side of Lady Gaga or would you rather just see some wigs and lipstick?
For more pics, videos and up-to-the-second dish on Lady Gaga, check out her Popdust Artist Page.