Meghan Trainor fluffs up the self-love in her brand new Me Too music video. Shaken and stirred from a similar empowerment kool-aid as many of her biggest career peaks so far, including the curvy All About That Bass and stompingly-alert  Lips Are Movin', the zippy new single samples a Scream and Shout-era Britney Spears and serves as the second soon-to-be-smash from her sophomore studio album, Thank You (now streaming exclusively on Apple Music). It follows the massive No lead single.
In the clip, Trainor blows a kiss to her Best New Artist Grammy bedside, rocks a giraffe onesie in downtown Los Angeles and enlists a bevy of backstage crew to primp and pamper, leading into an explosive group dance number. Her life is a movie, Tom Cruise, ya'll!
Watch below:
Producer Ricky Reed, the man behind songs of Jason Derulo, Fifth Harmony and Mary Lambert, unleashes a stylistic upheaval on Trainor's new album, out everywhere on Friday (May 13). "Once we had 'No,' we banged out a few more songs. It began to put the album under a new lens. We thought 'what makes sense next and what feels better now than it did before the context of the album and what doesn't work anymore.' It was a tough process," he told Popdust. "Meghan loves all of her songs so much, and I love that about her. It was hard for her to severe any of those. They are all very, very special to her. We had so much great music to choose from."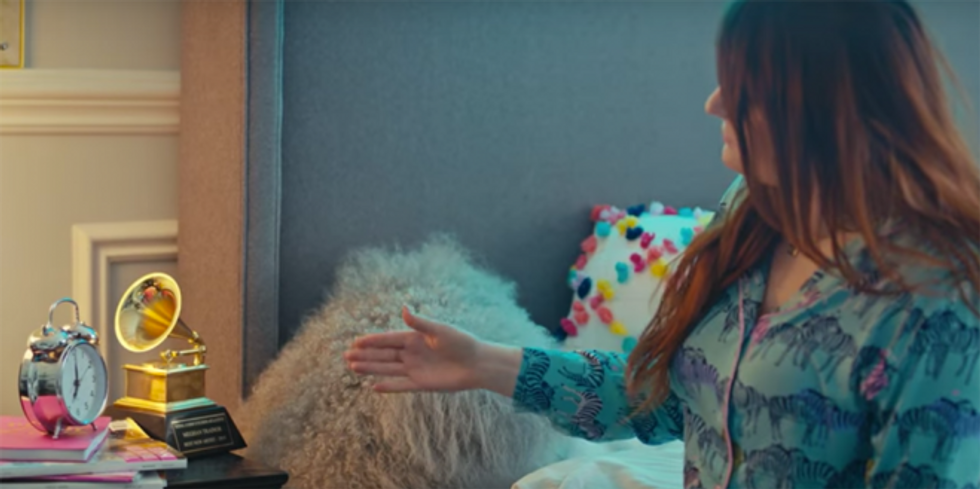 [PHOTO CREDIT: Rich Polk/Getty]
Stay tuned for Meghan Trainor updates. Be sure to follow @Popdust and @JasonTheScott on Twitter!