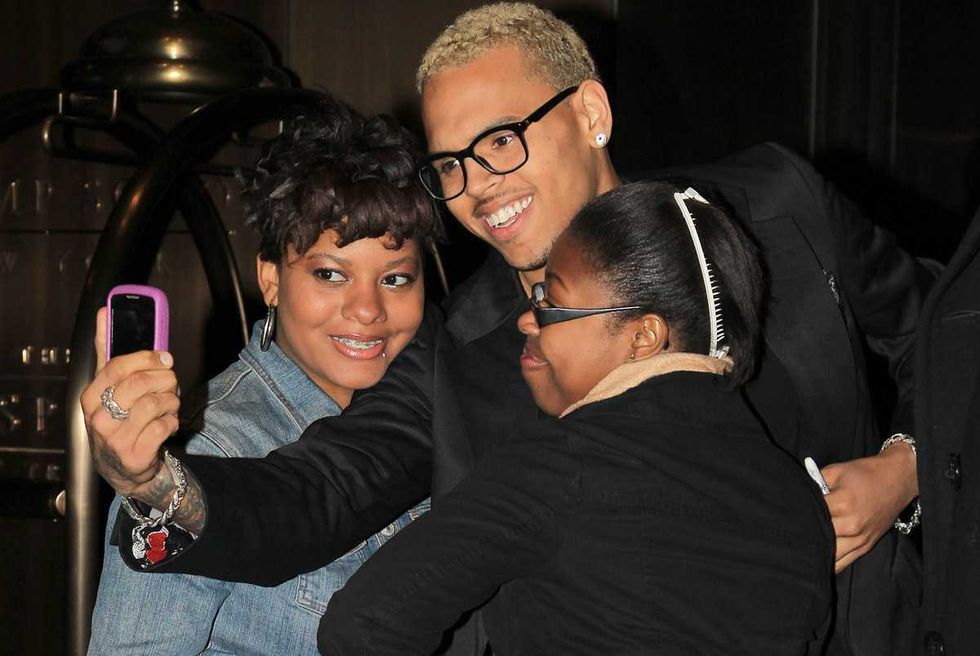 Amidst all the hubbub yesterday—what with the broken windows, the hoops cameos, the general shirtlessness—you could very easily have missed the fact that Chris Brown was also debut the new video for the third single off his F.A.M.E. album, "Beautiful People." Brown was supposed to premiere said new video on MTV's The Seven a few hours after his controversial outing on Good Morning America, but got, uh, distracted, and ended up skipping the appearance. Nonetheless, we now have the video for your viewing pleasure:
The video finds Brown unburdened with the negative energy from all those Haters and Naysayers out there, just enjoying living life, surrounded by his famous friends. He rides his scooter all around the city, kicks it in the back seat, plays to a grateful club of thousands, and goofs off in the studio with celeb buds like Nelly, Timbaland, Pharell and T-Pain (with no sunglasses!!). At one point everyone's feeling so good grooving to the Benny Benassi-produced house banger ("Satisfaction," anyone?) that they start breaking out the Jersey Shore fist-pumping. Really, it looks like something that they could have played on MTV2's AMP around the turn of the millennium, only with names for the marquee that are a lot sexier than Darude and Bad Boy Bill.
Meanwhile, those tireless workers over at NMA.tv have somehow already managed to turn out a video recapping Breezy's latest brouhaha. It's worth watching if only for the sequence of a roided-up looking Brown smashing his dressing room window with a chair, ripping off his shirt like the Hulk, and then using said shirt to parachute down to the street below. Fantastic.
Finally, ABC and Good Morning America claim they bear no ill will towards the R&B star, are not pressing charges, and in fact, welcome the singer back with open arms. "I wish him the absolute best," said GMA host Robin Roberts. "We extended the invitation to him [to come back], and sure hope he takes us up on it because I'd sure love to have another chat with him." Next time, Robin, maybe stick solely to questions about just how much he loves his fans. He seems to really like talking about that.