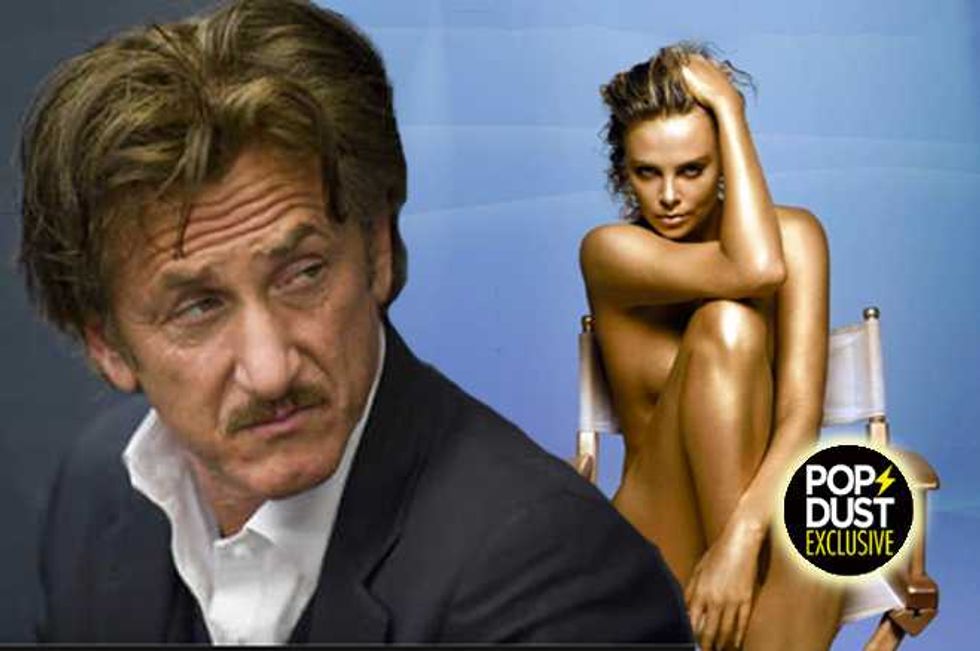 Looks like the honeymoon period may be over before the wedding has even occurred—and Charlize Theron had better watch out as Sean Penn starts to show his true colors.
The once notorious hothead, renown for his hair trigger temper and mean jealous streak, had seemed to mellow in old age—but a source tells Popdust that the 54-year-old is still struggling with some of his old demons.
As previously reported, the rumor mill is in overdrive with reports Penn and Theron are planning to wed—but, you may want to hold off on purchasing that shiny new toaster just yet, as their still fledging relationship further evolves.
So, what's pissing off Penn these days? Pretty much the same thing that was pissing him off back in the day when he landed up in jail and was subsequently charged with felony domestic assault after a bitter bust up with then-wife Madonna.
That good old fashioned green eyed monster.
"They've known each other for years and when they were just friends one of the main things Sean loved about Charlize was her free spirit," our source says. "But, now they're in a relationship, it's one of the main things that he's struggling with and he's starting to show his true colors.
"Charlize thinks nothing of wandering around at home in next to nothing, and at first Sean thought it was hot, now though, not so much. He's already told her to put more clothes on, pointing out that there are staff milling around—which is a fair point, but, it's not like she's totally nude for heaven's sake!"
And it seems Penn is also struggling to deal with the inevitable male attention his drop dead gorgeous girlfriend receives when they are out together.
"Not surprisingly, all heads turn when Charlize walks in to a room, men adore her and she's the center of attention, even though that's not something she outwardly courts—Sean's clearly not comfortable though with men gawping at his girlfriend—but short of forcing her to wear a burka, he better learn to deal with it."
Then, there's that age old jealousy trigger—ex-boyfriends.
"Sean's also made a few snide remarks to Charlize about her keeping in contact with her exes, even though he's still friends with many of his… seems there's some real double standards at play.
"Right now Charlize finds his possessiveness kinda cute, but if Sean doesn't get a handle on it, and he allows it to grow, there's going to be a major problem. Charlize is a strong, independent woman and she will not take shit from anybody, especially her partner. And, one thing that is guaranteed to have her running for the hills is drama—Madonna she is not!"