Watch: Rae Sremmurd go for hole-in-one with "Swang" video
Them Sremm boys are at it again!
After the release of Sremmlife 2 last year, the sequel to their debut album Sremmlife (duh), there's been no sign of the two ballers/shot-callers by the names of Slim Jimmy and Swae Lee losing power with the chart-toppers. Now, Rae Sremmurd is back with an all new video for the single "Swang," where we see the duo hit the green, then hit the green, if you pick up what I'm putting down.
The entire thing is pretty goofy and looks it was a ton of fun to shoot, even if it wasn't obvious pounds of weed were probably smoked joint-after-joint during its production. Don't believe me? Take a look for yourself below.
Some select highlights from the video:
Swae Lee hitting one of the thickest but also gnarliest rolled joints I've ever seen in my life. Seriously, the thing could probably pass for some tree branch from the ground.
Three frat boys getting together in a time-tested act of friendship, strength, and loyalty: the keg-stand.
Slim Jimmy literally just rolling up another joint in a golf cart. Because if the cameras are rolling, so are we.
Slim Jimmy getting an old lady extra to hit the joint. +1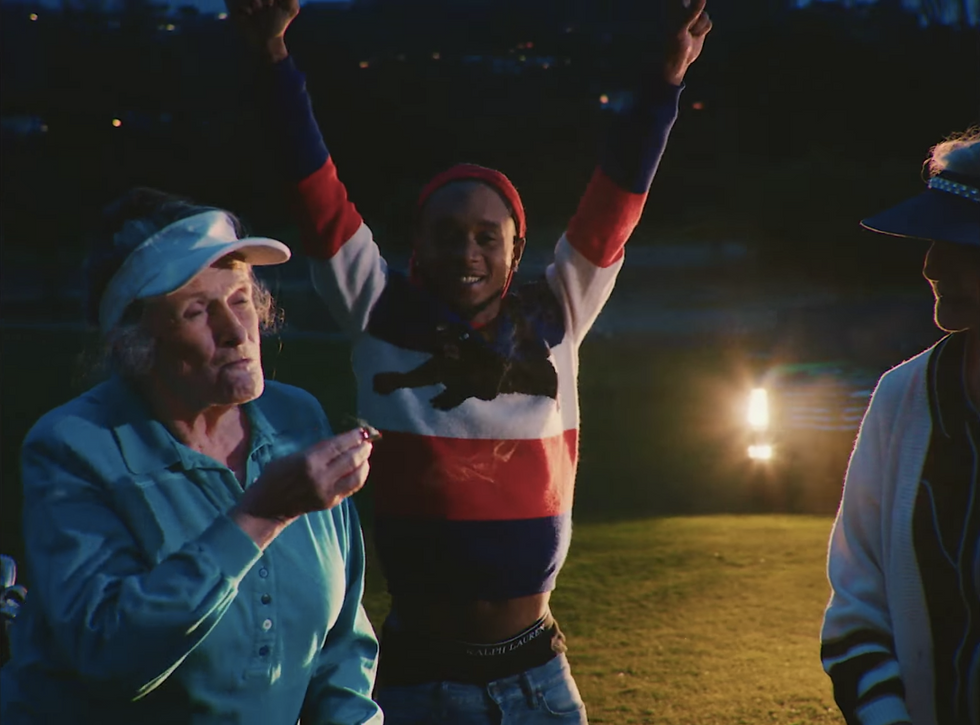 Overall, this whole thing looks baller as f*ck, and it's nothing less than what I'd expect from Rae Sremmurd.
On a rap metagame level, this is also an interesting addition to the "rappers go golfing" music video trope that always seems to be the go-to. But just because it's been done before doesn't make it any less good. Don't believe me?

Puff Daddy- excuse me, Diddy did it back in the 1990s in his classic video with Biggie Smalls for "Mo Money Mo Problems."
Way back when, the group Three Loco, comprised of Simon Rex, RiFF RAFF, and Andy Milonakis went for 18 holes in their video for "Bong Hits."
And of course, who can ignore the founder/head/visionary/CEO-U-Don't-Got-To-See-ID of Golf Wang, Tyler The Creator hitting the links in "Tamale"? Also, every other time he's done it.