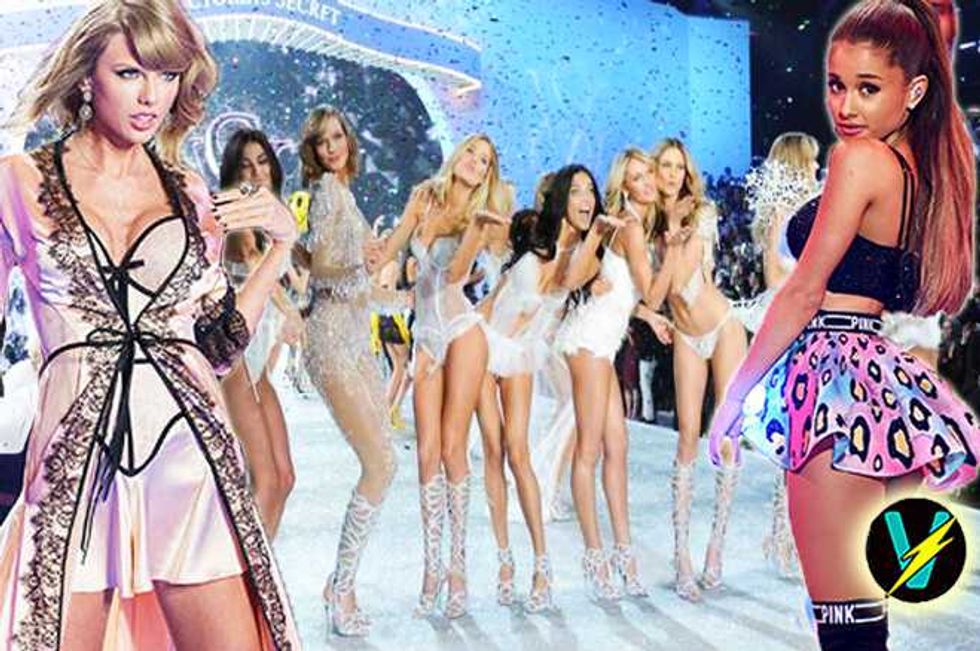 The stars were out in full force at this year's Victoria's Secret Fashion Show, with such pop A-listers as Taylor Swift, Ariana Grande and Ed Sheeran taking the stage with their latest tracks.
Filmed in London last week, the extravaganza—featuring the highest fashion, glam and stunning walks—aired on Tues. (Dec. 9) on CBS. As vibrantly decorated models graced the catwalk, Sheeran performed his song Thinking Out Loud, and if you pay attention closely, you'll spot the British singer-songwriter adorably checking out the, er, talent.
Hozier (Take Me To Church) was also on tap to perform.
Grande performed a medley of her songs Love Me Harder, Bang Bang, Break Free and Problem, all cuts from her newly-minted platinum-certified My Everything disc. The pint-sized diva dazzled in a short skirt (accented with colorful fabric) and a matching top; hunky guys decked out in sleek all-white pieces peppered the stage for the set.
tune into the #VSFashionShow tonight at10/9c! hopefully they don't air the take when I almost died via angel wing. x pic.twitter.com/gw4WRxMowi

— Ariana Grande (@ArianaGrande) December 9, 2014
Swift, rightfully the opener and closer of the evening, took the stage with several 1989 standouts: her latest Hot 100 smash Blank Space and Style (a rather well-timed performance, obviously). She looked as chic as the models, baring her midriff in sexy lingerie and strutting her curves.
Tuesday was totally casual. http://t.co/UBETT26zyY

— Taylor Swift (@taylorswift13) December 2, 2014
Blank Space
Style
Stay tuned for updates. Feel free to follow @Popdust and JasonTheScott on Twitter!