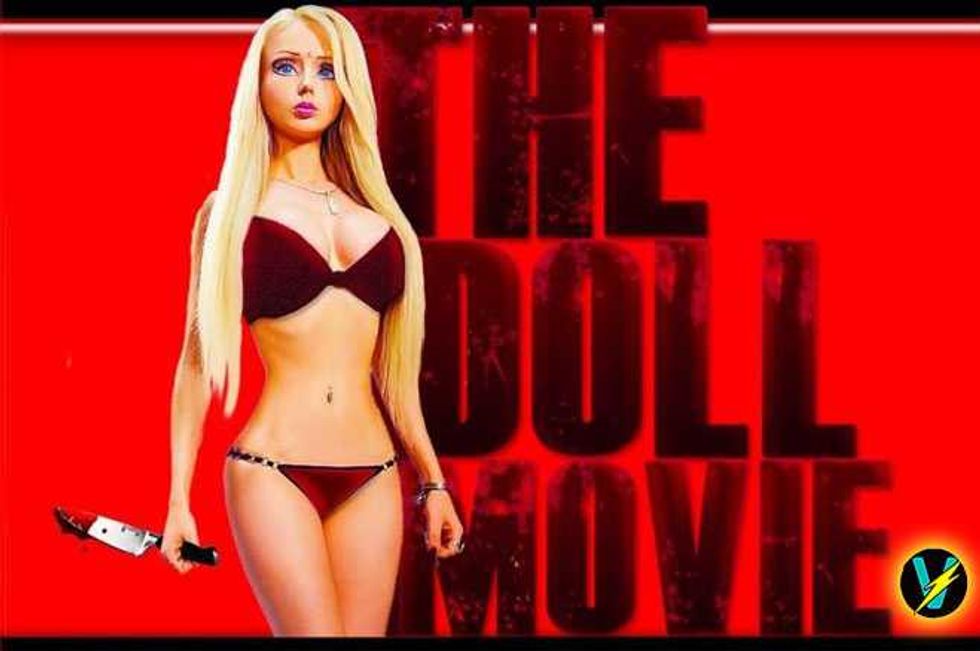 Valeria Lukyanova comes to life in the Human Barbie movie
If you suffer from pediophobia this is most definitely NOT the movie for you!
The Doll stars Valeria Lukyanova as a brutal serial killer—a knife is her weapon of choice, and it really is a hideously bloodthirsty slasher movie, all the more disturbing for those who can remember playing with their perfect plastic Barbie doll when they were a child.
The film, being shown at the Cannes Film Festival this week, is the first acting role for Valeria, the bizarre, batshit crazy 30 year old Ukranian who has devoted her life to being a real life Barbie doll.
The movie tells the story of how a possessed doll terrorizes two friends when they order a model from an escort service.  The synopsis reads;
"A doctor gone mad brings to life sexy possessed human dolls in his Barbie making factory. But, this is NOT your mother's Barbie!

Created from body parts of previous victims these dolls are sewn together to pose as mail order brides and programmed with a talent to kill."
It's a terrifyingly creepy thriller—as if Valeria's not terrifying enough when she isn't running about with a knife and playing with voodoo dolls.
The film's director, writer and producer, Susanna O'Brien said;
"I loved filming with Valeria, she was a natural, she really is a true doll."
Natural? Really?
Check out the trailer below, it's seriously weird—if that's your bag...enjoy!
There's no comment from Barbie's makers Mattel as to whether they will be including "Slasher Barbie" in their Christmas line.
Check out Popdust's gallery of fellow Human Barbie,16-year-old self-professed "ultimate vamp woman" Lolita Richi...