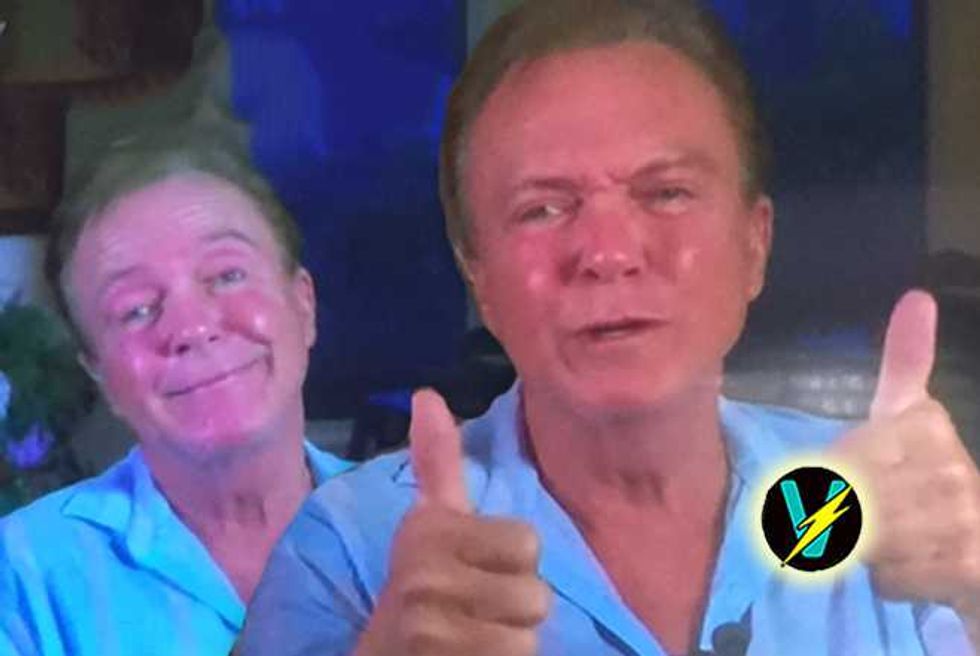 The This Morning show interview with David Cassidy today was truly tragic train wreck TV.
Twitter has been on fire following the cringe-worthy exchange between Eamonn Holmes and the fallen former 70s heartthrob, with some supporting, and some deriding Cassidy over his angry, drunk/befuddled behavior throughout the interview—which you can watch right here on Popdust.
Hollywood's Biggest Dicks, In No Particular Order
This Morning had an exclusive with Cassidy, live from his home on the East coast, and given the 9 am local time for the singer, his red-faced, blotchy, bleary and watery-eyed appearance was an immediate giveaway of his seemingly drunken state, and a precursor of the train wreck to come.
Cassidy was recently forced to declare bankruptcy in the midst of an acrimonious and protracted divorce battle with his wife of 28 years, who kicked the 63-year-old to the curb last year, following his third DUI arrest.
They Tried to Make Brandi Glanville Go to Rehab, She Said No, No, NO
The divorce drama is still obviously hugely painful and raw for Cassidy, and it's only too apparent that he is still boozing heavily—making for an emotional, raw and angry state of mind, that quite frankly should have prevented the singer's management team from allowing him to give a live TV interview.
But, live TV interview he gave…. and, yep, it was truly, truly, terrible and painful to watch.
"Reliving the highlights of a certain time… not that people of a certain age need any reminding of those…how are you these days? How are things?" Holmes kicked off, as he interviewed Cassidy via satellite link from his Florida mansion, which was sold earlier this week at bankruptcy auction for $1.8 million.
Liza Minnelli Checks Into Rehab For Substance Abuse
"Absolutely wonderful.. thank you," answered a red-faced angry and flippant Cassidy, appearing anything but wonderful.
"But how are [things] really?" Holmes pushed.
"They're actually really wonderful… thank you very much….there's someone in our country whose name is Trump ..and he's declared bankruptcy four times," Cassidy snapped back clearly on the defensive. "Just did it to reorganize because I'm in the middle of a divorce… my life is pretty fantastic, thank you very much."
Jon Hamm Checks Into, Completes, Rehab Without Anyone (In The Press) Knowing
"We're glad to hear that," Holmes' wife Ruth Langsford cut in, as her husband clearly started becoming more and more pissed off by Cassidy's aggressive demeanor.  "How hard was it for you David to declare bankruptcy? People have watched your career, all your fans, over the years and they're assuming you've made lots of money, it's probably well invested, how difficult was it to publicly declare bankruptcy?"
"Wasn't difficult at all," Cassidy fired back, obviously pissed at the line of questioning. "I followed advice from my attorneys who said this is the opportunity you have as you're going through a divorce, which in the state of florida is 50/50….so its just reorganizing that's all…"
Josh 'Family Values' Duggar To Pray Away The Sin In Bible-Based 'Rehab'
"Does that mean you'll be able to live off the money you've cashed in on?" Holmes cut in. "Pay off your debts and come out the other side?"
"I'm sorry, I don't understand what you're asking me? My debts?" An angry and confused Cassidy replied.
RHOBH Reunion Round Two—Frozen Faces, Fake Photos, Frenemies, Fighting, Rehab!
"Well, you're bankrupt." Holmes asserted.
"No, when you declare bankruptcy, in this country, it's something you do in order to reorganize what you have, your assets etc. so I'm not going to discuss that…" Cassidy started explaining, before allowing his bubbling anger to really shine through…."Are you just here to rubbish me? Is that what you're here to do to me?"
"No, we are here to inquire how a world superstar, a man who was once the best paid man in the world, the envy of every man on the planet," Holmes snapped back, sticking the boot in further. "And his journey, and what he has come through, and you have come through a lot my friend, you have come through a lot…"
Justin Bieber Is Being 'Urged to Check Into Rehab' For Sake Of Career
"Yes I have, and I still have fantastic assets…." Cassidy insisted, before it all went even further downhill…..and basically deteriorated into a snapping, nasty takedown of the drunk broken former superstar by the holier-than-thou Holmes.
Things just got yet more cringe-worthy when Cassidy started railing against Great Britain's 20 % entertainment tax and rambling about how last time he toured the country he managed to only earn a measly $642.
Ending on a suitably uncomfortable and humiliating note, a smirking Holmes dropped his final question-bomb on the already clearly wrecked Cassidy.
The Good , The Bad And the Very Very Ugly Celebrity Mugshots
"If you had one of your songs to sum up the mood that you're in at the moment, would it be Daydreamer, Could I Be Sure, Will it be Forever? Cherish," a smirking Holmes asked. "If you had one song that would sum up your mood at the moment, which one would you choose? Are you still a Daydreamer?"
Ugh…. just…. ugh….. seriously? The dude is clearly struggling with serious alcohol abuse problems, he's obviously an angry emotional wreck going through a really painful and public divorce, he's just been forced to declare bankruptcy….. seriously?
"If you're not a Daydreamer, you haven't got any imagination…" a confused Cassidy finally managed to slur in response….
"And you have plenty of that do you?" Holmes hit back aggressively. "Plenty of imagination still?"
"I certainly do, yeah, I'm still writing…I'm still playing…. I'm doing concerts over here in the U.S. and it's fantastic for me…." Cassidy replied, going on to conclude the interview, "Thank you very much…. God bless you… thumbs up.."
Keanu Reeves Really Is The Nicest, Kindest, Most Excellent Celeb Of All
For his part, Holmes conceded that it was a good job his wife was there to keep him in line when it came to handling Cassidy, and it was only too clear he was pissed at the singer over his drunken aggression and behavior.
But, as the mixed reaction started flooding in over social media, Holmes couched his aggressive stance and the horrifying tone of the resulting interview by explaining, "We only ask the questions… how he answers the questions is up to him…."
All we can say, is, please get some help David Cassidy, before it's too late.
Truly heartbreaking.