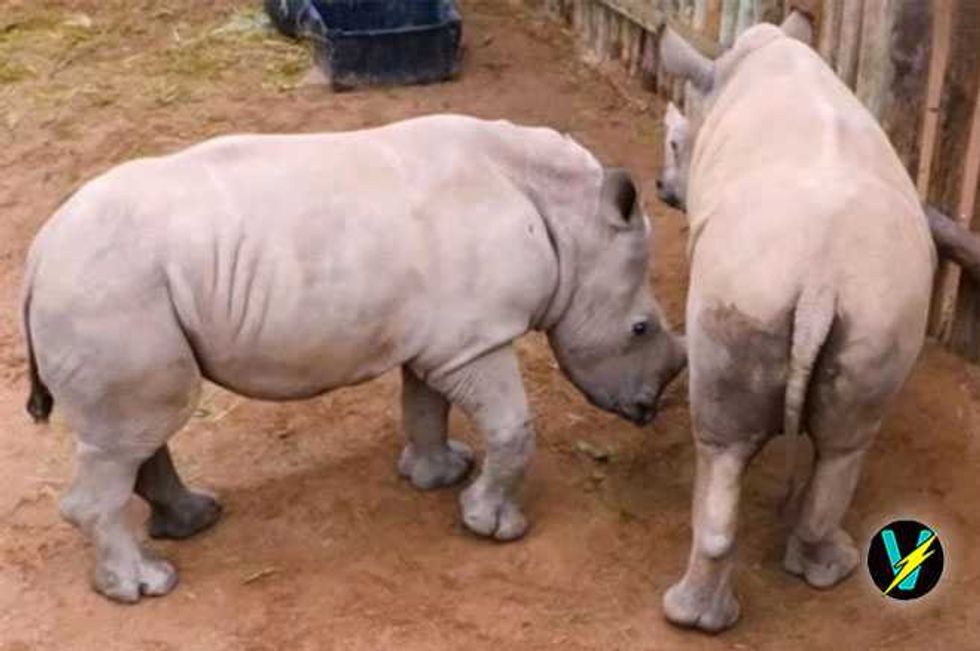 Did you know rhinos cry?
No us neither, but the video below of three orphaned baby rhinos crying when their milk runs out will just break your heart.
These little rhinos witnessed their mother being killed by evil poachers in South Africa and are now being cared for by Care for Wild Africa who released the clip of them being fed through a fence.
The organisation specializes in caring for orphaned and injured rhinos as well as other animals in need.  Wild rhinos are in real danger of becoming extinct within a decade with their numbers being eroded as they are killed for profit. Earlier this year the International Union for Conservation of Nature said at least 1338 of the animals were killed illegally across Africa in 2015.
The adult beasts are horribly killed by law-breaking poachers for their horns which are extremely valuable—the poachers are vicious and the animals die a hideously painful death, leaving their babies orphaned.
If you want to donate to the charity caring for the baby animals you can do so here. Or you can visit Stop Rhino Poaching to see what is being done in the war to stop rhino poaching.
Care for Wild Africa do an amazing job and have released the cute clip below of the baby rhinos crying and looking distraught when their milk runs out raise awareness—check it out....