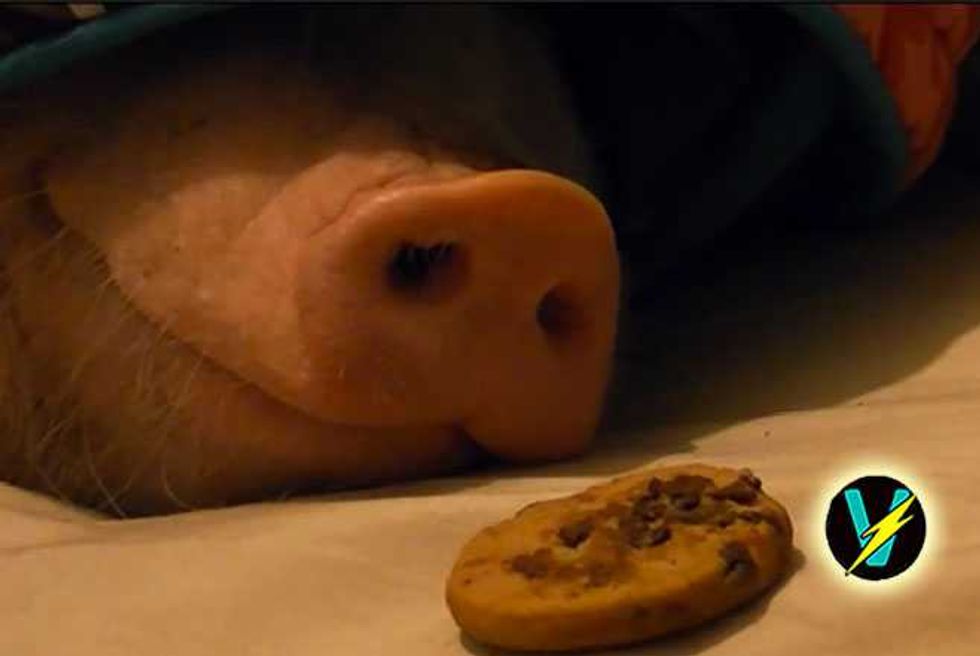 Watch phoebe sleeping pig wake cookie smell
Watching this sleeping piggy wake up to the smell of a delicious cookie may just make you rethink eating bacon.
Well, maybe, well, perhaps.
Mmmmm…. bacon…But, awwwww... sleeping piggy.
Pigs in a blanket
OK, well, it will definitely make you rethink pigs in a blanket.
Because, this super cute piggy, all warm and snuggly under her blanket could make you rethink just about anything really.
Phoebe is laying down some serious Zzzzzzzsssss…..and going by the big smile that's fixed firmly under her soft, pink snout, she's enjoying some truly awesome dreams.
However, there's one thing guaranteed to be even more wondrous than awesome piggy dreams.
Piggy dreams Vs cookie smells
And that's the smell of a delicious fresh chocolate chip cookie.
So, when a delicious fresh chocolate chip cookie is placed right by the soft, pink snout of a super cute piggy, all warm and snuggly under her blanket, it's only a matter of time before she awakes.
And, sure enough, within seconds, the soft, pink snout starts twitching, the yummy cookie smell starts making it's way to her piggy brain—and before you know it, dream time is over and real-time eating commences.
Prissy & Bomber's Pig Pen
Phoebe is one of the 300 plus pigs that are cared for by Prissy & Bomber's Pig Pen—a non profit charity committed to providing a home to abandoned piggies.
As per their Facebook page:
Hi, we are mini potbelly pigs Prissy & Bomber!

We like to have fun. We are very smart—did you know that pigs are rated the smartest domestic animal and 4th smartest of all animals?

ALL pig breeds are loving & intelligent so please don't eat us!

We love people & just want to be loved back!

We currently work with our human parents to care for over 300 pigs in Tampa, Florida.

Won't you help us in our efforts?

Adopt Don't Shop! Thousands of our pig friends have been dumped at overcrowded and underfunded rescues so please adopt one & don't shop for one!

ALSO, PLEASE DON'T GET A PIG FOR YOUR KID OR TEEN!

Kids & teens quickly get tired of caring for pet pigs like us who are as smart and challenging as a 2-3 year old child and live nearly 20 years!

Do your research!

We pigs are often hard to care for, often destructive (tearing up carpet and walls), and often grow larger than expected* so please do your research before getting one of us!

*Where mini (small) pigs like us exist, Teacup & Micro pigs (extra extra small) do NOT.

We all get BIG when we grow up (well over 50-100+ lbs) & are often abandoned because of our size.

Sellers often fib to get your money-- underfeeding or inbreeding pigs to keep them extra small-- which is unhealthy & shortens piggy lifespan.
Not just for Christmas
Yep, remember folks—a piggy is for life, not just for Christmas..
And, a piggy definitely isn't for a frying pan, ketchup and buttered bread.
Pigs need love!
For more entertainment, music and pop culture updates and news, follow Max Page on Twitter
Florida Dolphin 'Lover' Says Dolly The Dolphin Seduced Him—Yep Really
ChaCha The Chimp Makes Desperate Break For Freedom From Japanese Zoo
Stop What You're Doing And Watch The Cutest Sloth Video Ever
Watch phoebe sleeping pig wake cookie smell
Russian Monkey In A Snowsuit Will Warm Your Cold Cold Heart
Micro Pig Twerking To Rihanna's Work Is Perfect Way To End The Week
All We Want To Do Is Watch This Adorable Guinea Pigs Eating Video
phoebe sleeping pig wake cookie smell