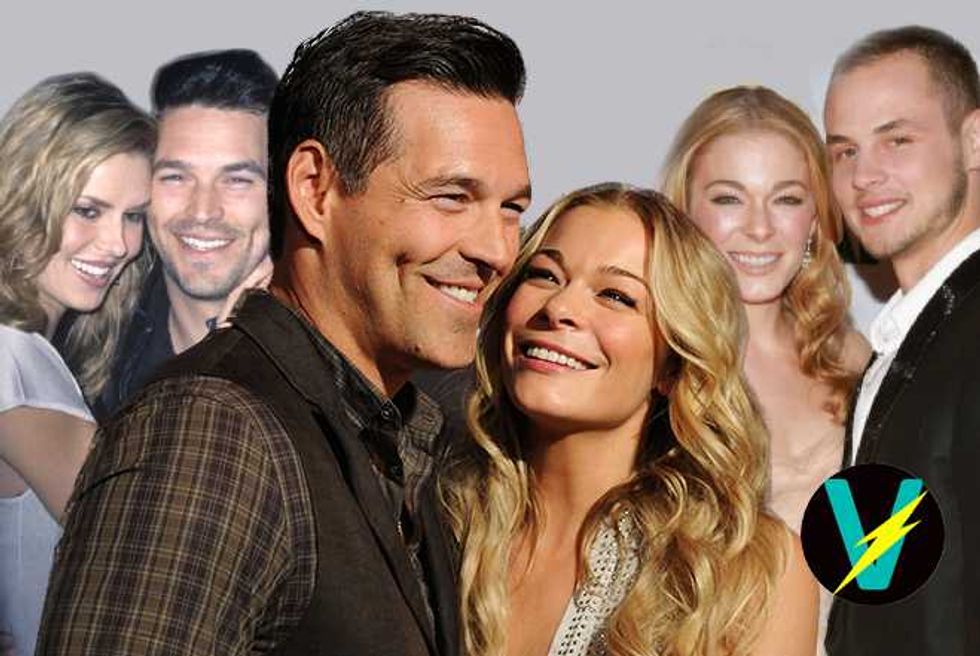 Leann Rimes: one of many unfortunate victims of the trash mag machine. Despite her powerhouse vocals (which the singer demonstrated at last week's CMA Music Festival), the general public has latched onto her (sometimes) questionable behavior--never letting go of that infamous 2009 cheating scandal on the set of Lifetime's Northern Lights. Even though Rimes and her new husband and soap actor Eddie Cibrian have attempted to move on, the wonders of the internet (and the age of trashy reality TV) have not.
In a just-released trailer for VH1's upcoming Leann & Eddie, the couple sits down to dish about it all, from the struggles of Rimes' country clout to the dealings with certain exes. "We were both married to other people…now who we really are is a couple and in love," Cibrian intros about their budding romance in late 2008. Rimes chimes in, adding, "[we were] trying to figure out how to navigate this family that's highly publicized."
Cibrian later notes that "everyone thinks they know how it is with us." Rimes, "the bloggers, the tabloids...the exes." But don't worry, the dynamic duo plan to share their side of things, because as they say, "there's two sides to every story." Cut to: Lots and lots of Brandi Glanville talk. Juicy!
Last week, during the CMT Awards, Rimes spoke with reporters about the show in further detail. "Eddie and I give each other a lot of crap in our relationship, so that kind of took the forefront of the whole show. So there's a lot of comedy in it. You get a lot of heart. We get into baby stuff and everything we're going through, and at the same time you get into the craziness."
LeAnn & Eddie hits our TV screens on VH1, Thursday, July 17 at 10:30 p.m EST. Don't forget to tune in!
Check it out:
For more Leann Rimes updates, stay tuned to Popdust.com and follow @Popdust on Twitter!
For all things entertainment, feel free to follow JasonTheScott.