caitlyn jenner effect
Caitlyn Jenner is now a familiar presence in the celebrity landscape, but it's harder and harder to pick her out from the pack of Caitlyn look-alikes.
Suddenly, lank brown hair, big sunglasses, tan legs and a regal stride has become the look du jour of every other actress and it is extremely disconcerting.
Rose McGowan Slams Caitlyn Jenner For Showing Off Her 'Male Privilege'
Forget Waldo; Where the hell is Caitlyn?
Even Julia Roberts and Jennifer Garner could be mistaken for Caitlyn at first glance.
The Caitlynization™ has got to stop. We've mentioned it before but enough is enough.
Caitlyn Jenner Confronted By Protesters —Do They Have A Point?
No disrespect to Caitlyn here, since she can't be blamed for defining an aesthetic. But we need some variety, for fucksake. Pity the poor paparazzi who think they've captured a candid shot of Caitlyn Jenner only to find it's just Liz Hurley having a bad day.
Caitlyn, we love you, but may I suggest a new look for all the would-be Caitlyns out there?
Ellen Is Confused By Caitlyn Jenner's Same Sex Marriage Judgement
How about going platinum??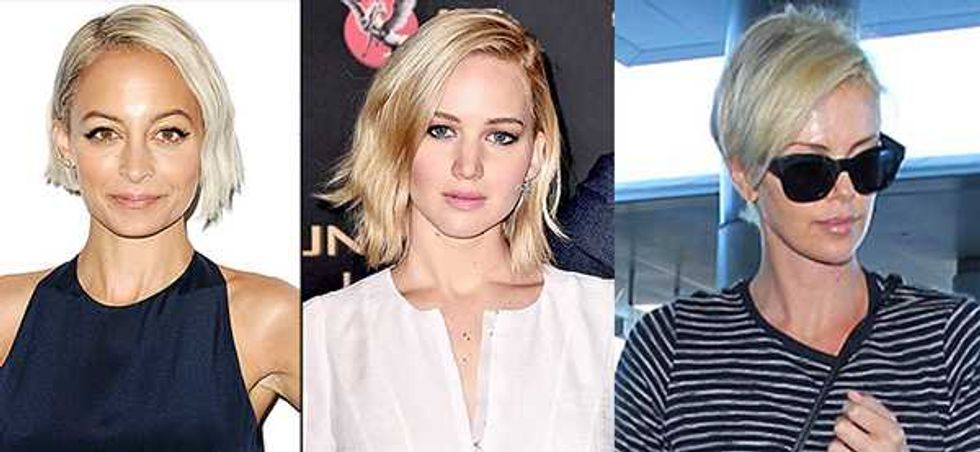 Platinum hair is catching on among celebs and now is a great time to get in on this. Yes, pretty soon we'll have to make fun of this trend but look at it this way: At least you won't be mistaken for Caitlyn Jenner and there's got to be a certain comfort in that, right?
Unless Caitlyn decides to go platinum like Nicole, J Law and Charlize. Then we're all screwed.