CULTURE
Elvis's legacy is complicated, to say the least.
Elvis died 42 years ago—or so we think.
Some people believe that he is not dead at all. He could be 84-years-old, living on some island under a different name, or strolling around in a wig, quietly laughing at all the teenagers covering "I Can't Help Falling In Love With You" on ukulele.
Whether he's actually alive or dead, Elvis's legacy is a complex one. Despite all his achievements, there's that little fact that he began dating Priscilla Presley when he was 24—and she was 14.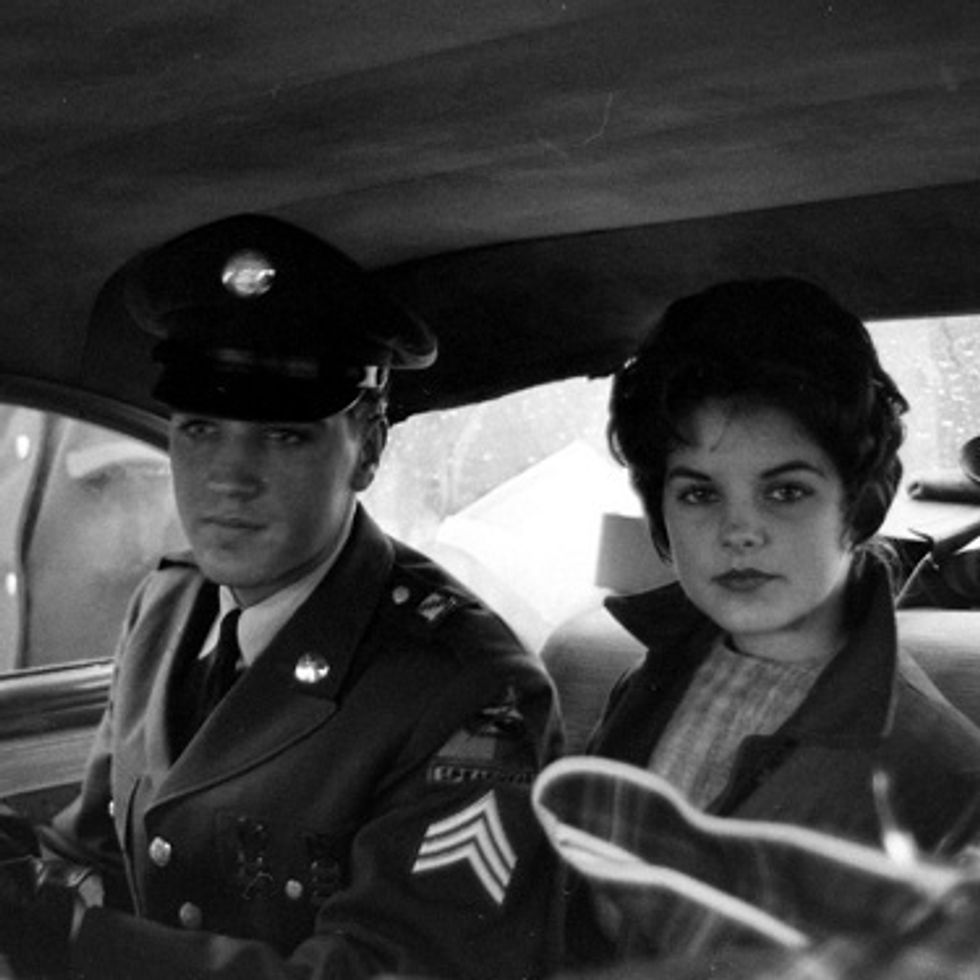 Elvis and 14-year-old PriscillaImage via elvisbiography.net
She wasn't the only one. Many outlets have claimed that Elvis frequently had relationships with 14-year-old or maybe even 12-year-old girls, keeping groups of them around him when on tour.

He was allegedly "obsessed" with virginity, because "Elvis loved 14 and 15-year-old girls," according to author Alanna Nash. "He was insecure about his sexual prowess and wanted virgins so they wouldn't have anyone to compare him to as a lover," she said. "Adult women scared him. He wanted to mould them and mentor them and they adored him. He didn't seem to worry that a fling with a child could land him in jail."
(Sidenote: Well, Jesus Christ, dear Straight Male species—is that why so many of you feel the need to have sex with children? Did you know that your "sexual prowess," or whatever the hell that means, matters quite little in comparison to your ability to actually know your way around a woman's anatomy? Are you so insecure that you need to ruin lives to prove your masculinity, for heaven's sake?)
Out of all of his consorts, Priscilla lasted the test of time. The two were married in 1967, and when she gave birth to his first child, Elvis allegedly stopped having sex with her, saying he couldn't sleep with women who had children. She eventually cheated on him, and when he found out, he forced her to sleep with him (read as: spousal rape), leading to their divorce.
Their relationship remained intact through the years, though. After Elvis's (supposed) death, Priscilla became the arbiter of Elvis's estate, and she continues to control much of his legacy, opening Graceland to the public in 1972. Most recently, she has greenlighted a deal with Netflix. The platform will be creating a comedic series that portrays Elvis as a super spy, who "trades in his white jumpsuit for a jet pack when he is covertly inducted into a secret government spy program to help battle the dark forces that threaten the country he loves," according to the official press release.
"From the time Elvis was a young boy he always dreamed of being the superhero fighting crime and saving the world — Agent King lets him do just that," Presley said. "My co-creator John Eddie and I are so excited to be working with Netflix and Sony Animation on this amazing project and getting the chance to show the world an Elvis they haven't seen before," she continued.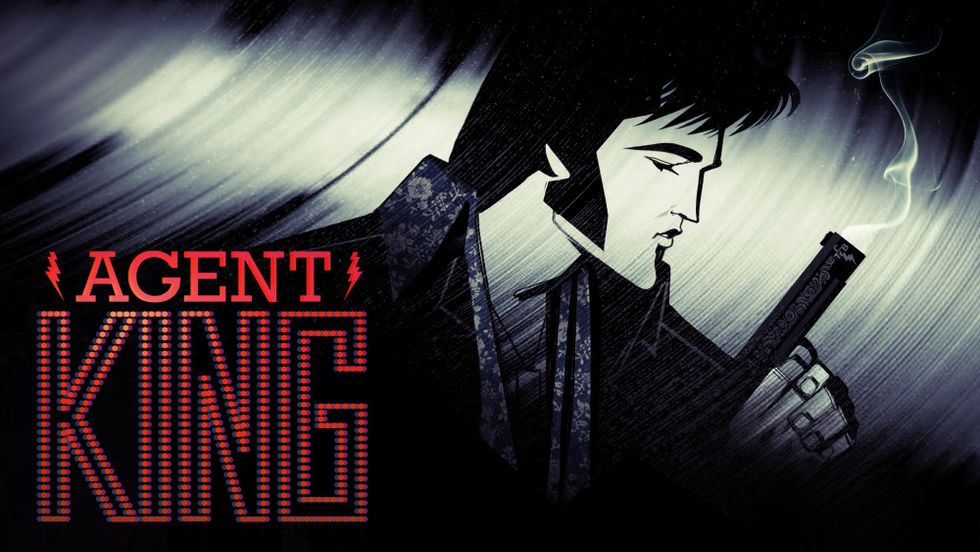 Image via Variety
Why are we giving a pedophile a Netflix show in which he not only gets to be the king of rock, but he also gets to be a heroic super-spy? And in 2019, no less? To add insult to injury, we're also getting an Elvis biopic. Directed by Baz Luhrmann, the film is supposed to air on October 1, 2021. So, to any straight white men who are afraid that you might soon lose your place as the star of the cinemas and the most powerful demographic in the world, don't let a few social justice warriors get you down. You're perfectly fine.

You've been fine for a long time. Sometimes, it's even hard to keep track of all the famous men who had affairs with teenage girls.
While we know why that's not acceptable now, maybe we can give these men of the distant past the benefit of the doubt. Maybe we don't need to totally disown our affection for our vintage heroes, many of whom are beloved cornerstones of our modern culture.
On the other hand, we absolutely don't need to be glorifying them today with Netflix shows and biopics, capitalizing on their legacies and refurbishing archaic ideas of what masculinity is supposed to be. Maybe we don't need to cancel Elvis, but we sure don't need a cartoon spy version of him spitting dirty jokes as he flies around our computer screens. We sure as hell don't need to watch him float around in a Baz Luhrmann film that pretends to be feminist by featuring a few scenes where Priscilla Presley raises her voice.
Maybe we could replace whatever this disastrous-sounding Elvis show is going to be with, say, a third season of the OA, or a live-stream of an ocean, or literally anything else.