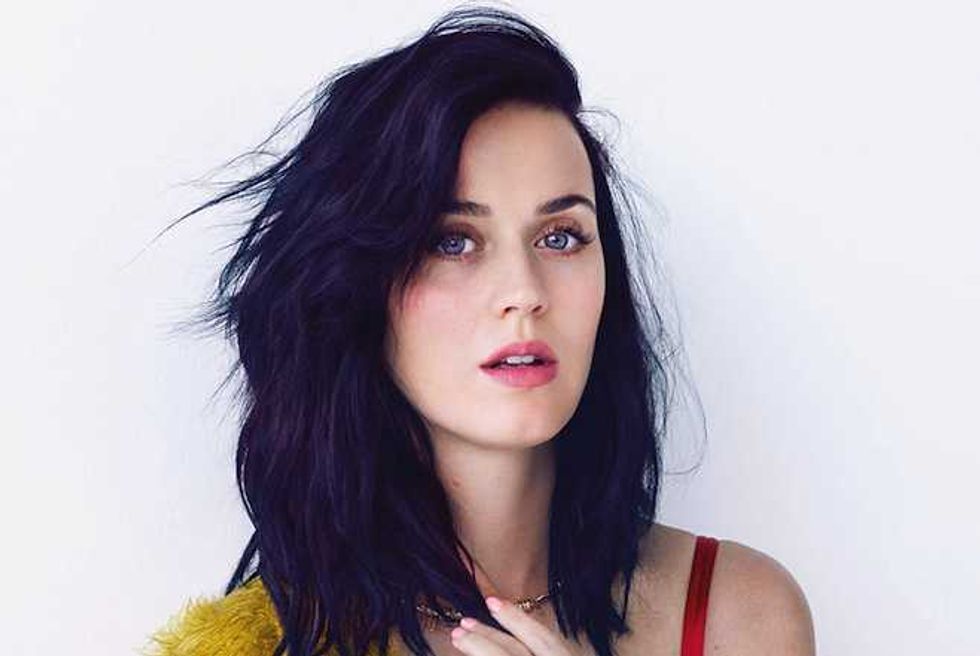 Katy Perry's new album Prism comes out next month, which is both a bigger and smaller event than it seems. Perry is one of the biggest names in pop right now, but like her pal Rihanna, her albums serve mostly as delivery mechanisms for her singles. The pivotal moment for Prism won't be its first week—when it's expected to debut at no. 1—but in the far-off months when it comes time to choose the album's third, fourth and fifth singles. Expectations are high, as Perry's last album, Teenage Dream, tied Michael Jackson's record on Bad for most no. 1 hits from a single album. Prism is unlikely to match that feat, if only because it's really freaking hard to get five no. 1s; even Jackson couldn't do it twice.
But it's hard to count Perry out entirely; just this week, Prism's first single "Roar" ended the summer-long reign of "Blurred Lines" in the no. 1 spot. Does the album have four more chart-toppers in it? We were lucky enough to hear an advance, incomplete version at the Prism listening party Thursday night. Below, you'll find our thoughts on the 11 tracks we heard, including each song's chances of hitting no. 1.
(A few caveats: First we should reiterate that these were not the final versions of the songs that will end up on the album. We should also emphasize that we only heard each song once. For these reasons, we've tried to shy away from presenting strict value judgements. Finally, the songs are presented in the order Perry played them at the listening event, which may not reflect the final track order of the album.)
"Legendary Lover"
A hazier, spacier version of Perry's typical love song, with a bhangra beat and a strange retro-sounded loop that we couldn't quite place. Lyrically, it sounds like the narrator of "E.T." moved to the Berksires and got really into yoga. The hook goes "Take me down to the river, underneath the blood-orange sun / Say my name like a scripture, keep my heart beating like a drum," and later she brags about seeing through her "third eye."
Is it a single? Maybe not. It's a little weird.
Could it go to no. 1? Probably not.
"Birthday"
Perry told the listening party that this track was a deliberate homage to Mariah Carey's debut album, as well as the work of '80s funk duo Wendy & Lisa. The result is a club-ready party jam with '90s-style synths and a heavy 4/4 thump. As you might expect, Perry has fun with all the double-entendres the subject has to offer—by the end, she's whispering "Happy birthday" like a perfect Marilyn.
Is it a single? We think so!
Could it go to no. 1? Possibly, but not as a second single. The pump will need to be primed with something else first.
"Walking on Air"
The genre experimentation continued with what Perry called her "deep house" track, inspired by Crystal Waters and CeCe Peniston and produced by Klas Åhlund (the man behind "Call Your Girlfriend"). This is the clubbiest track we heard all night, with overwhelming bass and a People-Get-Ready style breakdown about "angels crying from up above." Katy told us it was perfect for "a big fat queen-off."
Is it a single? Yes.
Could it go to no. 1? Probably.
"Unconditionally"
Katy's favorite song on the album follows the Teenage Dream model to a letter: ambient synths and powerful drums (the angels in the last song stopped their tears to take up percussion) building to an absolutely huge chorus. "Open you heart and let it begin," she sings. "I will love you unconditionally." Not the most creative way anyone's ever expressed feelings, but we were so taken in by the heavenly pounding we didn't care a lick.
Is it a single? Yes yes yes yes yes.
Could it go to no. 1? Definitely.
"Dark Horse" (ft. Juicy J)
Is that a trap beat? It certainly sounds like it, perfect for the arrival of strip-club anthemizer Juicy J. Perry is perfectly insistent while making threats about "playing with magic," but Juicy J's verse is so mumbled that we couldn't tell if it was good or not.
Is it a single? As the only track we heard with a feature, it might get the "E.T." slot.
Could it go to no. 1? Don't think so.
"This Is How We Do"
A girl's-night-out anthem, and the latest in a recent trend of songs that consist of a narrator listing different things they see happening at a party. Less comical than "Last Friday Night," and not as nakedly hedonistic as "We Can't Stop," "This Is How We Do" plays its antics largely straight, but there are a few crowd-pleasing extras around the margins, particularly a fake fade-out and Katy's mid-song dedication to "the ladies at breakfast in last night's dresses."
Is it a single? We don't think so, but we're wary of betting against a Song For The Ladies.
Could it go to no. 1? See above.
"International Smile"
Katy told us this song was written for her BFF Mia, a traveling DJ who, if the song is to be believed, is "très chic" and "ready for take-off." As '80s as "Last Friday Night" but without the irony, the song is mostly worth it just for the awesome saxophone solo at the end.
Is it a single? Probably not.
Could it go to no. 1? Probably not.
"Ghost"
A lot of songs on Prism sound like responses to a controlling ex, but "Ghost" is the kiss-off to end them all. Katy sounds as world-weary and resigned as she ever has—"Now you're a ghost, you could be so cold"—but an effervescent beat that sounds like it was nabbed from the Postal Service keeps things from dragging.
Is it a single? It would have to be a later one.
Could it go to no. 1? Maybe?
"Love Me"
Another song from Perry's Stockholm sessions, "Love Me" was produced by "Toxic" masterminds Bloodshy & Avant, and we swear it sounds Scandinavian; it's very clubby, very icy, and we think the drums come from a Sigur Ros song. The controlling ex makes another appearance, this time as the thing Katy needs to escape so that she can "be the one defining me." The clubkids of Sweden will be uplifted for sure.
Is it a single? It might be a little too indie.
Could it go to no. 1? On the dance charts, maybe.
"Double Rainbow"
A collaboration Katy wrote with Sia and Greg Kurstin, "Double Rainbow" continues the fascination with the natural world that's marked songs Sia's worked on recently. (Count it out: First titanium, then diamonds, now rare meteorological phenomena.) Katy's vocals here are among the finest on the album, and there's just enough eccentricity in the lyrics: "I understand you / Like a double rainbow." If you're wondering why they named the song after an Internet meme, join the club. Maybe they figured three years is an eternity in viral time?
Is it a single? We weren't that into it, but the crowd at the listening event absolutely loved it, so yes.
Could it go to no. 1? Still don't think so, but we'll gladly be in the minority on this.
"By the Grace of God"
After nearly a dozen tracks of dance-ready pop, Prism wraps up with a surprise: a heartrending piano ballad. "By the Grace of Gold" is the closest Katy Perry has ever gotten to Katy Hudson and it's a good look for her, the Christian ideals of serenity and gratitude coloring her "Man in the Mirror" uplift.
It is a single? It's beautiful, but will radio be scared off by the title?
Could it go to no. 1? "God Only Knows" made it to no. 8 (as a B-side) so heck, why not?
Barring "Roar" and the one mystery song we didn't get to hear, that's Prism for you, Katy Cats. How excited are you now? Would this photo of us clowning around with Katy Perry help?
And if that won't do it, maybe you'll appreciate the brand-new Prism album art?
If you missed it on the JUMBOTRON on @GMA, here it is - my #PRISM album cover, shot by the wonderful Ryan McGinley! pic.twitter.com/cqHpmkaGXv

— Katy Perry (@katyperry) September 6, 2013
Prism comes out October 22.