MUSIC
Tesfaye's Third Record is Something Like Daft Punk's Random Access Memories if Every Track Was "Get Lucky"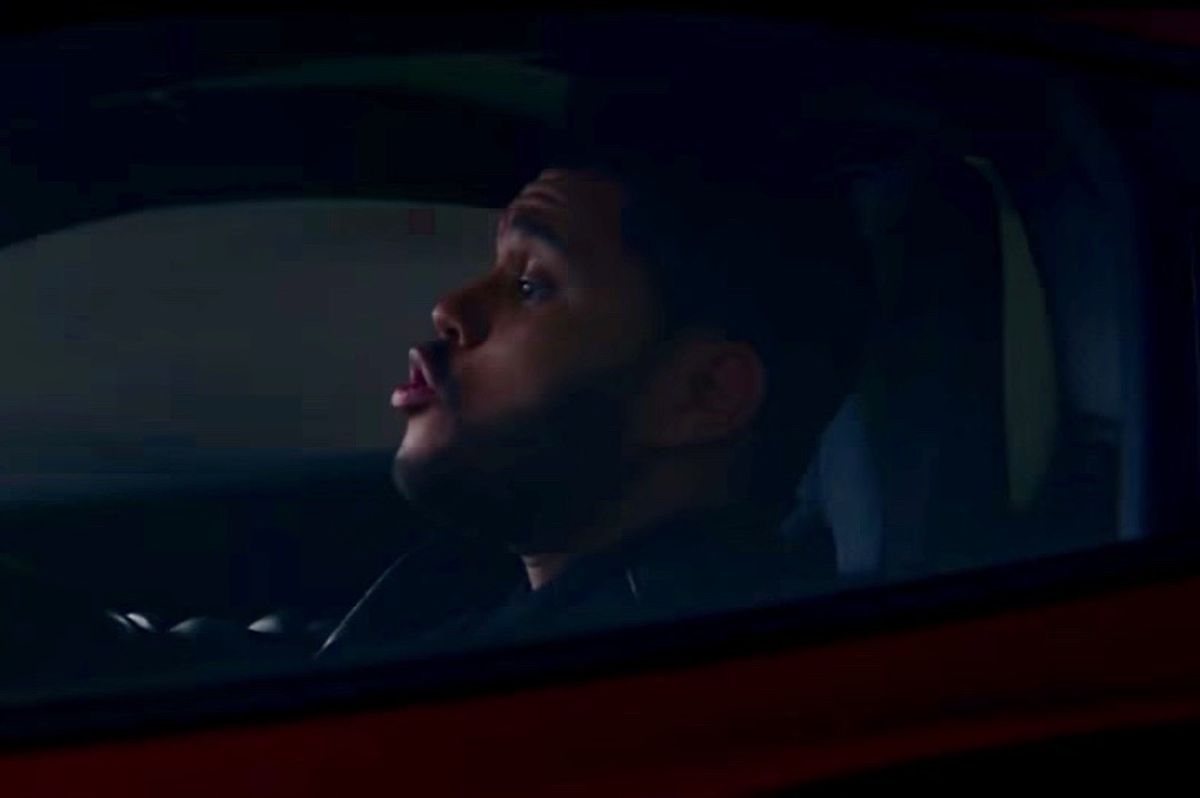 In the words of the Canadian pop-culture critic Anupa Mistry, the kind of pleasure that an R&B banger like The Weeknd's "Can't Feel My Face" provides is algorithmic: when Max Martin's drums hit the floor, Tesfaye's voice rolls into the kind of perfect beat-modulated chorus it's avoided for much of his career until that point. And in the words of Mr. Jim Morrison, he's on to the other side. Starboy, Tesfaye's first new music since last year's Beauty Behind The Madness, wears its smart production choices on its sleeve. The word on the street re: the floppiness of Kissland, Tesfaye's major label debut, was that it was too fat: thick undanceable synths padded his MJ pep; it didn't feel experimental, just felt too long. Starboy refutes this: it is his longest player yet and oozes dance. Gone, with one interesting exception, are the indie features, and gone are Tesfaye's elongated vibratos.
Calling The Weeknd's pop hits "algorithmic" is another way to say that they do the job. Songs like 'Bey's "Formation" or 'Ye's "Famous" pry you out of the moment and come with messages that feel sticky which you remember. The Weeknd's game, post-major label, is different; it works within formulas sketched out by Max Martin, Shellback and his ilk and snorts mad coke off its contours. Last year, songs like "The Hills" nihilistically sneered its way to the top of the charts, shoving their singer's hedonism in the face of ostensibly puritanical society: "When I'm fucked up, that's the real me," he had crooned. Gasp!
I'm being facetious; Tesfaye is as interested as I am in what this dichotomy means. On Starboy's "Remainder," he mythologizes about this uncanniness: "I just won a new award for a kids show/Talking 'bout a face numbing off a bag a blow." True, earlier this year, "I Can't Feel My Face" got the nod for Favorite Song of the Year at the Nickelodeon Kids Choice Awards, something you find hard to believe them giving, say, a Marshall Mathers-era Eminem song. "I'm like goddamn bitch, I am not a Teen Choice," he directs at some poor (presumably) woman who thinks he's children's programming material, but we'll get to the misogyny later. The real question is: will you notice it over the song's hyperproduced chill?
What keeps Starboy connected, curiously, to the weird idiosyncratic singer who emerged from the hype that Aubrey Drake Graham brought Toronto is Tesfaye's unflinching love for the odd warps and kinks of '80s sound that not even Netflix can pull under its wing. Where his debut single "House of Balloons" boasted a lengthy and unexpected sample of Siouxsie Sioux's "Happy House" or a straight-up cover of "Dirty Diana" opened Echoes of Silence, a song like "Secrets" is the kind of song Simon Le Bon would write if he had Drake as his competition. In an interview Tesfaye gave VMAN magazine, he promised to deliver production that "feels aggressive but still sexy," citing bands like the Smiths and the Talking Heads as exemplary influences. "Secrets," is built out of a sample of Tears for Fears' "Pale Shelter" and punched up by a sped-up blip from "Talking in Your Sleep" by The Romantics. Like the names of these bands suggest, the song is about diving into the inner life of all those broads Tesfaye has been wearing out hotel bed springs with. "I hear the secrets that you keep/when you're talkin' in your sleep," he sings, caring suddenly about things like fidelity, monogamy and all that, "It's a lie/ a lie I catch you every time."
The effect, throughout Starboy, of the nostalgia act persisting through beat after dance-drained beat is something akin to Daft Punk's Random Access Memories if every track was "Get Lucky." It helps that the record is bracketed by two tracks, the titular "Starboy" and "I feel it Coming," that feature the Parisian neo-disco duo. But if I were Tesfaye, I'd want my money back; the hook Daft Punk gives him on "I Feel it Coming" still has Pharrell's gigantic hat all over it. The more modern moments of Starboy are brought with heavy assists by a few of 2015's very hot rappers like Future and Kendrick Lamar, the latter seems to be cannily brought along as token street cred for those who've forgotten that Tesfaye once lived in a now-famous van. Hell, I can't be the only person who heard Good Kid, M.A.A.D City and thought: huh, life in Compton sucks, I guess.
Tesfaye takes the cake for the best line on "Sidewalks," his Kendrick joint: "I feel useless when I'm never making money." Directed at fans and detractors alike, it meshes them together as one totalizing consuming force whose demands for bangers and authenticity are cutely irresolvable. Which is why, despite almost always betraying far more vitriol than most pop singers this side of Chris Brown, Tesfaye's misogyny never feels quite as condescending as Drake or quite as creepy as Robin Thicke. It is bad, of course, and Starboy shows no real improvement. Back on "Reminder," he notches it toward "I'm In It"-levels with an ill-advised lo mein joke and on "Loves to Lay," his central complaint appears to be with a woman who is too attached to, uh, laying. It's the insincerity of this '80s schmaltz that saves his ass, however. When Tesfaye turns back toward being "the real me" on a song like the world-weary "Ordinary Life," he compares himself to James Dean and the less famous David Carradine. The latter: a B actor famous for dying of auto-erotic asphyxiation. Drake, that ain't.
Watch a 12-minute short film featuring songs from Starboy!