The first rule of the Internet is don't break the law. The second rule of the Internet is don't live stream yourself when you break the law.
The final rules are: deny all video evidence you take of yourself and always get the contact information of the "friend" who comes to your house just to dress up for you. Welcome to April's first week of Internet hell.
Beau Alan Rogel is a 36-year-old "self-proclaimed YouTube celebrity" who live-streamed his shitty footage of breaking the speed limit. At 3:25, he's pulled over by three police officers, who ask him why he was ridiculously speeding. Rogel answers, "I haven't been driving fast." Rogel explains why he's filming, "I get paid to be on YouTube. I video every day of my life. I video when I take a s**t, too."
Rogel, who was later found to have several felony convictions, has been charged with reckless driving and possession of a firearm by a convicted felon. He was released on a $20,000 bond—and all for his 11,000 YouTube subscribers.
Youtube Troll calls COPS while on Live Feed in Shelby GT350 at 180+ mph! youtu.be
2. Donald Trump thinks about Joe Biden touching himself.

The Donald tweeted a parody of Biden's apology for invading female coworkers' personal space. In reply, Biden tweeted, "I see that you are on the job and presidential, as always."
3. Craiglist's Missed Connections continues to make fairy tales come true.
Passionate romance! Lost loves! Searching for the phantom cross-dresser of your dreams! It's a Disney movie come true.

Craigslist

Urban Dictionary
4. eBay's Vintage Toy collection includes mint-condition problematic action figures.
This VINTAGE FIGHTING EAGLE MARX BEST OF THE WEST action figure could be yours for the low, low price of $60!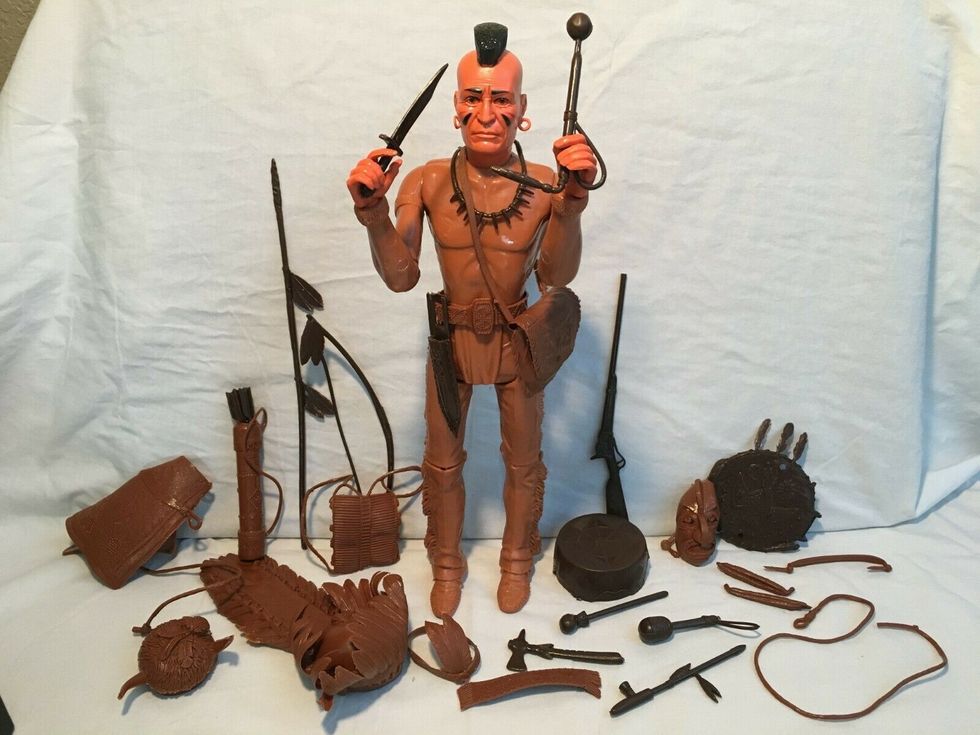 eBay
Everyone knows Reddit is a haven for sophisticated, avant-garde thinkers who go under-appreciated by the drooling masses—but there's even a space for those insecure in their brilliance. This poster in r/nostupidquestions dares to query the ontological differences between man and beast:
"Like yknow, butterflies drink nectar. Is it tasty and refreshing?
Cows and other animals eat grass, I have tasted grass and it's not that spectacular. Do cows enjoy the flavor?
Do carnivores actually enjoy the weird raw texture and taste of guts and blood and tendons? Obviously theres evolutionary hard wiring to eat meat but...is it yummy to them?
It got me thinking because yeah my dog eats his food happily but if you leave a burger and fries on the floor and let him pick, his food bowl will remain full of kibble. So theres preference and enjoyment there, right?
I cant imagine taste is just a human thing...I bet theres a cow out there that thinks grass is some bullshit"

Reddit
---
Meg Hanson is a Brooklyn-based writer, teacher, and jaywalker. Find Meg at her website and on Twitter @megsoyung.

---
POP⚡DUST | Read More...
Every Time Jameela Jamil Has Taken Down the Kardashians
Six Songs about Fluid Sexuality More Outrageous than Ariana Grande's or Billie Eilish's