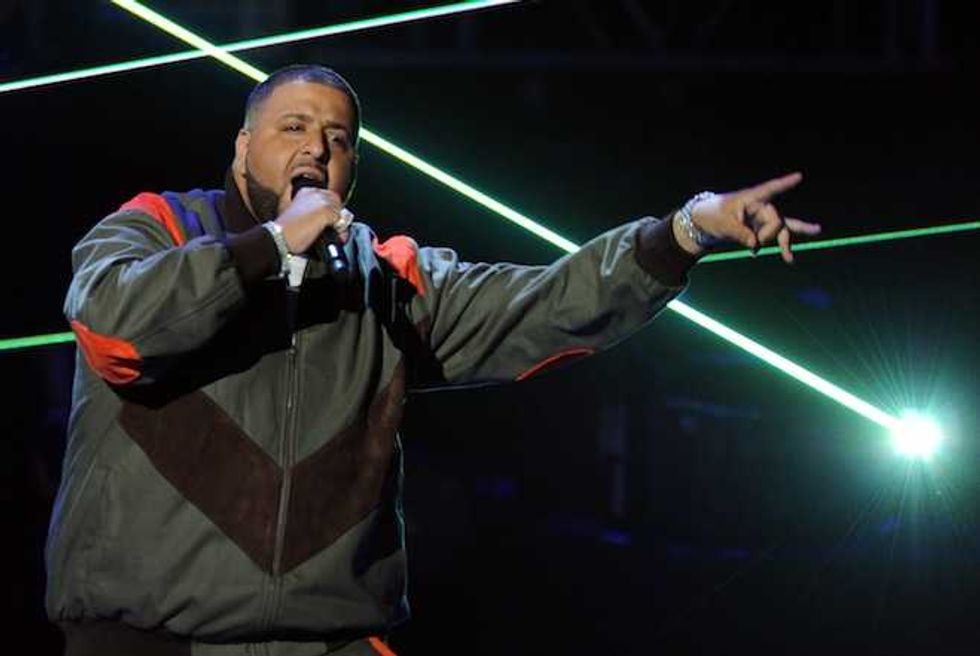 Seeing DJ Khaled strut around the "No New Friends" music video has brought one of hip-hop's longstanding questions to the forefront: What does DJ Khaled actually do? He doesn't rap. He doesn't make beats. Why does he get to pal around with Drake and Rick Ross and shout his name alongside theirs?
The answer comes buried deep in this interview Complex did with the man himself last summer. It takes a little while to come out, though, as Khaled's understandably a little defensive from always being being asked to justify his existence:
But just so everyone is clear—once and for all—what exactly does he do?

"That's like saying, 'What does Puff Daddy or Jay-Z do?'" he snaps back coolly. "It's 2012. People have got to get in tune a little better." Then finally he gives in. "I make hits," he says after a sigh. "I find hits. And I put hits out. That's what I do."
OK, but what does "making hits" mean? Here's the story of his involvement with "I'm On One" as an example:
The story behind the making of Khaled's 2011 smash "I'm On One" helps shed light on how he does what he does. "Me and Drake had been going back and forth for a year and a half," Khaled explains. "Drake said, 'When we do something, we should do something that's what you do anthem-wise, but with a different feel.' He finally sent me a hook and a verse for the T-Minus track and it was super amazing. Then I reached out to Lil Wayne and Rick Ross. Then I got with Drake on iChat to make sure every little ad-lib was right. Then I had [Drake's engineer and producer Noah] 40 [Shebib] add a little production to the T-Minus track. We filtered my voice so it could sound like a sample. It's all about perfection at the final stages. I have to make sure it's right."
In other words, Khaled comes up with ideas, gets the right people in the room together, and shepherds the entire production process. If he was working in any other industry, there'd be an established word for what DJ Khaled does—we'd call him a producer and be done with it. Think of Jerry Bruckheimer, who doesn't write scripts or direct actors, but whose influence pervades every project he's involved with. But in music, of course, that title means something totally different. Khaled's not Max Martin or Hit Boy, and so it feels wrong to call him a producer.
So, if Khaled wants more respect for his efforts, he's going to need a new job title. What should we call him? Khaled seems to prefer "mogul," but come on, everyone calls themselves a mogul these days. "Facilitator"? Too middle-management. "Ideas man"? Too TED Talk. Why don't we just call him "DJ Khaled"—we all know exactly how to say it.
[Complex]