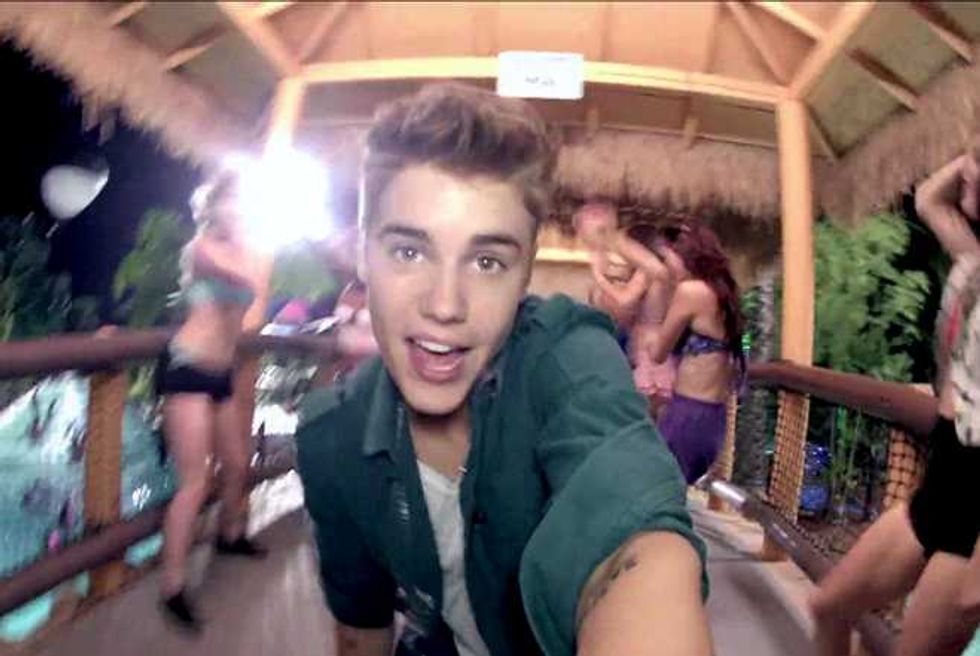 While you were patiently waiting for Justin Bieber's alleged hacker to reveal some nude photos of your beloved prince, Team Bieber was cackling while pressing "publish" on the final cut of his new video, "Beauty and a Beat." Yes, despite the threatening tweets from the mysterious @gexwy over the last 72 hours—which, to be fair, were a few magazine clippings away from serial killer status—the media blitz around the contents of The Bieb's missing computer and camera was used entirely to promote the release of Bieber and Nicki Minaj's visual collaboration. Behold:
@justinbieber u have dealt with a lot of rumors for a very long time. as a kid. with the whole world watching. u ready for more?

— gexwy (@gexwy) October 12, 2012
since i was 14 i have had a lot of things said about me, from dying, to taking hormones, to dying again, to stuff about my family...

— Justin Bieber (@justinbieber) October 12, 2012
to saying i had a baby with a woman i never even met. nude pics, drugs, my family, my character...but today...today i get to be in on it...

— Justin Bieber (@justinbieber) October 12, 2012
While we had an inkling the video was coming today, we still feel a little cheated. We trusted you, Biebs! How much more promotion do you need? And yet... the video is great. Nicki boasted it would "change the game" last week, with manager Scooter Braun adding his expected hyperbole about the greatness of this talented superstar of his. There's no Michael Madsen cameo, but...
Written, directed and shot by Bieber—multihyphenate on the loose!—the video begins with footage of him playing ping-pong backstage interspersed with vintage clips of a younger, shaggier Bieb, to reflect how far the prankster has truly come, and shout-outs to Just Dance 4 to fulfill his contractual obligations. The concept should have Beliebers melting as he rarely breaks your eye contact, and helps to overshadow an otherwise ordinary water park party scene.
It's not that we're not impressed with Bieber's ability to dance with liquid up to his ankles, it's just that this snapshot of pure euphoria and guilt-free, wet fun is becoming a trend, and, well, screw it. We're obviously just jealous to be sitting in an office while Bieber and friends get to Marco Polo all over the place.
Nicki arrives more than halfway through, clad in pink pom-poms that make her floating platform all the more dangerous as these fuzzy nipple covers probably deflate underwater. Like we've seen before, Bieber can't help but mouth along with his guest, making her feel even more at home with a hospitable body roll at key moments ("Body rock, I wanna see your body rock"). Don't worry Selena, this is all strictly professional.
Pair the handheld footage of Bieber ruling his water park empire with this week's @gexwy story? Yep, Schoolboy has officially surpassed Ricky Rozay's Maybach Music Group in terms of ridiculous promotional stunts. Well done.