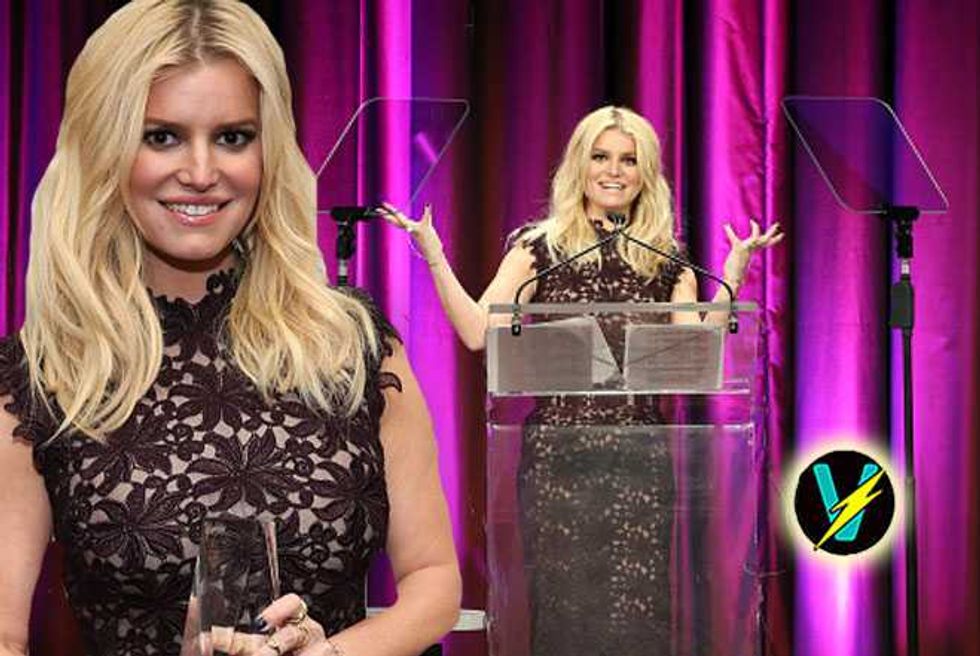 jessica simpson wasted What The Hell Is Up With Poor Jessica Simpson—Wasted Or 'Emotional'?
Tuesday night's Geoffrey Beene Awards, has people asking, what's going on with Jessica Simpson—wasted, or just overly emotional, as her rep insists.
As Popdust previously reported, last September, the 35-year-old sent the rumor mill into overdrive after she made bizarre appearance on the Home Shopping Network, giggling inappropriately and slurring her words during the two hour yawn-fest.
Watch This Morning's Truly Tragic David Cassidy Drunk Bankruptcy Interview
Naturally, people speculated that Simpson was wasted, but her rep "sources close to Jessica" insisted the mom-of-two was stone cold sober, explaining away the bizarre behavior as just being "part of her personality."
According to TMZ
Sources close to Jessica say the clip circulating of her giggling and slurring is just part of her personality that surfaces from time to time. They say for the lion's share of her time on the show, she was lucid and polished.
Hmmmm…..yeah, OK then.
Jessica Simpson And Brother-In-Law Hit It Off…..A Little Too Much!
Fast forward to Tuesday night's speech by Simpson in New York—as she accepted an honorary award for her work in fashion— and tongues were wagging once again.
According to Page Six:
She stands up in front of the crowd and goes, 'Ooooh, awards speech' in a breathy voice," said a spy at the Marriott Marquis. "Jessica seemed very out of it … I couldn't follow it at all.
Jessica Simpson Is Officially Working On New Music Again
Not surprisingly, Simpson's rep was quick to shoot down the NY Post's story, insisting Jessica was merely "choked-up and emotional"….
They told Page Six:
Jessica was not 'loopy,' she was choked up and emotional after the heartfelt introduction … given by Louise Camuto, the wife of her recently deceased business partner and mentor. It is disappointing that you are choosing to focus on a moment of honest emotion rather than on the prestigious award she received for her work.
Well, celeb reps have to earn their paycheck one way or another right? And, at time of posting, no video from the event, showing Simpson giving her speech, has surfaced—so, it's the rep's word against Page 6's source right now.
Jessica Simpson Gets Her 50 Shades Of Grey On
However, there is video of Simpson being interviewed by Extra, on the red carpet, prior to the event—and, well….. maybe it's just that "part of her personality that surfaces from time to time" on display, or perhaps, she was already "choked-up and emotional" in anticipation of the "heartfelt introduction" that was to come—but, either way, there's no denying that there's something just a little "off" with the singer-turned-fashion-designer.
During the brief interview, Simpson appears a little glassy-eyed, and unsteady on her feet at times, in addition to seemingly slurring at least two or three times.
Jessica Simpson—I Turn Down Sex With Eric Because We're Done Having Kids!
Oh, and then there's her answers—and interaction—with host  AJ Calloway….
Check out the video below, sound off in comments, and then vote in Popdust's poll—what do YOU think is up with Jessica Simpson?
For more entertainment, world, music and pop culture updates and news follow Max Page on Twitter