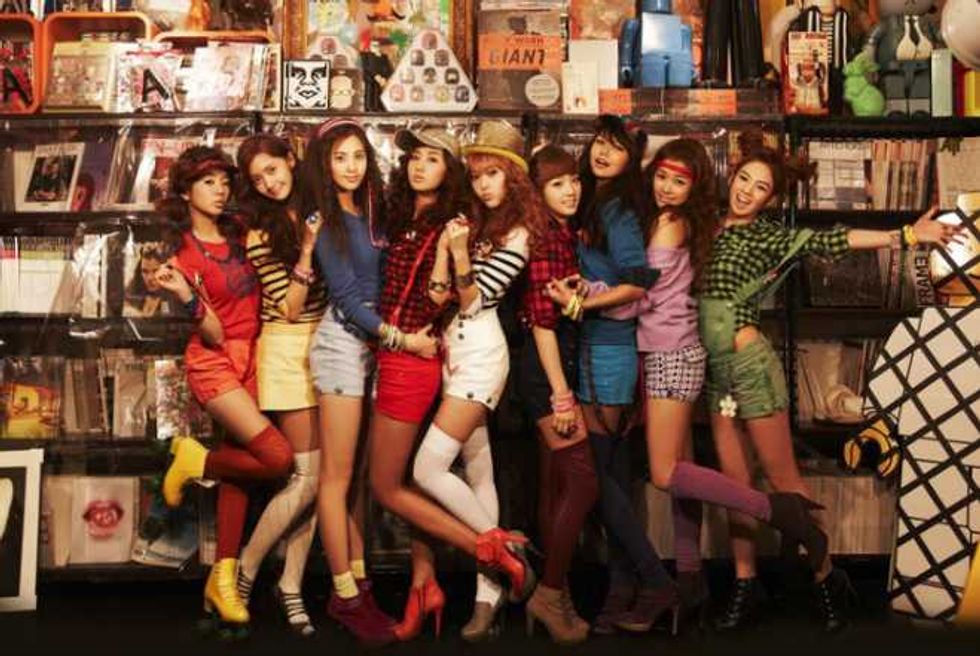 In the pop world, it's not uncommon for multiple songs to sound almost exactly the same. Just look at Ke$ha's latest single, "Die Young" and Flo-rida's chart-topper, "Good Feeling," or Beyonce's "Halo" and Kelly Clarkson's "Already Gone." Song recycling and musical swagger jagging happens all the time, especially in K-pop—a genre that's essentially been created from stitching together the best bits of pop music from America, Europe, and Japan. We've rounded up a small handful of killer K-pop tunes with the Western ones they've "borrowed" from (and vice-versa), so next time you hear any of these songs, you'll know exactly where they came from.
T-ara's "Day by Day" (Listen) and Britney Spears' "Criminal" (Listen)
Much like a pre-conservatorship Britney, controversial girl group T-ara know how to make headlines for all the wrong reasons. But these two acts have more in common than just their tarnished reputations: They both share a love of the flute. At least, that's what it seemed like when, this past July, T-ara released their melancholy single, "Day by Day," which contained an almost identical flute riff to the one used in Britney's 2011 hit, "Criminal." It's not the first time that T-ara have been compared to Britney, either. Their electro-pop chart-topper, "Why Are You Being Like This?" has been compared to Britney's cheeky "If U Seek Amy," and their dramatic single, "Cry Cry," uses the same old-school Max Martin production that filled Britney's first two albums.
Shall we just say that the ladies of T-ara are Korea's biggest Britney stans, and leave it at that?
Ailee's "Heaven" (Listen) and Beyonce's "Halo" (Listen)
Four months before the release of her first single, "Heaven," Jersey girl Ailee debuted on a TV special called Singers and Trainees, where she delivered an incredible performance of Beyonce's "Halo." So, when "Heaven" was finally released this past February, it was interesting to hear that the song was almost identical to Bey's signature ballad. There's little to no difference between the drum-heavy production on both songs or their repetitive one-word hooks—Ailee even used the same hazy white effects from the "Halo" video in "Heaven." But with the amount of times that Beyonce's been "inspired" by other people's work, it was only inevitable that somebody was going to do the same thing to her one day.
SPICA's "Lonely" (Listen) and Girls Aloud's "Can't Speak French" (Listen)
Rookie girl group SPICA returned last week with a new single, "Lonely." The styling and choreography in the music video has garnered a lot of attention for knocking off fellow K-poppers SISTAR and their hit "Alone," so much so that nobody has really noticed that "Lonely" is just a Korean version of Girls Aloud's "Can't Speak French." The production duo behind "Lonely," Sweetune, have been compared to Girls Aloud hitmakers, Xenomania, before, due to their shared love of synth-pop and sometimes unconventional song structures, but this is the first time that they've ever come close to even remotely copying one of Xenomania's tunes. Not that we're complaining. Frankly, there aren't enough songs in the world that sound like "Can't Speak French," and we hope that producers continue to recycle tracks from Girls Aloud's Tangled Up album for years to come.
HyunA's "Bubble Pop" (Listen) and Britney Spears' "How I Roll" (Listen)
Here's another dose of Britney-inspired K-pop, this time from sex kitten HyunA. Producer Shinsadong Tiger must have been listening to a lot of Femme Fatale when he composed HyunA's breakthrough hit, "Bubble Pop," because he managed to copy not one, but two of the album's songs. The popping sound effects and stuttered breathing used in "Bubble Pop" feature prominently in the quirky Femme Fatale cut, "How I Roll," and the dubstep breakdown was straight out of "Hold it Against Me." Although, in HyunA's defense, everyone started using dubstep breaks in their songs after Britney, so she's not the only artist who's been influenced by the Queen B's trendsetting pop tunes.
Girls' Generation's "Be Happy" (Listen) and Lady GaGa's "Born This Way" (Listen)
If you thought that Madonna's "Express Yourself" was the only song that Lady GaGa allegedly ripped-off to create her LGBT anthem, "Born This Way," then you thought wrong. Mother Monster was also accused of copying Girls' Generation's "Be Happy," which featured on the group's 2010 sophomore album, Oh!. The Divine Nine didn't seem to have an issue with the accused plagiarism, though, having never publicly acknowledged it, and for once, their sue-happy record label didn't pursue legal action. Madonna, on the other hand, didn't take GaGa's musical imitation quite so well.