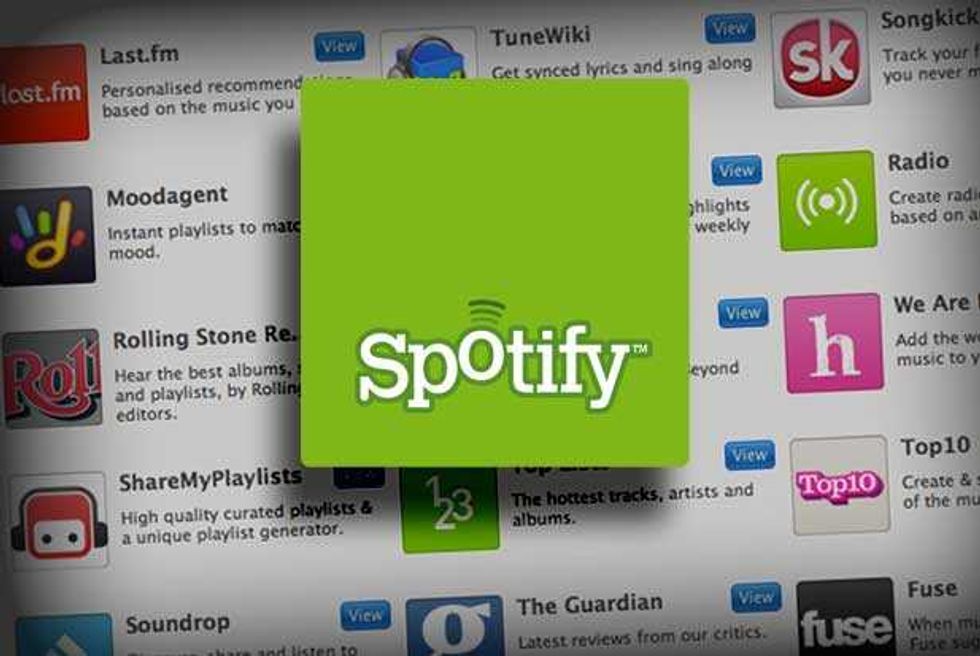 Since becoming available in the United States last July, Spotify has changed the way American fans experience and enjoy their music. You mean it's free and I can share with my friends? It's a totally social experience, now with even more ways to exchange and discover music, thanks to an ever-growing collection of apps. Spotify users can browse available (and free) apps via the service's App Finder, but we've gone through the trouble of giving you a brief rundown of which ones are truly worth your precious time. There are plenty of alternative music-streaming sites out there, but for those looking to increase the credibility of their libraries with suggestions from editors at Rolling Stone, Billboard and Pitchfork, or simply want to amplify their social lives with the perfect soundtrack, read on for our picks.
PERSONALIZED
Last.fm: Change can be scary. With new music sites constantly arriving and boasting benefits of convenience and freedom, the thought of abandoning a place where you've logged hours of listening time and discovered thousands of new songs may give you the shakes. Luckily, Last.fm allows users to sync existing accounts with Spotify, making your "scrobbles" and recommendations available all in one place. Those unfamiliar with Last.fm, fear not: playing a song takes you to a brief bio and stats page where you see the number of listeners, and its overall popularity, and are then allotted a "similar tracks playlist" with recommendations based on your selection.
INFORMATIVE
We Are Hunted: The best way to discover new music, based on your own aural predilections. Browse categories like "Emerging Chart" or "Mainstream Chart," or peruse by musical genre. Whatever you're decision, the We Are Hunted app will automatically return with at least 10 similar songs, by artists you may not have previously known. Each list or selection can turn into a playlist, with the option for creating entire playlist similar to an individual artist. It's library appears to be strong—searching for Jay-Z found similar offerings from Kanye West to Drake and Lil Wayne—but at times its results will surprise you. Who knew Beyoncé, Local Natives and Belle & Sebastian had so much in common?
FOR THE MIXTAPE PURIST
ShareMyPlaylists: Remember the days when you spent hours personalizing a mixtape or CD, and even more time decorating its cover? Just because that once cherished pastime is on its way out, doesn't mean the art of gifting your friends with songs you'll know they love should cease to exist as well. ShareMyPlaylists strives to maintain the culture of handpicking a selection of songs across a range of artists and genres, and then sharing them with your friends. Probably the most convenient way to search and discover new mixes, the app allows users to publish their own playlists, as well as browse those that are featured ("Hipster's Guide to Alt Wedding Songs") most popular among Spotify users—or as they should be called: like-minded nostalgia lovers. "Long live the mixtape," indeed.
For more great Spotify apps to check out, click over to My Life Scoop.