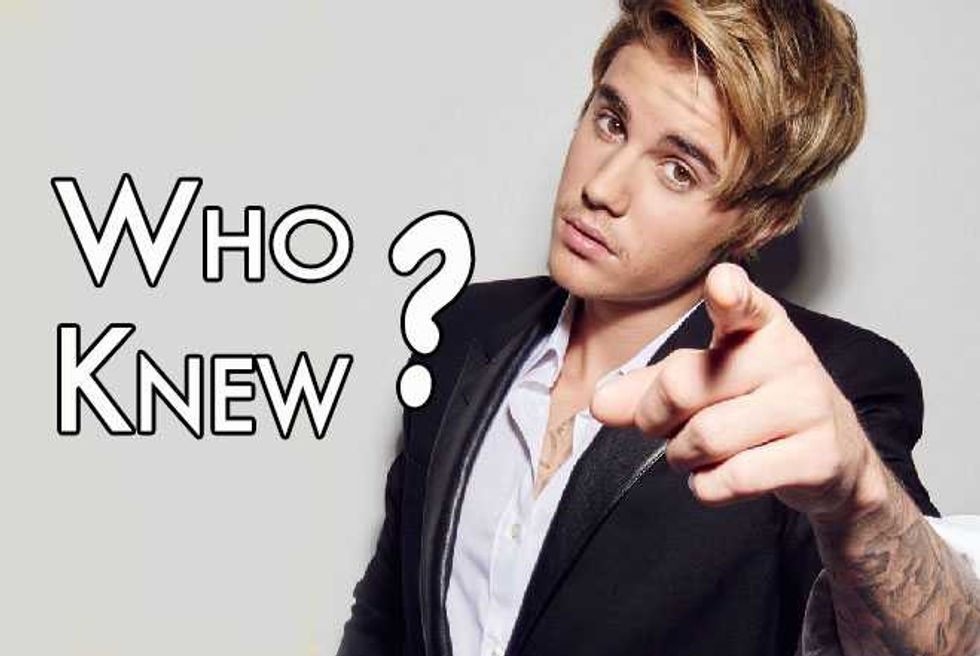 justin bieber facts
Justin Bieber has been overexposed for years and we know more about the fella than we'd ever hope to.
We've seen him pee in public, we know the size of his Bieber boner, and his bad behavior and 'mea culpa' missions have intrigued us to no end.
Is It Sexist To Make Fun Of Justin Bieber's Mental Health?
As much as there is that we're all too well aware of, there are some things that have flown under the radar about the boyish Biebs that you are about to find out.
These 5 "Who Knew?" wonders will make you say, "What Do You Mean?" but "Never Say Never" when it comes to learning new tidbits about the young heartthrob.
1. He's Slept in Britney's bedroom
justin bieber facts
Before you freak out, it's not exactly what you think. Although, wouldn't that be something for the gossip rags!
Justin Bieber Is So Over Meeting Fans…
According to BoomsBeat, Justin currently lives in Spears' former L.A. home. Let's hope he was able to clean away the Cheetos stains and muddy footprints.
To be a fly on the wall of that mansion!
Justin Bieber Gets Deep—Real Deep—Wants To Live Like Jesus
2. Parlez-vous les Biebs?
justin bieber facts
Though he may seem more 'French fries' than escargot, BoomsBeat also tells us that Justin is fluent in French!
As if the girls aren't swooning enough as is, hearing Justin serenade them in French would be enough to put any obsessed fan over the edge.
A bilingual Bieber? Oui oui!
Justin Bieber Mooned Mayan Memorial—Got His Ass Kicked Out
3. He's Been Inked Everywhere!

justin bieber facts
We've seen lots of the Biebs' bod over the years, but did you know he has tons of tats?
Zimbio tells us he got his first tattoo at the age of 16 with his dad. Some of Justin's body art includes an outline of a bird, a Jesus drawing, praying hands, "Jesus" in Hebrew, a cross, and the word "believe."
Let's see what he's inked with next and let's hope it's not "Selena" until he puts a ring on it!
Justin Bieber Is The New Face (And Body) Of Calvin Klein And He Looks AMAZING
4. He's Been Waxed

justin bieber facts
We're not talking "manscaping" here (though, who knows how Justin keeps himself groomed).
Actually, according to Zimbio, there are 3 wax figures of Justin at the Madame Tussauds of New York, London, and Amsterdam.
Each statue is dressed differently, but they all have that throwback Bieber with bangs hairdo. The girls must melt for him in wax!
5. He's Got Arachnophobia!

justin bieber facts
Not that many of us love spiders, but Justin is downright terrified of the creepy crawlers.
Kendall Jenner And Justin Bieber Are Smoking Hot In New Calvin Klein Ads
He confessed to Channel 24 that he's scared of spiders and "can't stand the thought of the eight-legged bugs crawling on him."
We'll let's hope his entourage carries sufficient bug spray to keep Biebs safe and critter free!
Do you feel Sorry that you've learned Justin's secrets or do you Love Yourself for becoming an even bigger Bieber fan?