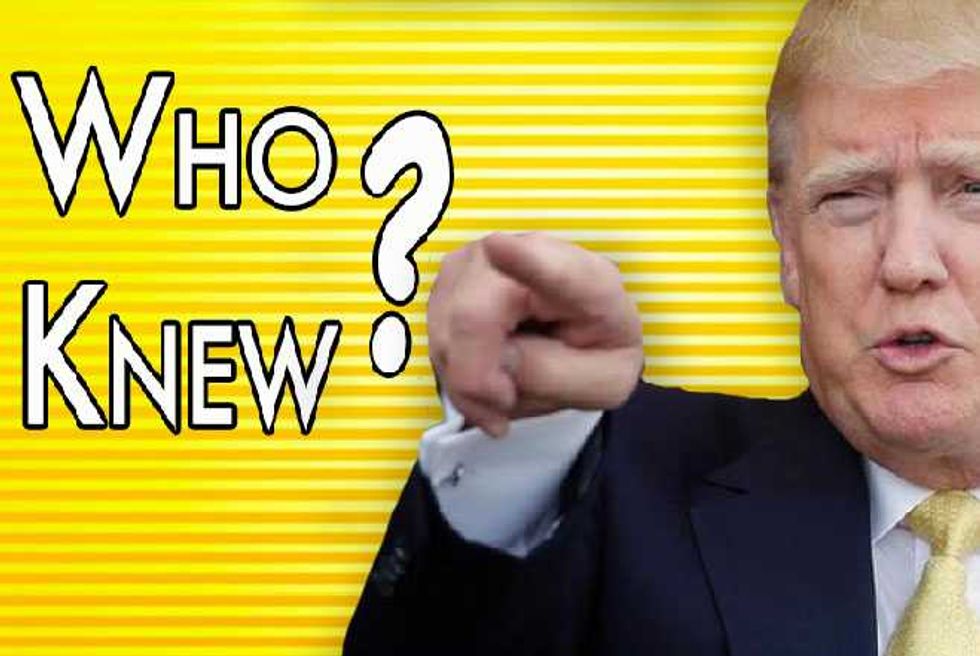 Donald Trump unusual facts
We're well aware Donald Trump is no "loser" and his ego is "huuuuuge."
And, with all the airtime he's received during his Presidential campaigning, it seems there's nothing left we don't know—for better or for worse—about the orange-faced, mystery-mopped Republican.
While Rosie O'Donnell surely won't care much to find out more about the former Apprentice boss, others may be interested in a few Donald Trump unusual facts.
Especially seeing as—going by last night's New York primary, it's looking ever more possible he could be the future President (gasp) of the good old USA.
Donald Trump unusual facts—1:
He's as Clean as a Whistle:
He may play dirty when it comes to politics, but when booze or drugs come into play, Trump has never touched the stuff.
According to The Fiscal Times, Trump's older brother, Fred, was an alcoholic and warned his baby bro to "Just say no."
Guess we can't blame Trump's outlandish behavior on one too many martinis.
Donald Trump unusual facts—2:
You Can Step on Him…
On the Hollywood Walk of Fame, that is.
Did you know that Trump has the 2,327th star on the famed street, which he received in 2007?
The Fiscal Times tells us that he earned the acknowledgement to honor his role as producer of The Apprentice.
Wonder if he's built a wall around it for protection from passersby?
Donald Trump unusual facts—3:
He's Not Really a Trump
As per Choice or Life, Trump's immigrant grandparents changed their name from "Drumpf" to "Trump" when they arrived in America from Germany.
Not sure Donald would have splashed his name on every building he owns with "Drumpf."
I'd personally rather stay at a Hilton.
Donald Trump unusual facts—4:
Anna Nicole Smith Coulda Been First Lady
It's been rumored that Trump dated the late Anna Nicole Smith in the '90s between his marriages, as per TownAndCountry.
Well, she did tend to go for the ugly rich fellas and he for the beauties.
We would have loved to have watched Megyn Kelly rip into that hot mess of a pairing!
Donald Trump unusual facts—5:
He's Ruling the Twitterverse
According to FreeRepublic, @realDonaldTrump gains an average of 67,000 new Twitter followers per month!
At time of posting, The Donald's Twitter account boasted 7.68 million followers. And, he followed a whopping 41.
Now we all can read his 140 characters or less insults and put downs as they come to his mental diarrhea spewing mind.
What a tweet.
Donald Trump unusual facts—6:
No ATM action for The Donald
During an appearance on Late Night with Conan O'Brien, back in 2007, Trump admitted to having never used an ATM machine.
Donald Trump unusual facts—7:
Rebel WITH a Cause
Trump was such a "bad boy" as a kid, his parents sent him away to military school, in order to set him straight.
Trump's stint at the New York Military Academy in Queens, NYC, did appear to cure his "bad boy" ways.
However, it failed to help cure the bone spur in poor Donald's foot… the one that helped him avoid being drafted to Vietnam back in the day.
Donald Trump unusual facts—8:
Award-winning actor
As we all know by now—everything Trump does in business, he does bigger and better than everyone else.
The same goes for his short-lived acting career (we're not counting The Apprentice, because that's supposedly "reality" TV)
Trump's cameo in 1990's Ghosts Can't Do It, was so "amazing" and "great" and "powerful" that he won a coveted award for his acting prowess.
A Razzie award for Worst Supporting Actor.
WINNING!
Donald Trump unusual facts—9:
Life's a game
Trump has the proud honor of having a board game named after him.
The description for Trump, the Game, reads:
Players compete in two parts. In the first part, players circle the board, feeding money into the eight available properties, then bidding on those properties (not being able to see how much the property is worth) and collecting Trump cards :).

When all the properties are gone, the negotiation phase begins. Players use their Trump cards to buy and sell properties, some cards award huge payoffs for specific sets.

After each player has passed their turn, the property values are revealed, and the player with the most money wins (usually in the $400-$600M range).
Donald Trump unusual facts—10:
Don't stand too close to D
According to non-profit political website, MotherJones, The Donald is a germaphobe.
His germaphobia is so bad apparently that he doesn't even like to push the elevator buttons.
And he reportedly avoids shaking hands with teachers—because of their contact with germ-infested kids.
Check out past Who Knew Wednesday posts here
Nik Richie Donald Trump Endorsement Was Paid For, Of Course
Money Monday—How Much Is Donald Trump Actually Worth?
Donald Trump Hair Mystery—Combover, Toupee, Transplant, Follicle Faux Pas?
Did Carly Fiorina Cut Off Donald Trump's Balls?
Donald Trump Miraculously Appears In Missouri Woman's Organic Butter
Donald Trump Is Great In Bed, So That's A Relief