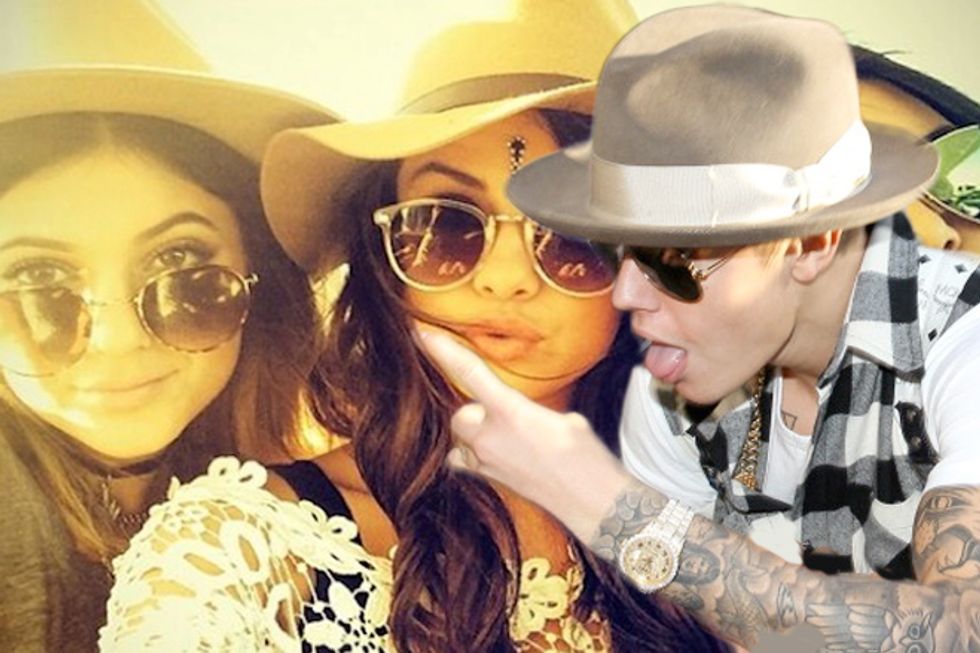 Selena Gomez, Kylie and Kendall Jenner were thick as thieves 2 weekends in a row in Coachella, but Selena has since erased all traces of the sisters from both her Instagram page and her life.
As Popdust previously reported, Gomez carried out a social media cull of fairly epic proportions last week unfollowing famous friends like Taylor Swift, the Jenner sisters and even Justin Bieber ...and once she started she just couldn't stop hitting delete-lete-lete-lete…
After removing every photo of herself with Kylie and Kendall, Gomez now follows zero 'grammers. One of the Come And Get It singer's most recent Instagrams indicates she's in a bit of an emotional state.
And now it transpires that... surprise surprise.... the Biebs could be behind it all.
According to RadarOnline Selena dropped the axe on the triflin' Jenners after finding incriminating texts and photos from 16-year-old Kylie on Bieber's phone.
"Selena flipped out and there was a huge fight between the girls," an insider tells the gossip blog . "She now wants nothing to do with Kylie or Kendall.
"She was already getting bad vibes from Kylie— Selena thinks she parties way too hard."
And, next on the fiery Latina's shit list: The Biebs himself.
"Selena was also furious at Justin," the source claims. "They're not together right now."
Meanwhile, as they say: the best way to get over one guy is to get other another—The former Disney star reportedly got flirty with Orlando Bloom at Chelsea Handler's L.A. comedy show on April 26.
Selena has often complained that she's ready for a more mature man, and based on Orlando's ex-wife, he clearly has a thing for stunning brunettes.
"She's grown tired of Justin's attention-grabbing antics," Radar's source claims. "There could soon be a permanent breakup between the two."
Yeah, well we've heard that one a few times now.....