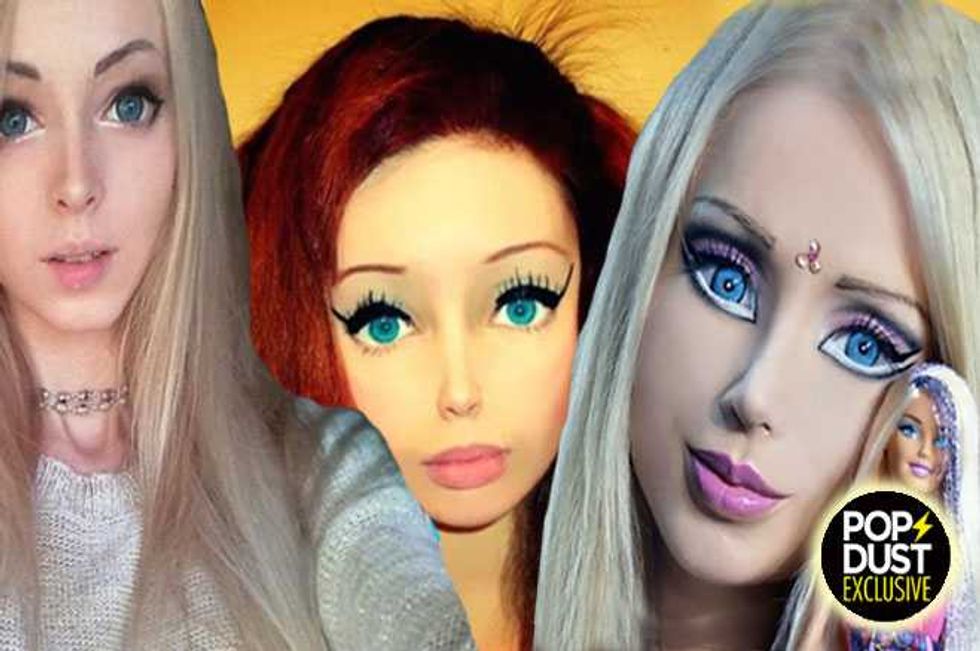 Three young women are so obsessed with Barbie that they have cut, starved, dyed, and painted themselves into a real life, human flesh incarnation of the iconic doll.
Weird, huh? What's weirder? They're all from Ukraine! Why the Eff? What gives?!!
In a country whose population is only 45 million, compared to the United State's 313.9 million, why is it that all three Human Barbies hail from the same place?
"I think it's a form of escapism," says Ukrainian transplant and LA Internet entrepreneur, Danny Baraz. "Our President was overthrown, militias and armed gangs attack civilians, and anyone who crosses their path. There is a constant undercurrent of fear and panic, so naturally citizens are turning to anything they can to escape. Barbie is an iconic symbol of Western freedom, so it makes sense that young girls would idolize her."
"Resources are extremely lack in the Ukraine," says psychologist Dr. Jason LaHood. "For a lot of women, their only hope for survival is marrying a man with money. This has put a lot of focus on beauty. Surgery and fitness have become obsessions in the last few years. These girls are just extreme examples. Their obsession with Barbie is probably in direct proportion to their fear."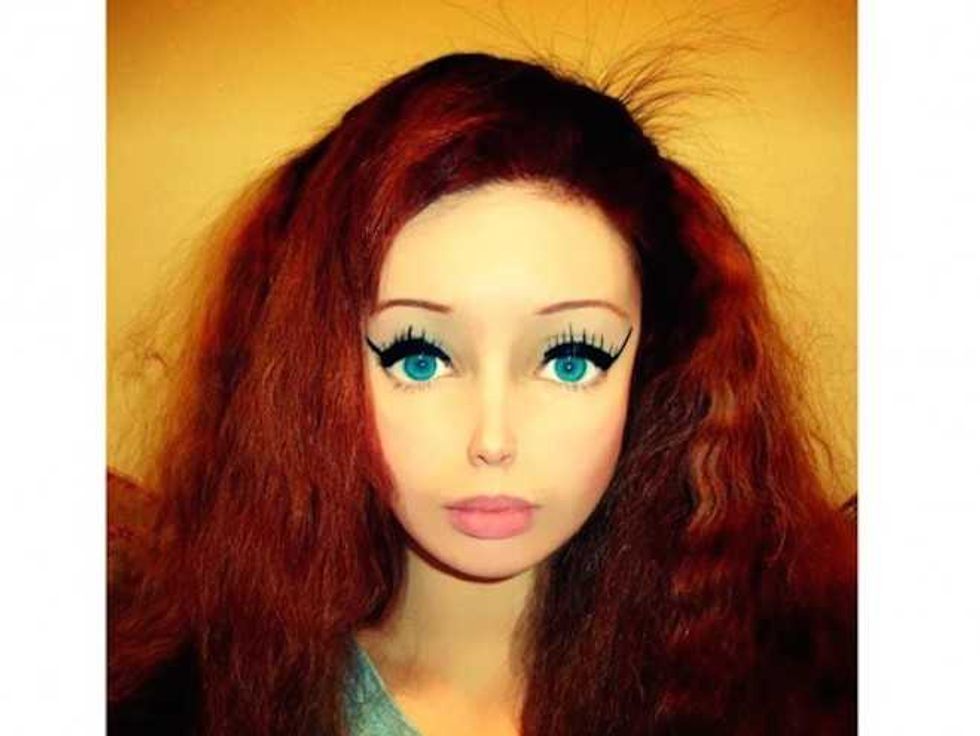 Lolita Richi
Lolita Richi, a 16-year-old from Ukraine, is the latest (and youngest) "Human Barbie" to emerge. She has a 20-inch waist, a 32F bra size, and wears color contact lenses to recreate the doe-eyed look of the famed doll. The teenager, like all the Human Barbies, insists that she hasn't gone under the knife and that her photos haven't been digitally altered, but Dr. Anthony Youn, a Michigan-based, board-certified plastic surgeon who has not treated Lolita, calls bullshit. He told Yahoo Health that it would be "virtually impossible" to look the way that she does naturally.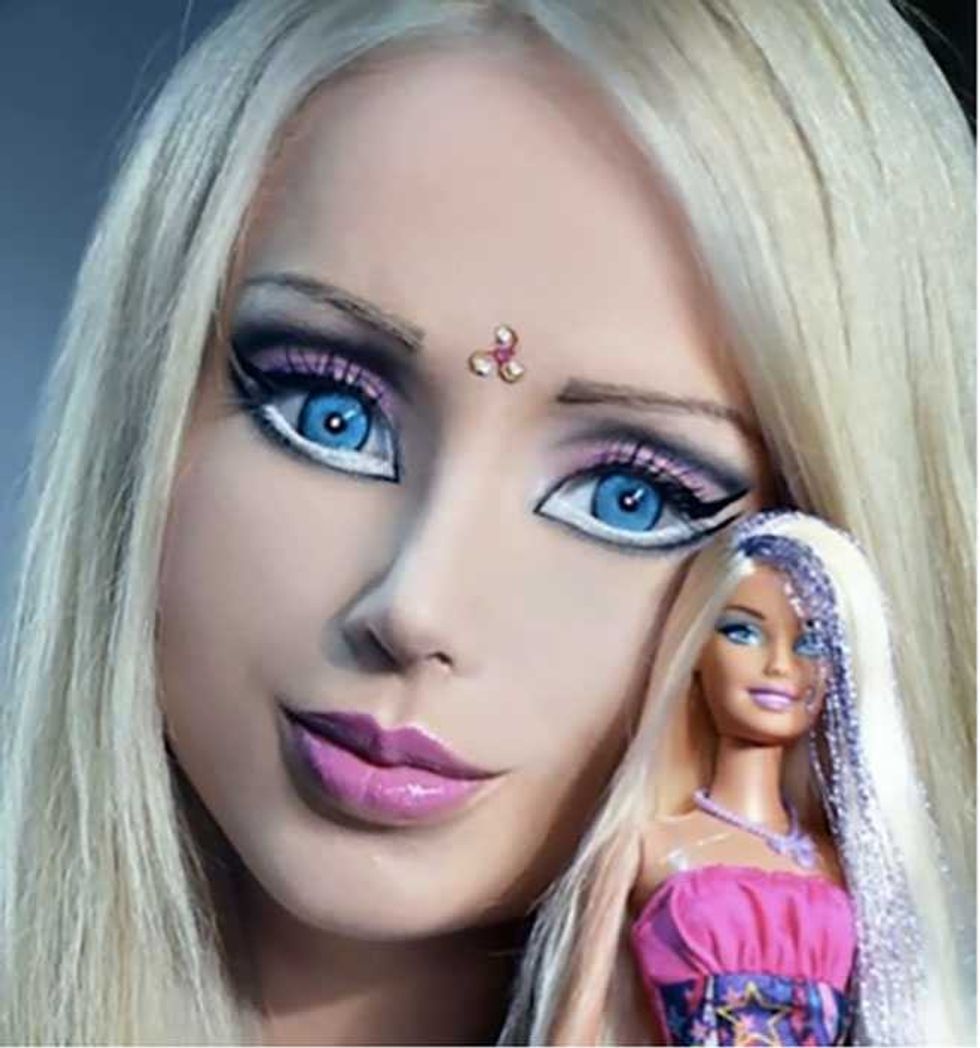 Valeria Lukanova
Valeria Lukyanova, is probably the most famous Human Barbie, and, at 29 years-old, manages to come pretty darn close to Barbie's super human proportions. If life –sized, the doll would have a 32 inch bust, a16 inch waist, and 29 inch hips, while Valeria boasts a 34 inch bust, an 18 inch waist, and 34 inch hips.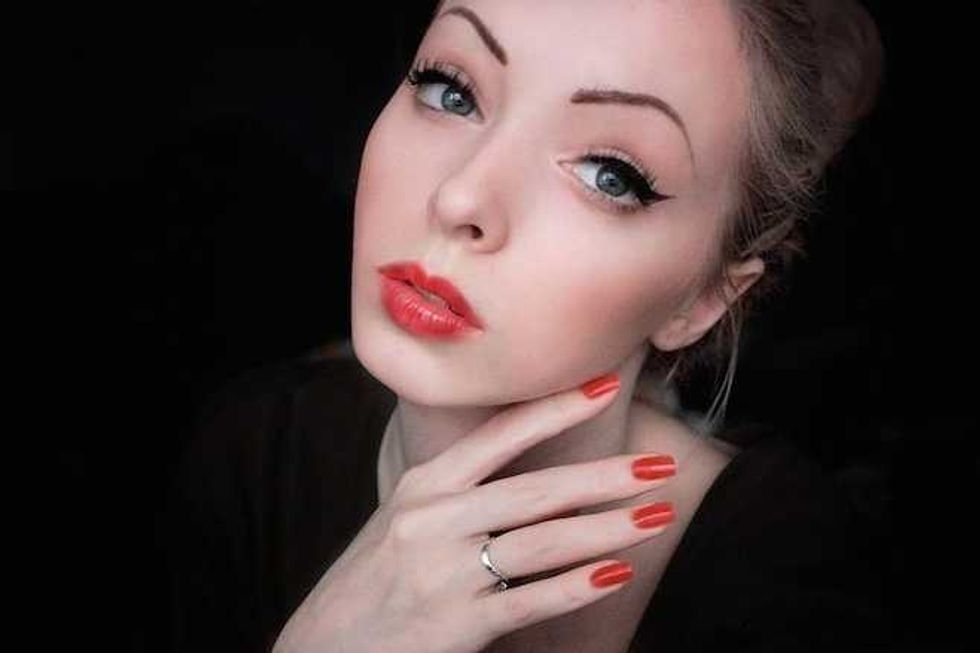 Alina Kovalevskay
Alina Kovaleskaya rounds out the trio. The 21 year-old hails from Odessa and also swears her resemblance to the doll came courtesy of good genes.
In the United States, sales of the doll and related merchandise fell 15% in the three months to June following a 14% drop in the previous quarter.
In Ukraine, however, Barbie continues to be one of the most popular dolls on the shelves.
State side, the philosophy of the doll is dated and sexist, and in an effort to combat this perception, Mattel released the Entrepreneur Barbie, complete with a cell phone and a brief case.
She's come a long way since the Slumber Party Barbie of the 1960s, who came with hot rollers, a sleeping bag, a bathroom scale set at 110lbs, and a small book titled How To Lose Weight whose only direction is "Don't eat!"
A research study by Oregon State University (OSU) found that playing with Barbies could limit girls' career choices. Girls aged four to seven were given one of three dolls: a fashion Barbie wearing a dress and high heels; a career Barbie with a doctor's coat and stethoscope; or a Mrs Potato Head with accessories such as purses and shoes. After a few minutes of play, the girls were asked if they could do any of 10 occupations when they grew up. They were also asked if boys could do those jobs. Half of the careers were traditionally male-dominated and half female-dominated.
Girls who played with Barbie thought they could do fewer jobs than boys could do. But girls who played with Mrs Potato Head cited nearly the same number of possible careers for themselves and for boys. Interestingly, there was no difference in the results between girls who played with a fashion Barbie or a career version of the doll.
"Playing with Barbie has an effect on girls' ideas about their place in the world," said Aurora M. Sherman, an OSU psychology professor. "While it's not a massive effect, it is a measurable and statistically significant effect."
"In a place like the Ukraine, where girls are not afforded the luxury to be so ambitious, most women feel like being beautiful is there only shot at a better life. That's why Barbie resonates."