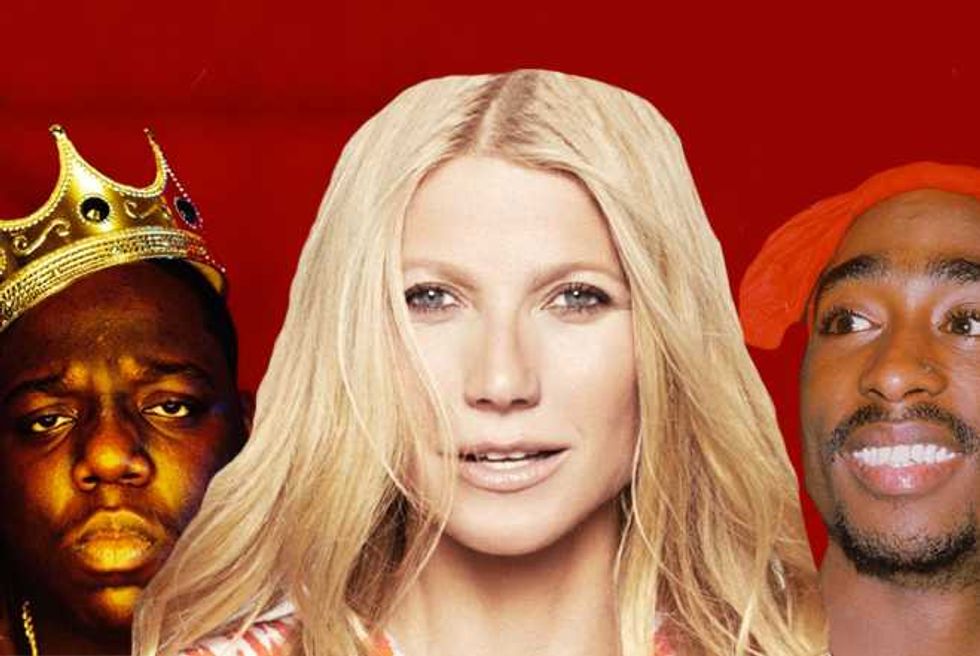 So, the latest mind puzzling aspirational offering from Gwyneth Paltrow's fuck-tastic website, GOOP, is, well…. mind puzzling.
Gwynnie is shilling a pretty damn ugly hip hop themed clutch bag "just for us" apparently—with Biggie emblazoned on one side and Pac on the other, for the bargain price of $1,695.
Gwyneth Paltrow Is The Biggest Troll Of Our Times—Here's Proof
Yes, for just $1,695 you can be the proud owner of this really fugly fashion creation—made especially to order— immortalizing two dead warring rappers.

In the words of GOOP:
MADE TO ORDER: Allow 8 weeks for shipping.

We asked Edie Parker to designed a duo of hip-hop-themed clutches, just for us. This one is done in pearlescent, pool-blue acrylic and emblazoned with "Biggie" in white on one side, and "Pac" in red on the other. Styled here with 3.1 Phillip Lim top.

•    100% acrylic

•    Hinge closure with kiss lock

•    Interior mirror with etched logo

•    Height: 8.9 cm, Width: 25.4 cm, Depth: 4.8 cm
We feel the Bloods and Crips color shout-out is a really nice touch.
Apparently Gwyneth Paltrow Spends $22k A Month On Her Skincare Regime
For those not in the know, GOOP claims to be:
One of the rare places on the web where food, shopping, and mindfulness collide—where the ever-evolving intent is to make every choice count. We're all resource strapped, so goop hopes to surface the very best experiences, recipes, products, and advice. Launched in the fall of 2008 out of Gwyneth Paltrow's kitchen, goop was originally conceived as a weekly e-mail newsletter. Its intent was two-fold: GP wanted a place to organize her unbiased travel recs, health-centric recipes, and shopping discoveries for friends, and she also wanted to get her own questions—about health, fitness, and the psyche—answered.

Now, goop has become a place for GP to introduce some of the incredible experts who have mentored her throughout her life to a wider audience, and a place where readers can find suggestions about where to shop, eat, and stay from a trusted friend—not from an anonymous, crowd-sourced recommendation engine.
Gwyneth Paltrow Knows What It's Like To Be Poor, To Eat Ramen (Gasp!)
Now, we don't know if it's just us, but, we are truly struggling to work out what is "mindful" about this bag… but then, maybe we just aren't on Gwynnie's deep, profound level….
Gwyneth Paltrow Was 'A Fool' For Launching GOOP—Says Site is 'Misunderstood'
Namaste peeps.... namaste....