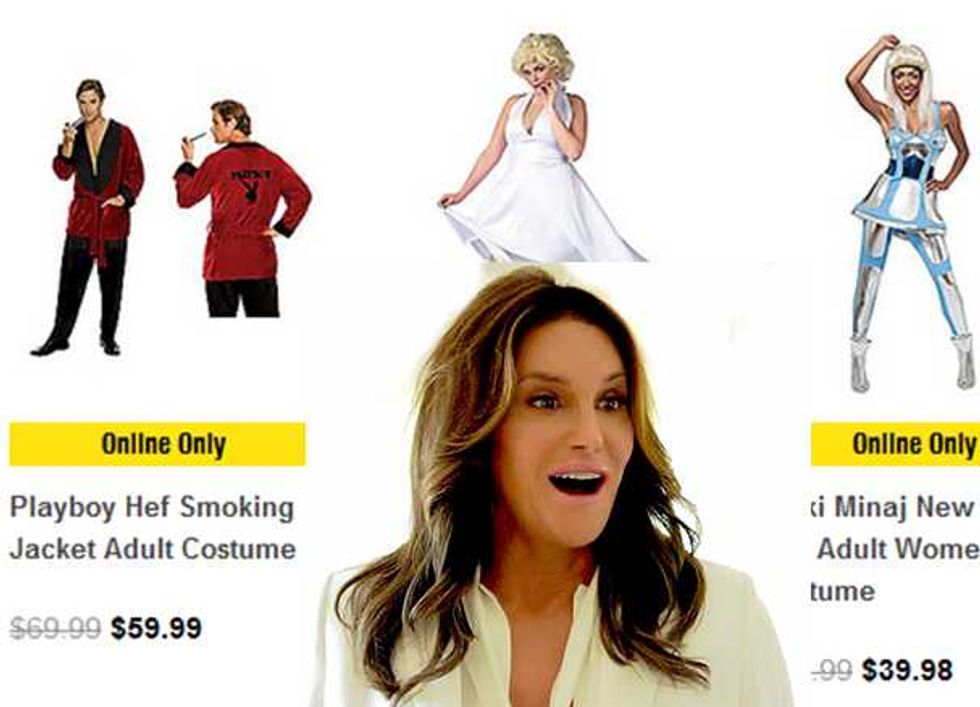 caitlyn jenner halloween costume
A chain of Halloween stores will be marketing a Caitlyn Jenner costume, provoking an outcry across the internet, from social media to news outlets.
A spokesperson for Spirit Halloween insisted that the company meant no disrespect to Caitlyn, saying:
Caitlyn Jenner has proven to be the most important real-life superhero of the year, and Spirit Halloween is proud to carry the costume that celebrates her.
The company is not divulging any further info about the costume, but don't be surprised if it's based on that now iconic Vanity Fair cover.
Rose McGowan Slams Caitlyn Jenner For Showing Off Her 'Male Privilege'
The Huffington Post has registered its dismay about the costume, as has Vincent Villano of the National Center for Transgender Equality, stating:
There's no tasteful way to 'celebrate' Caitlyn Jenner or respect transgender people this way on the one night of the year when people use their most twisted imaginations to pretend to be villains and monsters.
It's not surprising that the news has offended sensibilities, but everyone knows that Halloween was taken over by the grown-ups years ago, and the market for 'adult costumes' is centered around provocative attire. Try finding on Halloween party without a Slutty Nurse or a Slutty Nun.
A look at Spirit Halloween's online merchandise reveals three separate Marilyn Monroe costumes, and one each for Nicki Minaj and Hugh Hefner.
Caitlyn Jenner Confronted By Protesters —Do They Have A Point?
Clearly, the company considers Caitlyn Jenner a universally recognized figure, and isn't that what she's been working for with her TV series? Caitlyn has pursued the spotlight with unstinting vigor, so you'd think she would welcome a costume in her image.
If you think a Caitlyn Jenner costume is offensive, you will not be happy about some of Spirit Halloween's other offerings. How about a priest wielding a huge erection or a pregnant nun?
Ellen Is Confused By Caitlyn Jenner's Same Sex Marriage Judgement
Let's all relax about the Caitlyn costume, at least until we see what it looks like. It's Halloween, anyway, not a christening.
A Kim Kardashian costume would be much scarier!