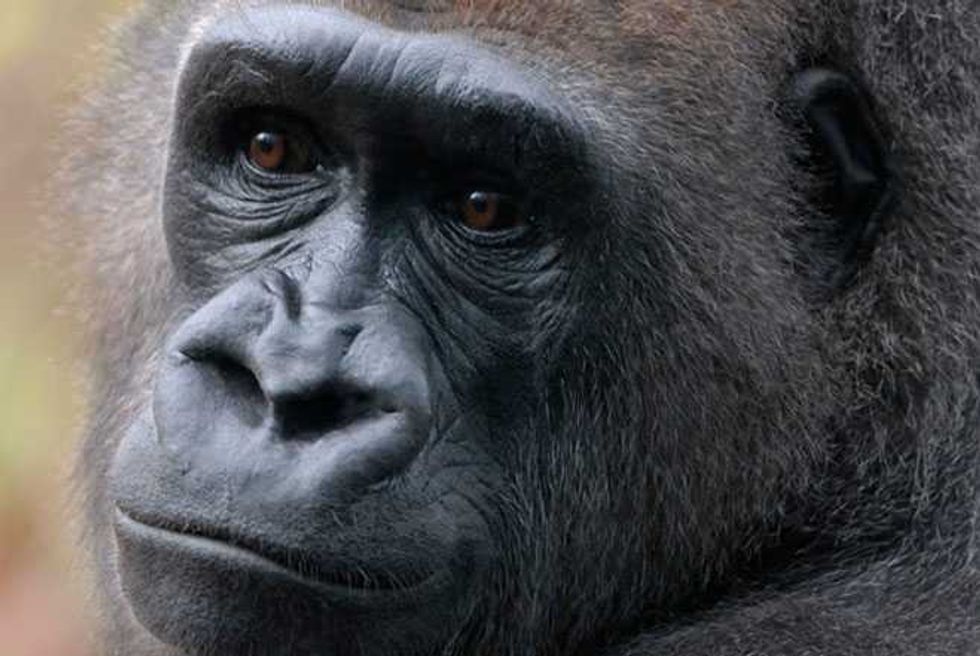 Harambe outrage zoos gorillas captivity debate—Harambe's death was outrageous, but the real outrage is why we still allow gorillas to be held in captivity
The death of Harambe—a 17-year-old endangered western lowland gorilla—caused internet outrage.
As Popdust previously reported, Harambe was shot dead by Cincinnati zoo officials after a 4-year-old boy fell into the gorilla enclosure.
People demanded justice for Harambe—pointing the finger at the zoo for shooting him dead, and at the mother of the 4-year-old boy for allowing him to wander off.
Authorities conducted investigations into both, and determined neither were at fault—writing the incident off as a tragic accident.
---
ChaCha The Chimp Makes Desperate Break For Freedom From Japanese Zoo
---
But, the real tragedy here is the fact that, in this day and age, when we really should know better—gorillas are still being held in captivity.
According to Planet Science, humans and gorillas share a whopping 96 % of the same DNA.
Studies conducted on gorillas in the wild show there are a huge number of similarities between primate and human.
As per NISL:
[Gorillas] sight and sense of hearing and smell are closely similar to our own, so that they perceive the world in very much the same way as we do.

Like us, they live in largely permanent family groups.

Their life expectancy is about the same as ours and they move from childhood to maturity and from maturity to senility at very similar ages.

We even share the same kind of gestural language and one that you must observe when you are with them.

A stare is rude or, put in a less anthropocentric way, threatening - a challenge that invites reprisal.

Keeping the head low and the eyes down is a way of expressing submission and friendliness.
Just let that sink in for one minute.
Then, consider—how is it acceptable to keep these animals imprisoned behind bars for their whole life?
Imprisoned for life—with no chance of parole—with crowds of people ogling them, laughing at them, pointing, staring.
Sure, many zoos have improved the conditions gorillas are kept in today—larger enclosures, more light, better vegetation etc.
But, at the end of the day—a prison is a prison—and these apes have committed no crime, they've done nothing to warrant being locked up and imprisoned for life.
PETA's primatologist, Julia Gallucci, sheds more light on the issue, in an exclusive interview with Popdust:
Even under the "best" circumstances in zoos, it's very difficult for gorillas to thrive in captivity.

It's impossible to replicate their natural habitats, given zoos' space limitations and the artificiality that is inherent in exhibits that are designed with the visitor experience in mind.

In the wild, gorilla troops don't stay in the same place for more than a day.

They spend most of their time traveling (up to three miles per day), foraging for food, and building nests.

In captivity, every aspect of their lives is controlled and manipulated.

They have no choice regarding what or when they eat, whom they mate with, or whom they share space with—nor can they roam and explore as they please or enjoy novel experiences.

Because of the unnatural conditions of captivity, many animals in zoos exhibit stereotypical behaviors that indicate psychological stress.

In a study published in Zoo Research News in 2004, captive gorillas were observed to spend up to 25 percent of their time engaging in abnormal behavior such as regurgitation and re-ingestion of food as well as hair plucking.

Gorillas are not aggressive by nature, but in captivity, they often become hostile and even violent.

Attacks by male gorillas on females are uncommon in the wild, but they are frequently observed in captivity.

According to a survey conducted by a Franklin Park Zoo veterinarian and a Harvard professor, at least 14 zoos have resorted to using drugs in an attempt to control aggressive behavior in captive gorillas.

Many zoos excuse the inhumane confinement of gorillas by pointing to their facilities' support of so-called "conservation efforts" in the wild.

But most zoos allocate only a very small percentage of their annual budgets toward such projects.

Zoo advocates also falsely claim that breeding endangered animals in captivity will contribute to the survival of these species in the wild, when in reality, breeding programs in zoos function to ensure a captive population—not for reintroduction to the wild.

In fact, most animals housed in zoos are not endangered, nor are they being prepared for release into wild habitats.
The 2013 documentary Blackfish, shed light on the appalling conditions whales are subjected to in captivity—underscoring issues within the sea-park industry and questioning man's relationship to nature.
It's been credited as a major factor behind Sea World's disastrous 84 percent drop in profits over the past three years—as people realize the true price that's being paid for an hour or so of their pleasure.
Let's hope Harambe's death can spark the same awareness, and spell the end of zoos keeping gorillas in captivity.
Because then, that way, his death will not have been for nothing.
For more entertainment, music and pop culture updates and news, follow Max Page on Twitter
Cincinnati Zoo Gorilla Shooting Mom Negligence Investigation Closed
Panda Breeding Base Cleaning Time Is Adorable Playful Panda-monium
Thailand Toilet Python Latches Onto Dude's Dick
Watch! This Video Of Orphaned Baby Rhinos Crying Will Break Your Heart
harambe outrage zoos gorillas captivity
San Diego Man Discovers Fat Little Rat Stuck In A Plug Socket
Chimp Attack Victim Charla Nash's Body Rejecting Face Transplant
A Cat Named Stump Is Running For President And He Totally Has Our Vote
Just Some Video Of An Orangutan Saving A Baby Chick From Drowning
Cute Young Tiger Found In Texas Wandering Along The Street!
harambe outrage zoos gorillas captivity
Kittens Puppies Koalas Sloths Bunnies! Cutest Animal Video Ever Alert!
Costa Rica Stray Dog Shelter Is Heaven On Earth For Canines
Watching Sleeping Pig Wake Up To A Cookie May Make You Rethink Bacon
Florida Dolphin 'Lover' Says Dolly The Dolphin Seduced Him—Yep Really
harambe outrage zoos gorillas captivity
Inside Pup Play—The Bizarre BDSM Subculture Where Men Dress As Dogs
Stop What You're Doing And Watch The Cutest Sloth Video Ever
harambe outrage zoos gorillas captivity