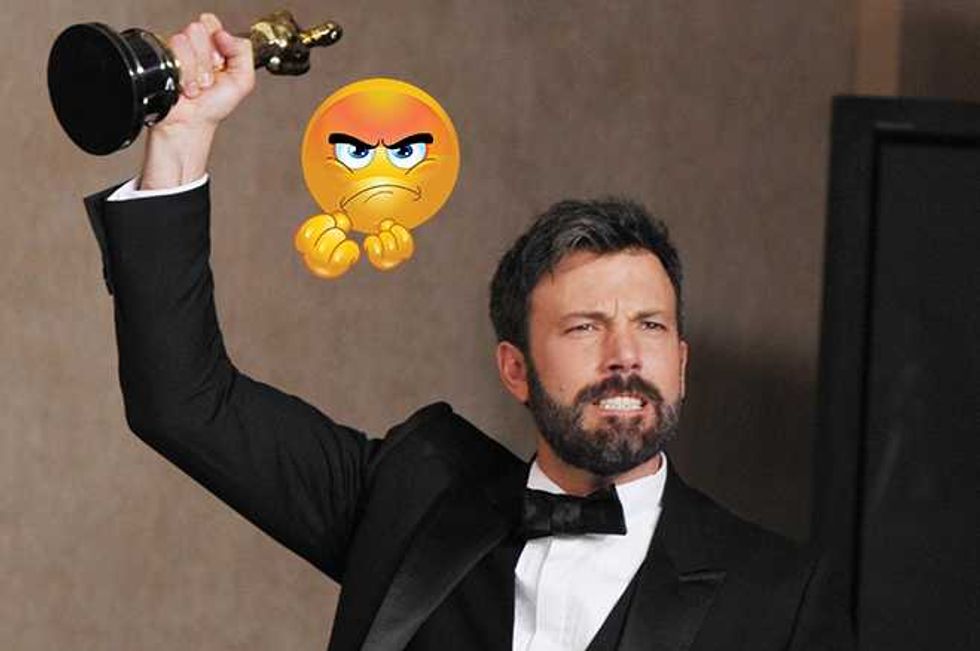 Now that sourpuss Ben Affleck and his wife Jennifer Garner have filed for divorce, can he please lose that angry glare and learn to relax?
I don't know about you, but when I think of Ben Affleck, I picture him angry. If you watch him expound on politics, his face is contorted with rage. If he's walking down the street, his body language says, 'God I am furious.'
Even when he accepted his Oscar for Argo, Ben Affleck couldn't conceal his resentment of the Academy.
He is one tense ball of rage, let's face it. I'm glad I wasn't around when he got busted for trying to conceal his slave-owning ancestors.
Perhaps his demeanor is an expression of his unhappy marriage. If that's the case, he can start learning to relax his facial muscles. His tight-lipped smile is scarier than Jack Nicholson in The Shining. It bespeaks an anger so immense that it scares even him.
I'm hoping for the best but who knows, maybe Matt Damon is the only means of soothing Ben Affleck's tortured soul.
Meanwhile, enjoy Ben's explosive temper in this self-righteous outburst on Real Time with Bill Maher.