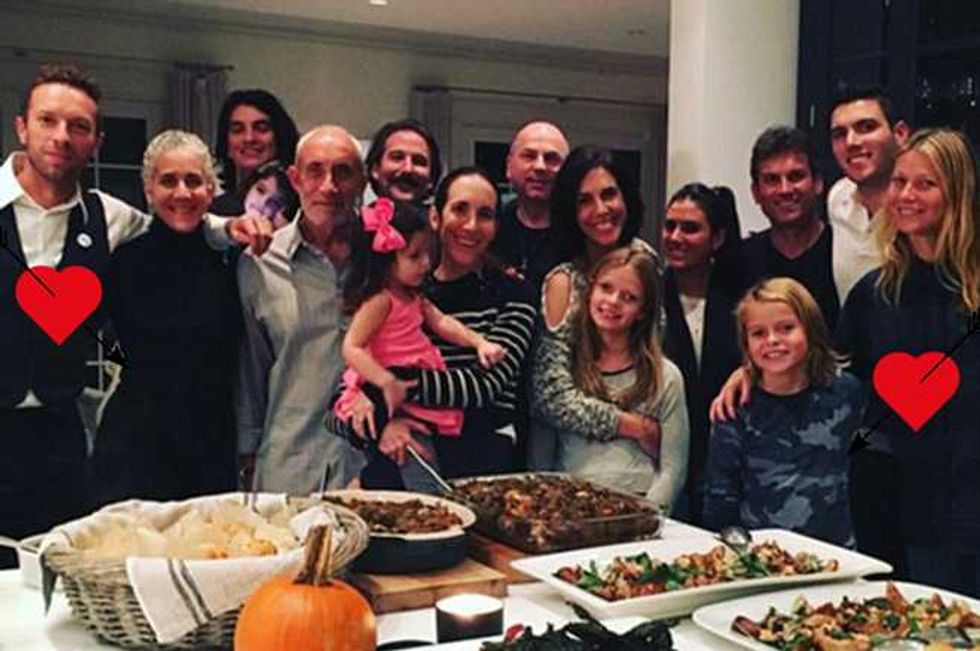 gwyneth paltrow chris martin break up
It should be no surprise that Gwyneth Paltrow and Chris Martin chose to spend Thanksgiving together, since despite their Uncoupling in March 2014, these two just refuse to break up.
Gwyneth posted a picture of the family celebration on Instagram, with the caption, 'Happy Thanksgiving from us to you!'
Adventures In Dating—Spotlight On Thanksgiving Dinner
How nice that they could come together for the holiday, right? But actually, all they do is hang out together and it's getting old.
Just days before Thanksgiving, Gwynnie and Chris were out having dinner in the West Village. They have been to the beach together a million times, and they can't stop discussing each other in interviews.
Hot Couple Alert! Is Brandi Glanville Dating Calum Best ?
Even though the two of them are involved in other relationships, they remain much more enmeshed than the average divorced couple, even those who share children.
They spent Valentine's Day together, for god sake.
Now comes news that Gwyneth is featured in a song on the new Coldplay album, having inspired the song and then contributing lyrics and vocals.
8 Simple Rules For Dating Reese Witherspoon's Daughter, Ava
Speaking about the track, Everglow, Martin said in a recent interview:
To me, it's about - whether it's a loved one or a situation or a friend or a relationship that's finished, or someone's passed away - I was really thinking about, after you've been through the sadness of something, you also get this everglow. That's what it's about.
Martin also revealed that Gwyneth wrote some of the lyrics after she mused to him:
How come things move on? How come cars don't slow?
He asked her to sing the line on the record, and she agreed after first demurring that she she couldn't, because she's not a professional singer.
What?
I'm going to say 'what' again for emphasis.
WHAT?
They Dated?!! Weird Celeb Couples You Never Knew Hooked-Up
First of all, since when has not being a professional ever stopped Gwyneth from singing? She played a country singer in the movie Country Strong.
Please Chris, are we idiots? Give us a break, you big liar.
Second, what the fuck is Gwyneth's lyric supposed to mean? 'How come cars don't slow?'
In our universe, cars do in fact slow.  They even have breaks to help them in this enterprise.
Why The Fuck Is Gwyneth Paltrow Selling $1,695 Biggie And Tupac Clutch Bags?
Fine Gwyneth, you are taking poetic license but this is just nonsensical. Chris must really love you to immortalize your inane car observation.
Here's what I want, going forward:
Gwyneth and Chris can get together with their children, but they seriously need to move on in their lives. No one is going to stick around for a relationship with a divorced person who has unfinished business with their ex. Two words here: Jennifer Lawrence.
Gwyneth Paltrow—I'm Just a Common Woman Like You!
How do you feel, Popdust readers? Are you up for more Gwyneth and Chris demonstrations of Look How Well We Get Along? Or do you wish they would change the subject?