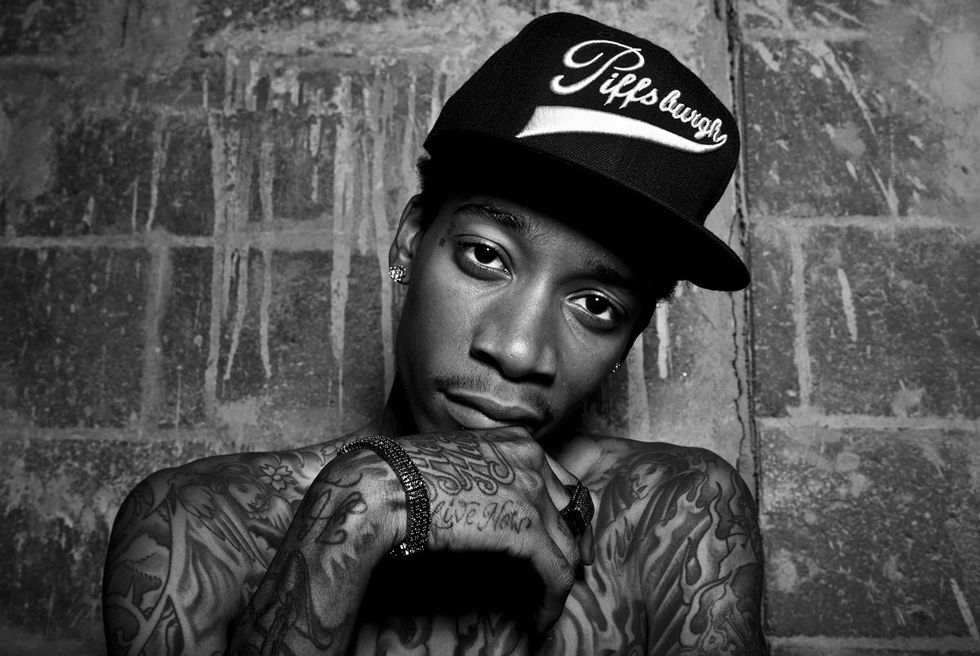 What does his name mean?
The origins of Cameron Jibril Thomaz's rap name Wiz Khalifa, according to the
Dallas Observer
: "Wiz is short for 'wisdom' while Khalifa is derived from the Arabic word for 'successor.'" So, there you go.
Where did he come from?
Like many rappers breaking into the mainstream these days, Wiz Khalifa is a mid-2000s major-label castaway who made his way back onto a major by building his own buzz via touring and free mixtapes. Wiz's 2006's debut Show and Prove was released on indie label Rostrum Records, which led to the Pittsburgh rapper signing to Warner Bros. in 2007. While Wiz continued to release mixtapes through Rostrum, Warners tried to figure out what to do with him. They never did. In July of 2009, Wiz left Warners and released the appropriately titled Deal or No Deal album on Rostrum in November of 2009.
What's the deal with his mixtape Kush & Orange Juice?
In April of 2010, he released the free mixtape Kush & Orange Juice. In a review of the mixtape, Pitchfork noted that #kushandorangejuce became a Twitter trending topic: "Though it's important not to put too much stock in something as ephemeral as a trending topic, it at least means a whole lot of people are talking about a rapper with no major label deal." Shortly thereafter, Wiz signed to Atlantic Records.
And he entered the mainstream with "Black And Yellow"?
Yes. In many ways, the song embodies Wiz's insider-outsider style of hip-hop: an ode to his hometown football team the Pittsburgh Steelers (Steelers colors are black and yellow), rapped in his sing-song drawl, but produced by Norwegian superproducers Stargate.
What's the deal between him and Curren$y?
Like Wiz, New Orleans rapper Curren$y is a just-below-the-radar major-label reject who hustled his tapes and returned to the major label model. The weed-obsessed rappers have similar laid-back flows, have guested on each other's work, and even made a 2009 mixtape together called How Fly. Rick Ross grabbed Wiz and Curren$y for a remix to "Super High" off 2010's Teflon Don.
Who Are The Taylor Gang?
Like all rappers, Wiz has his own rap crew, the Taylor Gang, named for their affinity for Converse Chuck Taylor sneakers and the high school Wiz attended, Taylor Allderdice. Taylor Gang is also the name for Wiz's borderline-obsessed fanbase and it's pretty much constantly shouted at the crowd and from the crowd during his live shows.
How much weed does Wiz smoke, anyhow?
A lot. A lot of weed. It's what most of his raps are about and he clouds his Twitter feed with herb-related tweets. On November 9, 2010, following an East Carolina University show as part of his Waken Baken tour, campus police busted the rapper for possession of approximately two ounces of pot. As MTV rather cruelly pointed out, "Just hours before [Wiz's] arrest," he tweeted: "Smoke outs Greeneville, nc tonight. Fall thru wit ur finest plant life."