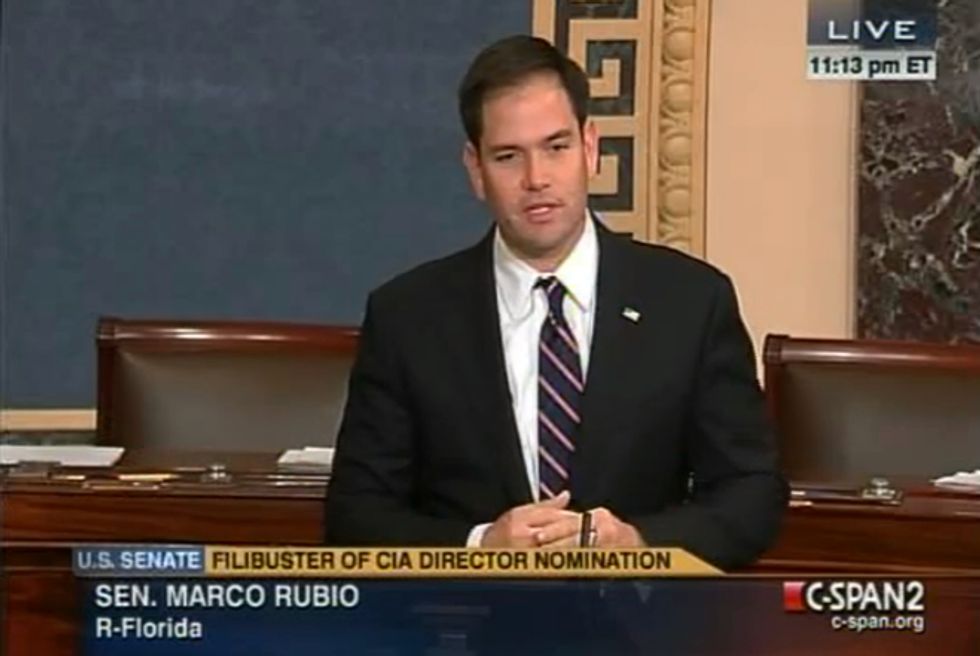 We owe Wiz Khalifa an apology.
When Forbes called 2013 the year of Wiz Khalifa back in January, we laughed. We mocked. We said that Khalifa had "something decidedly B-List about him."
Well, Forbes apparently knew something we didn't: Khalifa has been officially enshrined in the Congressional record as "a modern-day poet" so basically he wins, we lose, and we know to never make any predictions about anything ever again.
Why was an elected representative speaking so highly of the Pittsburgh pot enthusiast in the first place? It all comes back to last night's historic filibuster, in which Kentucky senator Rand Paul (the guy with the brown hair and red tie in the video below) threatened to keep talking until the Obama administration answered questions about the use of drones to kill Americans on US soil. To give Paul periodic breaks, other Republican senators periodically took the floor to "question" him with lengthy, digressive asides. When it came time for Marco Rubio (black hair, striped tie) to ask a question, the GOP's no. 1 hip-hop fan chose to pepper his speech with references to his favorite rappers—a list which apparently includes Wiz Khalifa. (This is not surprising. Marco Rubio has horrible taste in rap.)
Let me begin by quoting a modern-day poet, his name is Wiz Khalifa, he has a song called "Work Hard, Play Hard." If you look at the time, it's a time when many of our colleagues expected to be at home, back in the home state, playing hard. But I'm happy that we're here still working hard on this issue.
Does that all make sense to you? If it doesn't, you can still enjoy the video below. It's not every day a star of Mac and Devin Go to High School gets name-checked in the Senate floor: