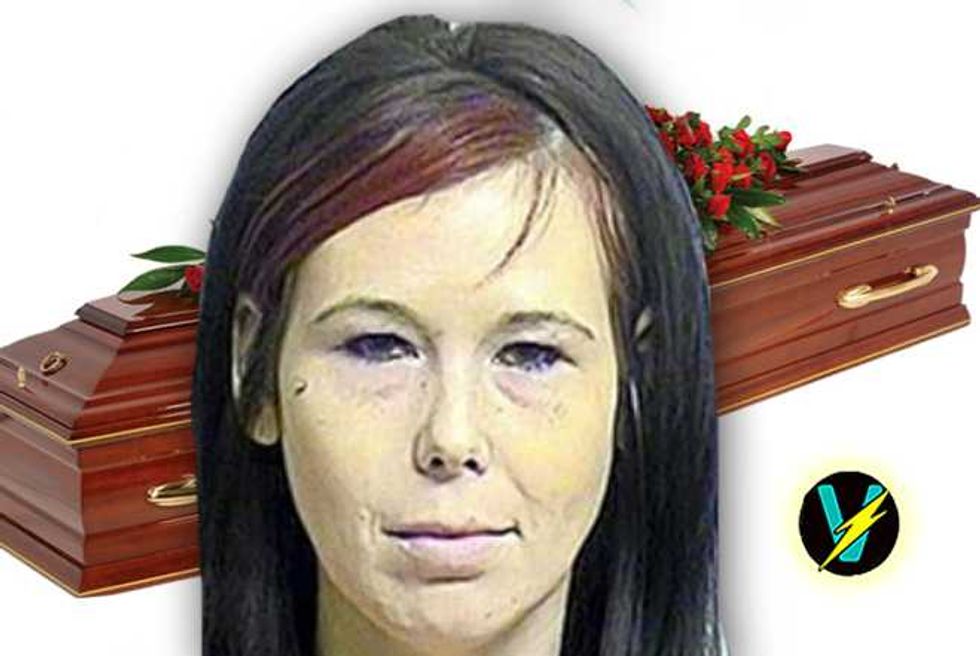 Shaynna Sims is accused of sneaking into a funeral home and cutting off the breasts and a toe from her husband's ex-girlfriend's dead body.
The Oklahoma woman now faces charges regarding those allegations—in addition to five previous felony counts pertaining to the same crime—first-degree burglary, larceny of a person, concealing stolen property, unauthorized dissection of a corpse and interrupting a funeral.
Sims was first apprehended on May 1, after witnesses at the funeral home spotted the 26-year-old standing over the casket of a woman named Tabitha—they subsequently discovered the body had smeared makeup, the face had been cut and the shoes had been stolen.
When cops caught up with Sims, she was inside Tabitha's apartment, which she had tricked her way into by telling the dead woman's son she was there to collect some jewelry for the funeral.
According to the police report, Sims was found with a folding knife, and a clump of hair that matched the hair on Tabatha's corpse. They also found scissors, a box cutter knife and "various pieces of makeup," reportedly from the body.
She was apprehended for the second time when Tabitha's body was taken to be cremated and, according to court documents, "it was discovered the defendant further mutilated the deceased and has subsequently been charged with unauthorized removal of body parts from a dead body."
Going on to charge that Sims had "crudely cut and removed a toe" from Tabatha's body and removed her breasts.
Tabatha was a longtime friend, and ex-girlfriend, of Sims' husband—she died of natural causes stemming from a long illness.
"We are outraged and sickened," the victim's sister-in-law told News On 6. "Every time we think this nightmare is over, something else comes out. It's a never-ending, evil nightmare."
Meanwhile, Sim's husband has filed for a protective order against her, claiming he worries for the safety of himself and his daughter.