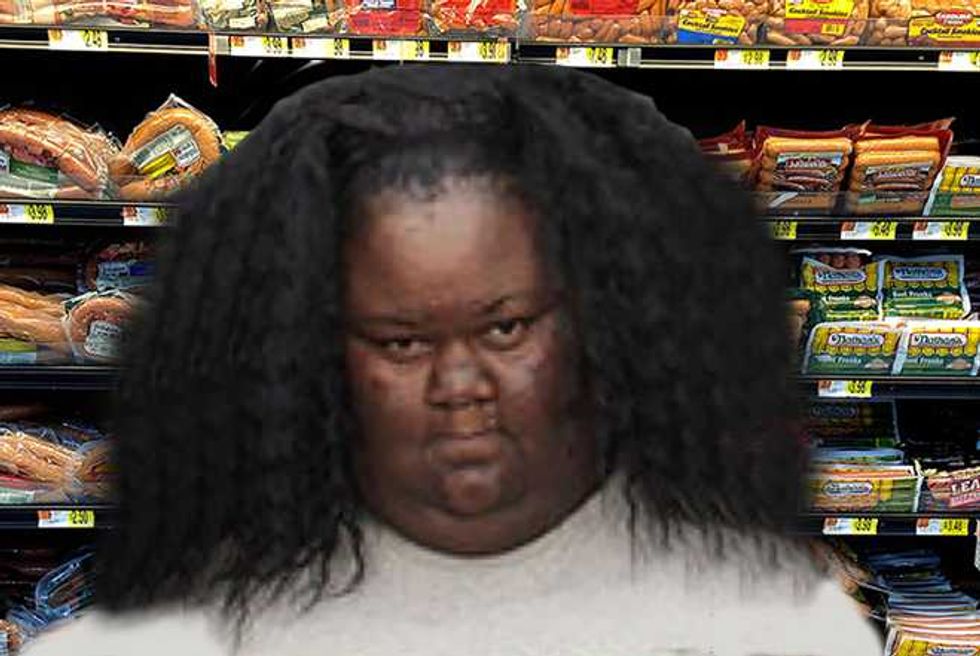 woman masturbating sausage walmart
It's yet another of those bizarre news stories you really WANT to be true, but just don't think it's possible.
Then again, it happened at Walmart…. so you never know.
According to Now8News, a Louisiana woman was arrested Monday after being discovered by a security guard, masturbating in the bathroom with a Jimmy Dean sausage.
Phuc Dat Bich Back On Facebook After Proving Name Is Real, Not A Hoax
Now, perhaps Shaniqua Johnson had simply run out of ideas—maybe Tinder wasn't working out so well for her. It's possible that OKCupid turned out to be OKStupid, and, as I discovered to my own detriment, Craigslist Casual Encounters..well that's just dangerous…
So perhaps, the resourceful 33-year-old took herself to a place that would never let her down: The sausage aisle at a Louisiana Walmart.
The Very Best Of The Very Worst Utterly Tragic Taxidermy Attempts
We all know that the People of Walmart are a breed entirely to themselves—and Louisiana isn't known for its refined and restrained citizens…. BUT, is it actually true?
Seattle Police Hunt Masked Masturbator
The story goes:
Security cameras filmed Shaniqua carefully selecting a few acceptable mates, placing them gingerly up her shirt where they likely lay comfortably in her heaving bosom until they got a bathroom, where they remained for at least 30 minutes. It's not really all that different than how it might go down at a bar.
A Walmart worker radioed security about a possible shoplifting 33-year-old shoving sausages up her shirt.
Virgin Flight Forced To Divert After Masturbating Man Tries To Open Exit Door
The male security guard says he knocked on the bathroom door several times but there was no response. He then announced he was coming in. He forced the door open and found himself face to face with a closed stall. He tapped it gently, discovering it was unlocked and came face-to-face with a scene that he said will "haunt his dreams forever."
Johnson was masturbating with a package of Jimmy Dean sausage!! And when she saw him, "She didn't even stop. She just stared at me and kept going."
Air Force Officer Claims Lizard Aliens Abducted And Made Her Their Moon Sex Toy
Terrified for his safety on account of Johnson being a "big girl," the 140 pound security guard said he fled the horrific scene until police arrived.
Female officers then entered the restroom with Johnson still "putting in work with the sausage." It took 7 police officers to restrain Johnson and wrench the sausage away from her.
New Orleans Woman Parties At Her Own Funeral
She was arrested and taken into custody where she was charged with shoplifting, indecent exposure, and resisting arrest.
Walmart management allegedly released a statement, saying that in no way do they tolerate this type of behavior. They have a strict policy against shoplifters and a sign on the bathroom door that clearly reads, "No merchandise allowed beyond this point."
Yuk! New Jersey Man Used A Summons To Wipe His Butt
Ha! Great story, but is a single word of it true?
Sadly, no…..it's just all one big bloody hoax.
Those fine folks at Snopes break it down:
A day after the Now8News article was published, the disreputable Prntly web site regurgitated the story using the same premise and photograph but changing several details, stating that the incident occurred in New York not Louisiana, that the phallic food was a Johnsonville Brand Sausage and not a Jimmy Dean sausage, and that the store involved was a Price Chopper and not a WalMart. Why the discrepancy? It might have something to do with the fact that both stories were completely made up.

Now8News is a fake news site camouflaged as a local television news outlet and publishes nothing but fictitious clickbait articles. Now8News has previously posted made-up stories about a woman being arrested for "trying on" tampons, an obese woman starving her children, and a man being arrested for having sex with a pig.
Sigh!
Well, as we always say, NEVER let the truth get in the way of a good story….
Leggings Aint Pants Rant By Tennessee Woman Goes Viral