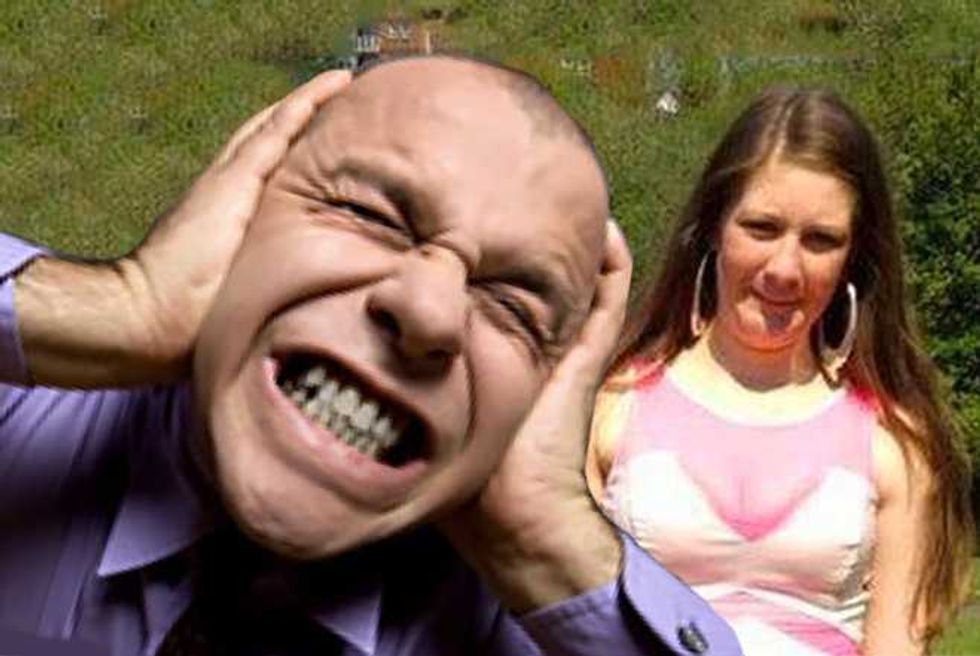 I mean, her name is Gemma Wale, so loud sex is kind of a given.
The bawdy British babe was given a two-week prison sentence after a civil court judge decided she was in violation of her Anti-Social Behavior Order (ASBO) by "screaming and shouting whilst having sex" at a "level of noise" which annoyed her long suffering sexually frustrated sleep deprived neighbors.
Those neighbors, Ian Nicholls and his wife Susan, complained that they had suffered many a sleepless night due to Wale's climatic wailing.
"It has been a nightmare ever since she moved in—shouting, swearing, listening to her having sex. It hasn't been fun," Mr. Nicholls, 56, said.
Woman Had Screaming Loud Sex—So Her Neighbor Live Tweeted It
So he recorded the sounds for Middlesbrough Council, who then made their own tape of Wale's noisy nighttime activities.
"Everyone makes some degree of noise but this was much more than that," Nicholls added. "There was what I would described as loud whoops from next door. It's been a constant racket that has had us at the end of our tether. There are the sexual noises—which no one wants to hear—loud music, yelling and swearing at all hours."
Birmingham City Council immediately sprung into action and took Wale to court—where Judge Emma Kelly ruled that the 31-year-old mom-of-two's boyfriend, Wayne, likely contributed to the wailing, but chose not to sentence him.
Judge Kelly said Wale's ASBO had specifically barred her from making "loud sex noises," as well as playing loud music, shouting, swearing, making banging noises, stamping and slamming doors.
The judge determined that she had also breached the order by fighting with Wayne, cursing at a neighbor, "banging around the house" and "running around in the property".
She sentenced Wale to separate two-week jail terms but said all terms would run concurrently.
However, according to the Daily Mirror, Wale is back out on the streets running amok once again, and loving her new found infamy.
The now ex-boyfriend, who runs a business near Wale's new home, claims she couldn't give a shit about the stint in jail, and is back to her old tricks, at the misery of all those around her, including his patrons.
"She is back screaming, shouting and putting off customers,"Wayne bemoaned. "She is making life difficult for everybody.
"She was given a two-week sentence but she's been back walking the streets as if she's lapping up the fame – it's a disgrace."