woman lottery win homeless Women Spends $200 Lottery Win On Motel Room For Homeless Man
A woman used her $200 lottery scratch card winnings to transform a homeless man's life.
For those of us fortunate enough to have a job, family, friends, and a roof over our head, an unexpected $200 windfall would most certainly be sweet, but not the difference between life and death.
6-Year-Old Boy Forgoes Christmas Presents In Order To Help The Homeless
For a homeless person though, in the bitter cold of a Massachusetts winter night, it could be just that—the chance to stay warm and alive over freeze to death on the street.
Kindness is everything
woman lottery win homeless
So, when Sofia Andrade spotted Glenn Williams, who has been homeless for 3 years, panhandling at a stop sign in sub-zero temperatures on a Saturday night, she knew she had to use her winnings to help him.
Jilted Bride Donates Wedding Feast To Sacramento's Homeless And Hungry
"I knew that the money never really belonged to me," Andrade tells WCVB. "This money was meant to help him."
The kind-hearted single mom pulled over to the side of the road, called the 58-year-old man over and took him to a Dunkin Donuts to get a coffee.
Just that one simple act of kindness—costing less than a couple of dollars, was enough to reduce Williams to tears—and set a chain of goodwill events in motion.
Fisherman Catches 809 Pound Shark And Feeds It To The Homeless!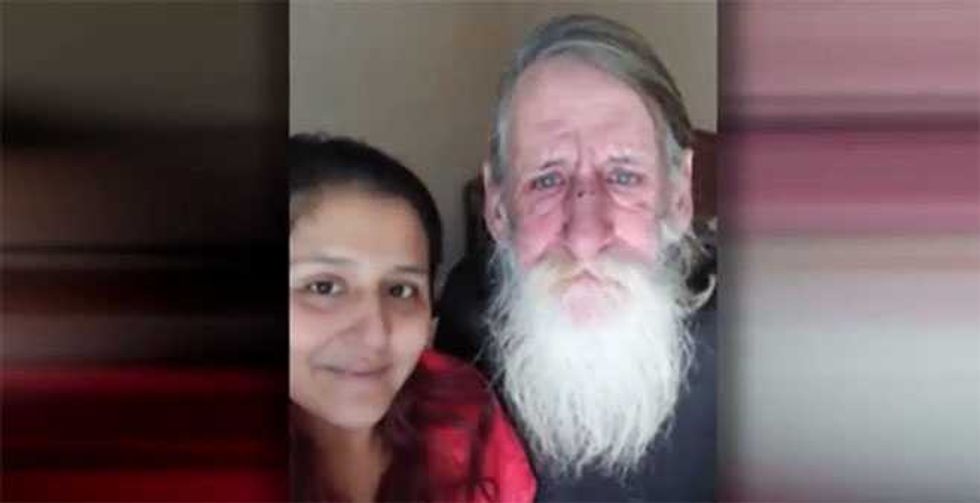 "At no time did I ever feel threatened by him, he was so overwhelmed by just the generosity of a coffee that he just couldn't stop crying," Andrade says.
One act of kindness sets a chain in motion
woman lottery win homeless
Andrade rang all the local homeless shelters to try to secure Williams a bed for the night, but everywhere was full, so she knew that after his coffee finished, the man would be back out on the freezing cold streets.
Diddy Gifts French Montana $1 Million, French Promptly Donates it!
So, it was a no-brainer to Andrade—she would use her lottery winnings to get a motel room for two nights for Williams, near her home in Wareham.
"I couldn't believe there's somebody like her," a tearful Williams tells WCVB. "She deserves a lot of the credit for where I am right now."
But, it didn't stop there
woman lottery win homeless
Andrade wrote about the encounter on her Facebook page
Tonight i won $200 on a scratch ticket..i was so excited until i looked up and met Glenn. He was holding a homeless sign his hands shook and he was crying as the negative degree wind whipped his face. I rolled down my window and offered to buy him coffee which he was hesitant but grateful to accept. As we drove to Dunkins i asked him where he was going to sleep he said he didn't know so on the way i called the local and other homeless shelters within a 10 mile area...no spots.
It was then i knew why i won the $200, God placed Glenn in my path for a reason, so i drove him to the Rosewood Inn in Wareham and paid for a 2 night stay.
Ive never seen a grown man cry he began praying and telling me i was angel. If anyone was an extra warm outfit or warm leftovers and want to donate to him hes in room 16.
I know how grateful he would be. As you lay down snuggled up in warmth just remember how lucky you are bc with the wind chill its in the negatives. So tonight i know my new friend Glenn is warm...

She also started a GoFundMe page, with her friend, Elizabeth Arone, in hopes of raising money for Williams, to afford him a "second chance" in life.
Rescuers Risk Their Lives To Save Animals —This Will Brighten Your Day
The post soon went viral, and the local community started rallying around to help.
Know that you are loved
woman lottery win homeless
Arone, who works at a local barbershop, gave Williams a haircut, she took him to the DMV to apply for his state ID and to St. Luke's Hospital to apply for health insurance.
People donated warm weather clothes and gear, food, and money….a child named Evan painted Williams a Valentine's card, which said, "Know that you are loved this Valentine's Day!"
Sniff!
Penguin Swims 5,000 Miles Every Year To Visit The Man Who Saved His Life
Andrade's post even managed to reconnect Williams with his two sisters who have been visiting him.
Groundbreaking Face Transplant Gives Firefighter A New Life
The chance of a future once again
woman lottery win homeless
The GoFund me page has already racked up over $15,000 in donations, and the two women have moved Williams to an undisclosed location, to stay safe and warm, while they work on getting him into a rehab program.
Arone tells SouthCoastToday
We are going to get him help so he can get back on his feet. He is safe, he has a room and we hope to get him into rehab. Glenn is speechless. He can't go a few minutes without having tears in his eyes. He is so incredibly grateful for the support he has received.

Andrade explains her motive for helping Williams, in a new post on her Facebook page
When I wrote [the original post], I never thought I would receive such a warm response. I didn't do this to be a hero. I did this because everyone deserves to be treated with compassion no matter who they are.

#HopeForMoore —Why This Dying Mom Wants You To Become An Organ Donor
Not surprisingly, the inevitable, usual, odious trolls have been crawling out from their damp dark little caves to throw scorn at the two women and criticize them for helping Williams.
Compassion is free
woman lottery win homeless
Arone, who is a single-mom-of-three, is just ignoring the haters though, explaining, "The moral of the story is, it's time we have compassion for the homeless. They are people, they have a story and it's not our place to judge. Compassion is free. It costs nothing to be kind.
Amen to that, sister
"It's really changed his life to see how much people care and it's the confidence boost he needed to get better," she continues.
Keanu Reeves Really Is The Nicest, Kindest, Most Excellent Celeb Of All
Meanwhile, let's give the last word to Williams.
"There's a lot of good people in this world," he says. "I'm overwhelmed with all the help, and I just want to thank everybody."
Click here if you would like to donate to the GoFundMe page.
For more entertainment, world, music and pop culture updates and news, follow Max Page on Twitter