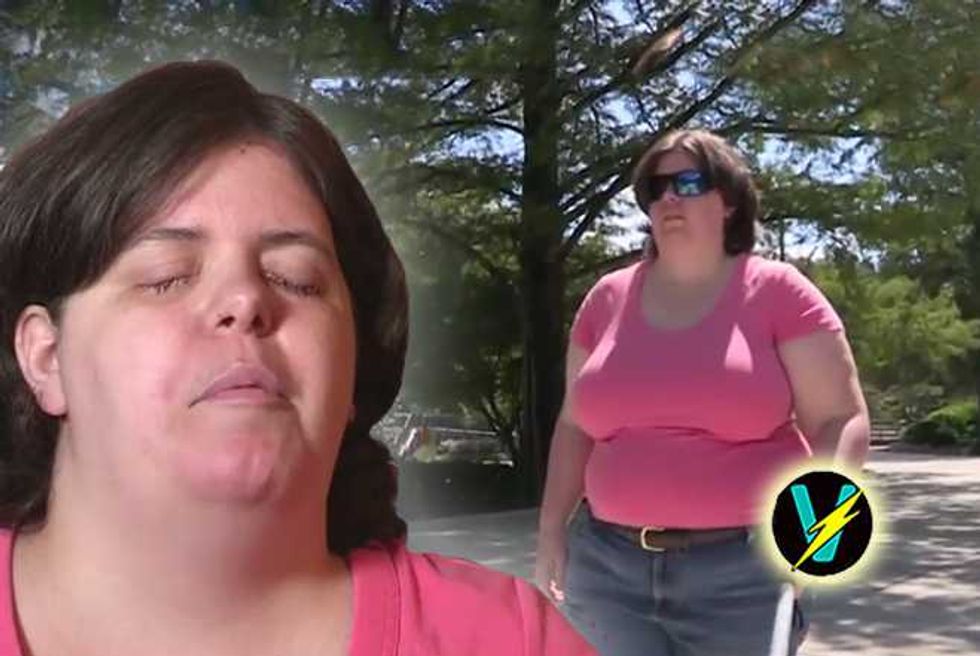 Jewel Shuping has dreamed of being blind since she was a little girl.
As a young child, she would while away the hours staring directly at the sun in the hope of damaging her optic nerves—and by her teens she was wearing thick black sunglasses and walking with a white cane.
Taiwanese NGO Gives Disabled Men Hand Jobs
"My mother would find me walking in the halls at night, when I was three or four years old," Shuping tells Bancroft TV.  "By the time I was six I remember that thinking about being blind made me feel comfortable.
"I was 'blind-simming', which is pretending to be blind, but the idea kept coming up in my head and by the time I was 21 it was a non-stop alarm that was going off."
Man Has 100 Orgasms A Day, Says It's Ruining His Life
Shuping, who was fully fluent in braille by the time she reached 20, finally managed to fulfill her lifelong disability dream in 2006, after—she claims—she managed to persuade (if her story is true) an incredibly unethical and unhinged psychologist to pour drain cleaner in her eyes.
The North Carolina woman claims the unnamed psychologist attempted to soften the inevitable pain by using some numbing eyedrops before drizzling drain cleaner into each of her eyes—but, not surprisingly, it was still an agonizing experience.
Jessica Rabbit Wannabe 'Extreme Corseter' Gets O Cup Boobs Trains Waist To 23″
"My eyes were screaming and I had some drain cleaner going down my cheek burning my skin," Shuping admits. "But all I could think was 'I am going blind, it is going to be okay."
However, at first, things were NOT OK Shuping says, admitting she was devastated after she opened her streaming pain filled eyes the next morning and realized she could still see.
"When I woke up the following day I was joyful, until I turned on to my back and opened my eyes," she shares. "I was so enraged when I saw the TV screen."
Meet The Indian Man Who Subsists On Diet Of Bricks Mud And Gravel
She achieved her dream eventually though—as six months later the drain cleaner finally worked its magic to full effect, and her vision was permanently and irreversibly damaged.
Shuping eventually had to have her left eye surgically removed, after the drain cleaner caused a corneal meltdown, while her right eye developed glaucoma, and is covered in scars and cataracts.
And, she doesn't have a single regret, telling Barcroft, "I really feel this is the way I was supposed to be born, that I should have been blind from birth.
Make Way For The Second Human Barbie—Also Insists She's All Natural
"When there's nobody around you who feels the same way, you start to think that you're crazy. But I don't think I'm crazy, I just have a disorder."
That disorder is BIID—Body Integrity Identity Disorder—a condition that affects a very small percentage of the population, and prevents the sufferer's brain from providing an accurate plan of their body.
Meet The Christian Swingers Who Claim God Uses Them To Spread His Word
According to BIID.org, able-bodied people suffering from the condition are tricked by their brain into believing they should be disabled and that how they currently look is completely wrong—the condition often manifests into the desire to have a specific body part amputated, despite it not being physically damaged at all.
My Strange Addiction—Meet Keyshia—She's Hooked On Smelling And Chewing Dirty Diapers
Shuping says that her family disowned her after discovering she intentionally blinded herself, but, luckily she still has the support of her former fiance, Mike, who is also blind, although from natural causes.
She says she can understand why people would be sickened by her disabling herself, but explains that although her actions were willful, she's a victim of her BIID inflicted brain.
"I do understand why some people would be angry about a person giving themselves a disability," Shuping says.
"They think it's a ploy to get social security, or a waste of advocacy that would be better focused on people with an involuntary disability. But I feel that the way I became disabled doesn't really matter.
Inside Toby Sheldon's Strange Bieber Addiction—$100,000 On Surgery To Look Like Justin
"If someone were to say that its fundamentally selfish to blind myself, I would say that it's selfish to refuse treatment to somebody with a disorder.
"This is not a choice, it's a need based on a disorder of the brain."
Meanwhile, the 30-year-old is now studying for a degree in education, and hopes that by sharing her story she can raise awareness of BIID, and encourage other suffers to seek professional help.
Plastic Fantastic Lacey Wildd Begs 'Look Beneath The Skin, My Heart's Bigger Than My Boobs!'
"Don't go blind the way I did," she warns. "I know there is a need but perhaps someday there will be treatment for it.
"People with BIID get trains to run over their legs, freeze dry their legs, or fall off cliffs to try to paralyze themselves.
"It's very very dangerous. And they need professional help."