MUSIC
Vintage clothes or your new favorite song? This woman has you covered, regardless of which you're in the market for
"To me someone who doesn't behave like they are afraid to lose me is not worth my time."
Women are killing it in the music industry, and the world of song lovers couldn't be happier! In our column, #WomenCrushWednesday, we'll feature an awesome lady whose tunes are blowing up our playlists and ask them about their musical journey.
Rare is it to find a true artist like Emmy Wildwood, whose project span across music genres and audiences. She's also adamant about her passion for women are represented and how they are able to represent themselves in the complicated socio-political environment we currently live in. Read on to find out about her latest music and her key to finding amazing vintage styles.
---
How did you get interested in music?
I came from a musical family and asked to learn guitar at 10 years old. I was mostly interested in writing my own songs so I wanted to learn to accompany myself. I learned as many chords as fast as I could and wrote my first song the first week I started playing.
You perform solo as well as in the group Guns 'N Hoses. What is different for you about the two experiences?

Well the music is totally different. Playing my own music is personal and makes me feel vulnerable. I write autobiographically and it takes my heart and soul to put on my best performance. I really want to get inside people's heads. With GNH it's basically punk and HUGE party. We're mostly interested in putting on a great show and leaving people pumped!
You've also done collaborations with artists like TV On the Radio. What do you enjoy about that?
My collaboration with Kyp Malone was magical. He is such a pro and such a nice guy. He has always championed my songwriting which is the biggest compliment to me. Watching him slide in to the studio and ritualistically bang out his unique performance, direct the engineer and deliver his take on my song was watching a true artist at work.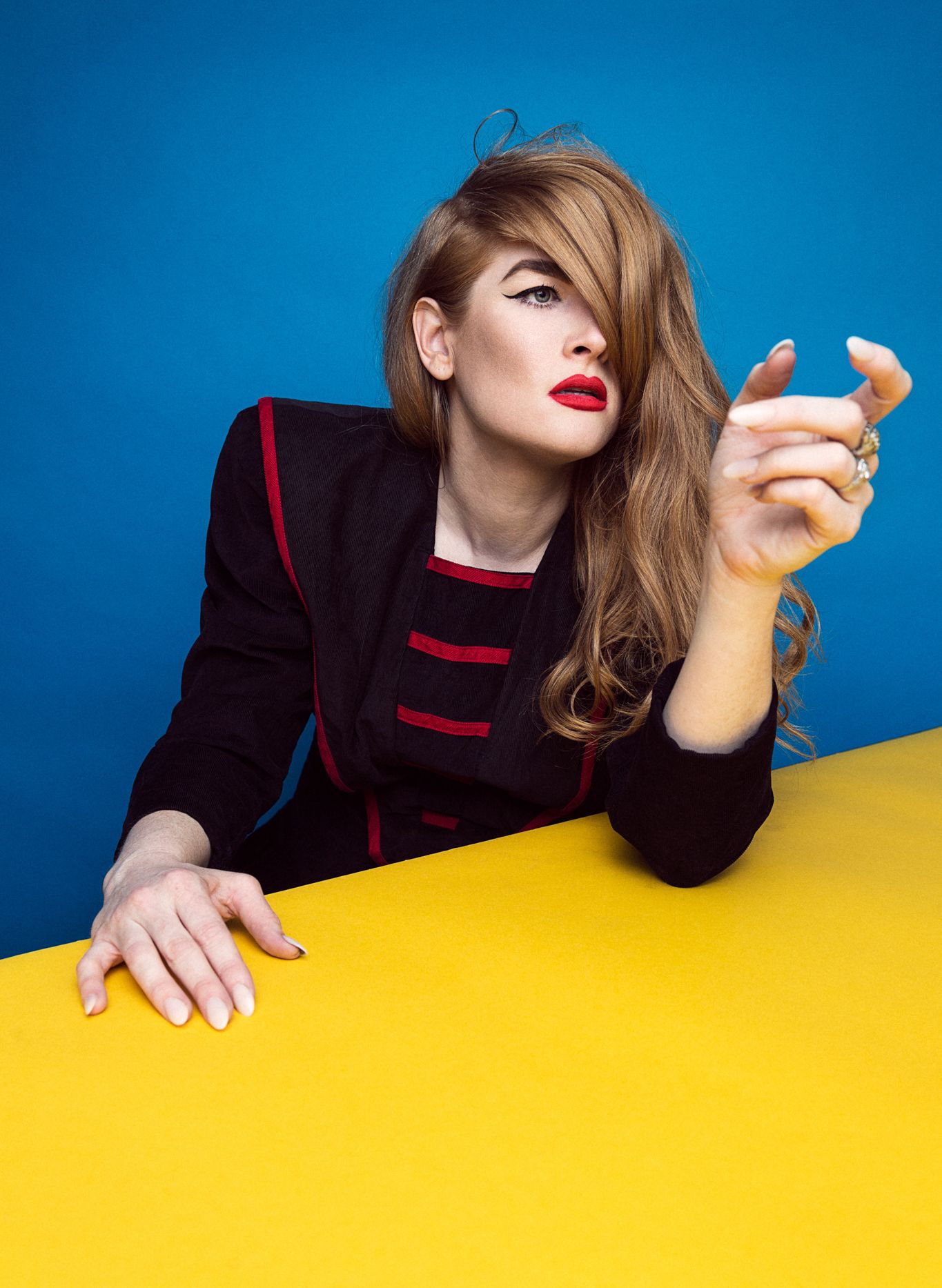 Andrew Segreti
What's your experience been like as a woman in the music industry?

It's always been hard. The music industry is a boys' club. The percentages speak for themselves. I have always had to learn to be alone with men in an artist/producer relationship. It's a delicate dance and you can never ever relax. That is my experience. I think all female musicians are waking up right now. For a long time we made excuses for men just so that we had a fighting chance at being heard, could be included in the jokes, the fun and rock n roll. When you are the only woman in a band you become desensitized to the bad behavior. As I matured my patience became less and less. I have a SUPER low BS tolerance. I have had more than one argument with engineers who treated me like I didn't know how sound systems work. I have had to discontinue relationships with musical partners who have mistreated my female piers and it never stops being hard. It never stops being disappointing. When a musical partner you trust disappoints you in that way it feels a whole lot like a broken heart. But there's no time for suffering at the hand of these dudes anymore. I guess what I realized is that I am valuable to them. That they should be just as nervous to lose me. To me someone who doesn't behave like they are afraid to lose me is not worth my time.
Can you talk a little bit about the writing and recording process for your most recent album, "All My Blood?"
To me what is most important about the collection of songs is that I did not look for hits. I wanted a story and theme. I wanted these songs to be moving to listener, not to be intentionally radio friendly. I wanted this to be all songs I could stand behind intellectually. I do feel like I accomplished that. It took almost two years to finish and I am more proud of this than anything I have ever done in my life.
Have you any favorite tracks off the album?

I think "Everything Hurts" is my favorite. It speaks to way women condition themselves in relationships. It's honest and risky. Idk, I think it's a conversation that needs to be had. It's up next for release:)
You also have your own vintage fashion line. What inspired that and how does it connect to your music?
I have always styled myself with vintage. It's my secret weapon to looking like nobody else. I started doing that for others as well and I realized I had an audience that wanted to be able to buy the looks, so I started the store.
Since you've been called one of the most stylish New Yorkers, can you give us any tips about finding the best vintage pieces?

Vintage is about the hunt. You must have the patience to look through everything but more importantly imagine into items that aren't being styled on a mannequin. Some people just don't have the patience to do that so at Secret Weapon we do it for them.
What's coming up next for you?
We will be releasing the video for for 'Down Down' soon! It's directed by an incredible young photographer/artist Bao Ngo who is changing the game right now. Her work doesn't look like anybody else. She is amazing.
---
Rachel A.G. Gilman is a writer, a radio producer, and probably the girl wearing the Kinks shirt. Visit her website for more.
Have a female or femme-identifying artist we should profile? Send a pitch email to Rachel.
---
POP⚡ DUST | Read More About Music...
#WomenCrushWednesday: Baby Ariel
'Well, Hell' is LAUREN RUTH WARD's stunning, versatile debut LP
RELEASE RADAR | Premieres from Leilani Wolfgramm, The Brinks, and Tara Beier
---